Yamee Fat Bear 750S eBike Review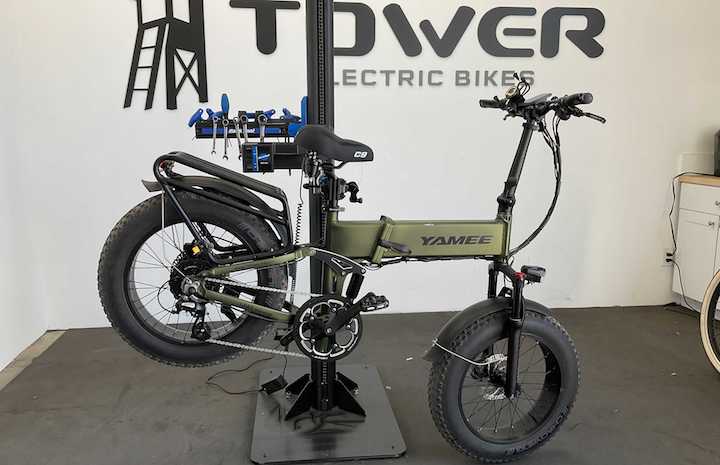 Yamee makes almost exclusively folding electric bikes, and the Fat Bear 750s is one of their most popular models. With 20 x 4 fat tires the Yamee Fat Bear looks almost identical to most folding ebikes on the market. The bike has great torque and hill climbing ability which helped boost the bike to a 60 on our tower ebike score.
DISCLAIMER - Yamee and Fat Bear 750S are trademarks of Yameebikes, and use of that trademark in this review does not indicate that the reviewer is claiming any interest in the mark or any affiliation with or sponsorship or endorsement by Yameebikes.
Yamee Fat Bear 750S
Today, we're going to review and rate the Yamee Fat Bear 750S e-bike. It scored a sixty on the hundred-point scale of the Tower e-Bikes Scale, which means that it is a very good e-bike.
First, I'd like to introduce myself. My name is Stephan Aarstol, the founder and CEO of the Tower e-bike Repair Shop. We repair multitudes of e-bikes and we have seen hundreds of different brands that come through our shop on a monthly basis. We get a fair sense of the quality and durability of all the different brands out there. Our e-bike experts have over 30 years of electronics and maintenance experience.
If a large number of the same e-bike have the same issue, we know that model has flaws. This lead us to put together what we call The Tower e-Bike Hundred-Point Scale. We rate each e-bike based on seven key attributes and we give them a score of one to ten on each of those attributes. We then normalize that to get a hundred-point scale. Every e-bike gets a score from zero to a hundred. You can judge the quality of each e-bike based on the score it gets from the attributes that we review, namely:
E-Bike materials quality
E-Bike mechanical quality
Low maintenance e-Bike
E-Bike Hill-climbing ability
E-Bike Range
E-Bike Comfort
E-Bike Universality
We look at those seven key attributes, and then we give a single-point number to each e-bike.
This is comparable to the wine spectator score, in which wine experts, or those who truly understand the wine business, rate each product based on a structured criteria, regardless of price. And it works well for a fair number of people who buy wine but aren't really wine connoisseurs. We do the same thing in the e-bike industry. Electric bikes aren't all the same, and price doesn't tell the true story much of the time.
There are e-bikes that cost $500, some cost $15,000, and occasionally e-bikes that cost twice as much but are not quite as nice as the cheaper ones. Certain brands are thought to be excellent yet they are not, while others that are unheard of turn out to be fairly decent brands. We are attempting to demystify a lot of information for the market of electric bicycles. That is the purpose of the Tower e-Bike Score.
We also give it a second hundred-point score called the Specialty Score, where we omit comfort and universality. We do that because certain e-bikes aren't necessarily made for comfort or a universal fit. If you look at mountain e-bikes or road e-bikes for competition, they're made for performance and not necessarily for comfort. They are designed so you can completely engage yourself in the bike, not just for comfort. Also a lot of mountain e-bikes and road eBikes have five different frame sizes, so something along those lines. They can customize it specifically for your personal needs.
If there's not a lot of adjustability with the e-bike, you can buy a different one. That's why we give it a separate Specialty Score. If you're looking for e-bikes that fit your needs, instead of paying attention to the Tower Score, you can pay a little more attention to the Specialty Score. Comfort and universality are usually an afterthought on performance bikes because if you're getting a specific model, most of the time you don't necessarily need a universal size or even comfort. You need performance. However, we do include both of those in the overall Tower Score because that's important information for ninety-five percent of the population who are getting an e-bike for recreation and for transportation.
If you travel long distances such as a 5-10 mile e-bike ride (or longer), you would want it to be comfortable. If you're hunched over and your posture is off, that could be a deal-breaker in the long run. That's why we include comfort in the Tower Score. Okay, that explains our scoring system, let's get to the review of the Yamee Fat Bear 750S.
A little bit of background about the company. Yamee is what we call a Chinese non-brand. They'll sell through Amazon or they'll sell directly to consumers. They might have a warehouse in one of the port cities, and then they ship out from there. The customer service is not that reliable in these companies. They have a Chinese-sounding name and sell a lot of these models in a very transactional manner - you buy it, it's yours and they move onto the next customer acquisition. Prices are typically reasonable. The quality can be hit-or-miss and it's paired with questionable customer service as well. 
Yamee is an outgrowth of another brand called Rattan. They ran the Rattan eBikes brand into the ground. If you look at Trustpilot reviews, you're going to see like 1.9 stars (at the time of this writing) with quite a few people complaining about this brand. It seems like they took some of their higher-end e-bike models and they split that off into a different brand called Yamee. that's what we have here. It's a vast improvement for the quality on this model, but still the same company behind the scenes. 
The overall Tower Score is 60, which rates it as a Very Good E-Bike on our scale. The Specialty Score is 58, which is also considered a very good eBike.
Fat Bear 750S Materials Quality - 5/10
On the materials quality, the Yamee Fat Bear 750S gets a score of five. That's somewhat in the middle-of-the-road; you have a solid aluminum frame here, but they don't provide you with branded tires. This might lead to flats and other troubles. They did cheap out on the tires a little bit. Everything looks decent, but not high-end.
This is why the Fat Bear scores a five out of ten.
Fat Bear 750S Mechanical Quality - 8/10
The second attribute is the mechanical quality of this e-bike. It gets an eight, which is quite a good score, especially for a Chinese brand. They got a lot of things right. They provide you with hydraulic brakes. They aren't high-end, but they are still hydraulic brakes. This makes it leaps and bounds better than those e-bikes that have mechanical disc brakes.
It's very important to get hydraulic brakes, but it's also a big upcharge on price. Some of the low-end e-bikes don't have those, even a few major brands out there don't put hydraulic brakes on their electric bike. Not having hydraulic brakes on an electric bicycle is absurd to us; thus, we're glad to see it present on the 750S Fat Bear.
This e-bike does have a front-end suspension and a rear suspension. These are the parts that are going to give you a nice, comfortable ride. The derailleurs look mid-range but it does have a cassette-type gear in the back.
Overall, the Fat Bear 750S gets a high rating in this category. Eight is not a bad score at all.
Fat Bear 750S' Low Maintenance - 4/10
The third attribute for the Yamee Fat Bear 750S is the low maintenance category. This e-bike gets a four out of ten. You want to get the highest score possible here. The main thing that was done right is the hydraulic brakes. You do not need to manually adjust your mechanical disc brakes, which is the beauty of hydraulic brakes. There are self-adjusting brakes that you would want on regular e-bikes, especially when traveling long distances.
You can still ride an e-bike with mechanical brakes but it's advisable to only travel short distances. Else, you'll have to adjust the brakes a lot more. The components were decent and they applied a bit of rust-proofing. On the flip side, they've got cheap tires on it. They also have a gearing system in the back with the chain drive and the derailleur. You're going to have maintenance issues on these e-bikes, with the drive train. We know this because we've seen a lot of Yamee e-bikes come through our repair shop here in San Diego.
Fat Bear 750S' Hill-climbing Ability - 9/10
The fourth attribute is the hill-climbing ability and the Yamee Fat Bear 750S gets a nine out of ten, which is an excellent score. This e-bike has a 750-watt hub motor on a 48-volt system. It also has good gearing on it. With a powerful motor and good gearing altogether, you shouldn't have any problems with this aspect.
Fat Bear 750S' Range - 3/10
Yamee claims that the range is insanely good on this e-bike. It says on their website that it can go 80 to 100 miles with one battery charge. A lot of these Chinese brands are very bold and aren't able to back up their claims. We've got a 2021 model here and it's a 750-watt motor, but it has a 10-amp hour battery pack in it, which is a tiny battery pack.
Large capacity battery packs are expensive and a company can save a lot of money by implementing tiny batteries. When you combine a small e-bike battery pack with a high-output motor, you effectively eliminate the range of these vehicles. They even claimed that they have a 15-amp hour battery, but that's not what they ship to their consumers. They should not have put a 10-amp hour battery on this eBike, but they did. That's what you get sometime from Chinese non-brand companies, and you as the customer learn this after the fact most times and sort of have to deal with it.
The battery has been integrated into the tube. We don't know if you can even upgrade the battery in order to get more range. That could be a huge problem. And even if you could upgrade the eBike battery pack here, a good high-capacity battery could cost you $600-$1000 alone. 
Thus, on range, this e-bike gets a three out of ten.
Fat Bear 750S' Comfort - 7/10
The next attribute is comfort. The Yamee Fat Bear 750S e-bike gets a seven out of ten on comfort, which is a decent score. This e-bike has suspension and it has fat tires, which means you're going to get a nicely cushioned ride. It has a fairly upright seating position and good vertical adjustability on the seat post and the handlebars. You won't have to move back and forth on your seat a lot. On the other hand, because these are smaller e-bikes in looks, you would think kids or shorter adults would be able to ride this eBike just fine, but the step-over bar is pretty high here. It's not a step-thru by any means. 
Overall it gets a score of seven out of ten on comfort, which is not bad.
Fat Bear 750S' Universality - 6/10
When it comes to its universality, we give the Yamee Fat Bear 750S a six out of ten. You have such a low position that the seat can be put into, so that's nice. Most people can work with this e-bike. You have some up and down adjustability on the handlebars, but you don't get any back and forth. So some people with shorter arms may have to hunch over to reach them, but that's not a huge problem on this model. This is not a step-through e-bike. The step-over height on this is around 28 inches. The battery pack goes on the top bar of the e-bike and it is something you have to step over.
Overall, we give it a six out of ten on universality, which is a decent score.
Tower e-Bike Score (60) and Specialty Score (58)
When we add those scores up and normalize them, it gives this e-bike a Tower Score of sixty out of a hundred. Yamee made a decent e-bike, which proves that there is more than meets the eye for some of these Chinese brands. They did skimp on a few things. Customers will be severely disappointed with the range of these e-bikes. Especially when they claim such an absurd range but can't deliver on it.
The Specialty Score on this e-bike gets a fifty-eight, omitting comfort and universality.
Fat Bear 750S' Weight - 65lbs
This is a folding e-bike and these are meant for easy storage and transport. But it's a sixty-five-pound e-bike, which is quite heavy. Usually, folding bikes are thirty pounds, but because this is an e-bike, it has more to offer; such as the fat tires and the beefy frame and all the electronics, but still something in the 40s or 50s would be expected. Sixty-five pounds is a heavy e-bike to fold up and carry to put in a trunk or in the back of a truck.
It is expensive to get lightweight e-bikes and they didn't really put much thought into that, even though this is a folding e-bike. These companies will quote a weight on their website that has nothing to do with the real weight of their e-bike. We obtained the exact weight of the biek with the battery installed by putting it on a scale in our eBike repair shop.
Electric Bike Looks
Another thing we consider is the looks of the e-bike. However, as the saying goes, beauty is in the eye of the beholder. These mini e-bikes look almost old-school. It's akin to a Honda Trail Rider with fat tires. It's not horrible, but it's not great either. If you're cruising down the sidewalk or the boardwalk, people are going to be able to tell that this is an electric vehicle. They have big, knobby tires and it doesn't make it look like a regular bicycle. You are going to get some funny looks from people because this is not a traditional bicycle and it looks more like a motorcycle. Some people will love that and some people won't.
Fat Bear 750S' Low Proprietary Risk - 3/10
We do have one more criterion to score. It is called Low Proprietary Risk. On a scale of one to ten, the Yamee Fat Bear 750S gets a score of three. What we look for here is how easy is it going to be to acquire parts of these e-bikes for repair, if the company is out of stock for several months (which these companies frequently are) or even if the company closes? That can be a cause for concern.
We have seen dozens of e-bike companies that went out of business in the last two years. We expect that around ninety to ninety-five percent of the brands that you see in the market today will go out of business in ten years, including (and especially) some of the biggest brands in a fast-growing market that people think are unsinkable. For this reason, you should look at how many off-the-shelf parts and how many proprietary parts are they using on their e-bikes. Because if they go out of business or if they stop manufacturing this model, you will have problems. We see this everyday in our electric bike repair shop here in San Diego. 
People bring in certain models and brands into our e-bike repair shop and sometimes we can't help them procure these proprietary parts. We'd attempt to repower it, but it won't operate as well as it would if you could get the right components. It's quite expensive when they don't have their own parts.
That gives the Yamee Fat Bear 750S a score of three out of ten. It's not a hugely diversified company. Customers will likely have to rely on Yamee for purchasing many parts. They use the standard 4x20 fat tires, so that's nice. A couple of years ago, those were hard to find, but it has become more popular now and it's not so proprietary anymore. The non-standard electronic parts consist of the battery, the controller, and the LCD, and they also use their own branded motor that you can't easily swap out with an off-the-shelf motor.
That ends our review of the Yamee Fat Bear 750S. It gets a Tower Score of sixty, which means that it is a very good e-bike. Do check out our website for Tower Scores on a growing list of other e-bike models and brands that we get our hands on as they come through the Tower e-bike Repair Shop. Thank you for your time.
---
DISCLAIMER - Yamee and Fat Bear 750S are trademarks of Yameebikes, and use of that trademark in this review does not indicate that the reviewer is claiming any interest in the mark or any affiliation with or sponsorship or endorsement by Yameebikes.