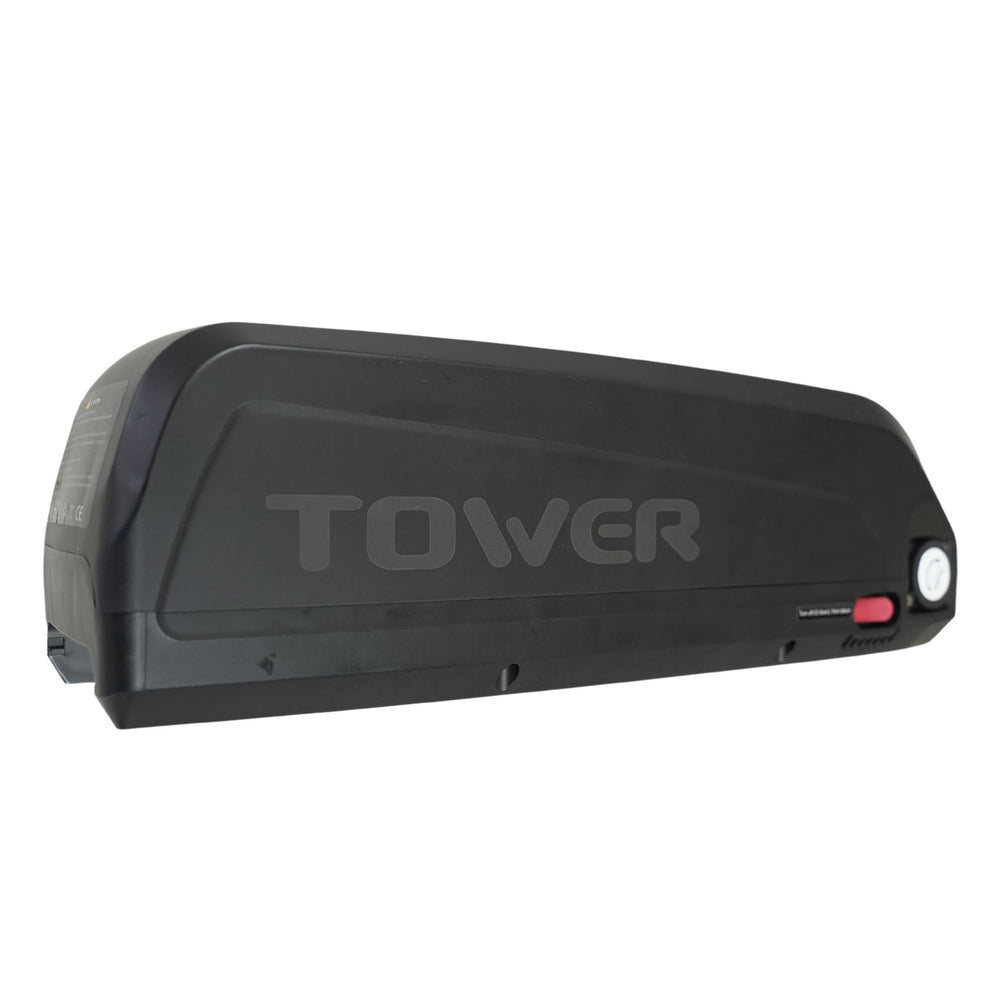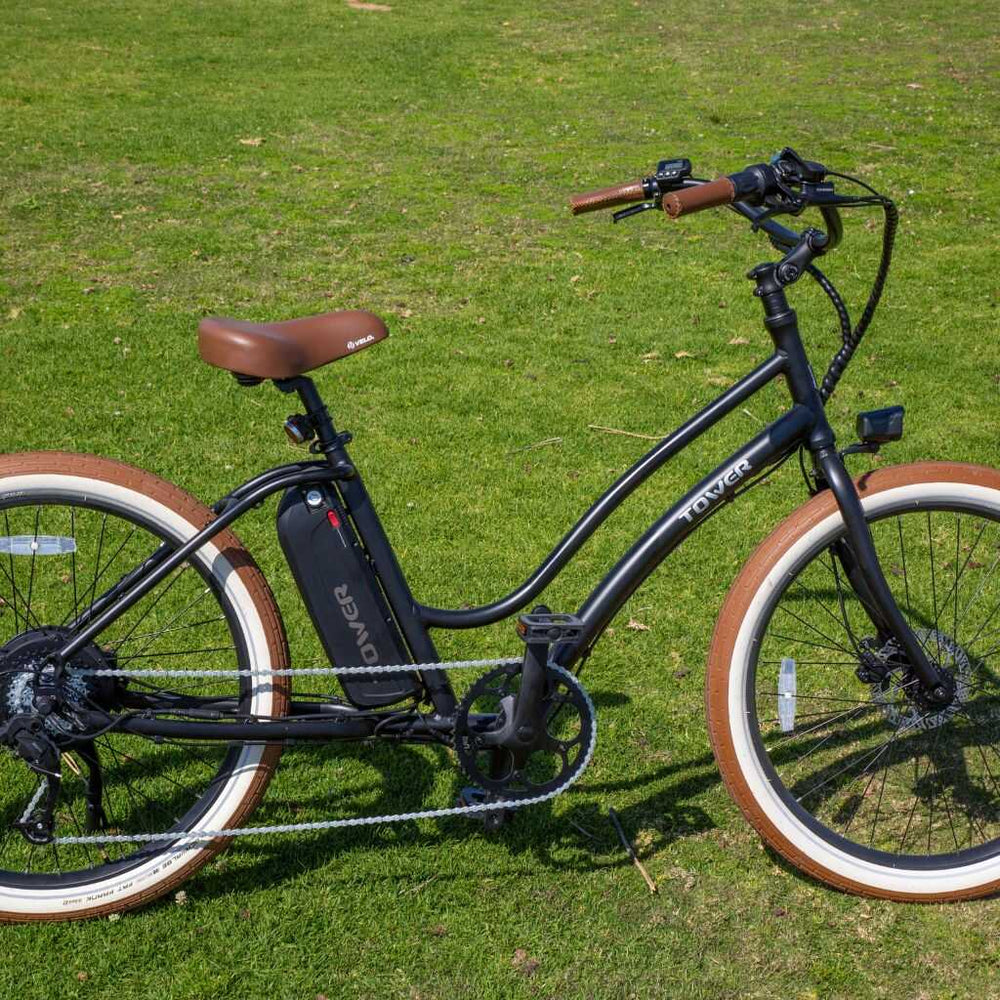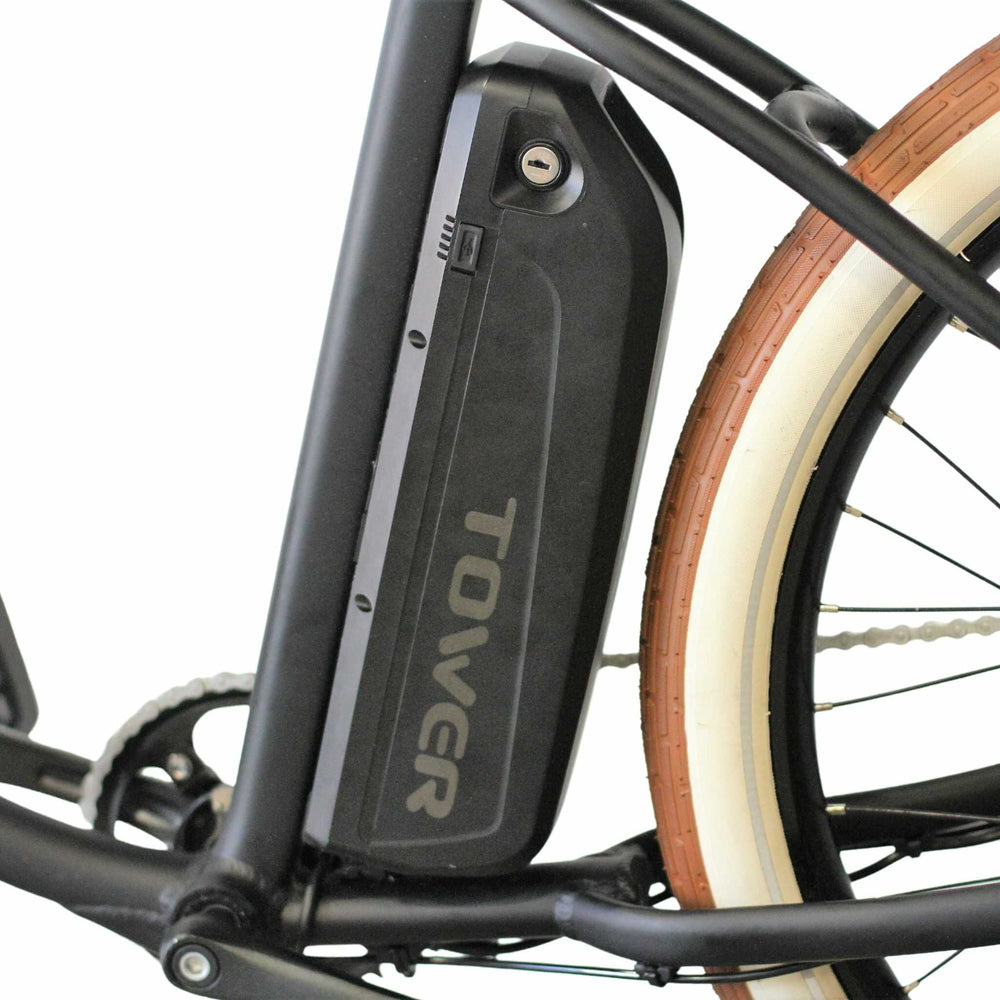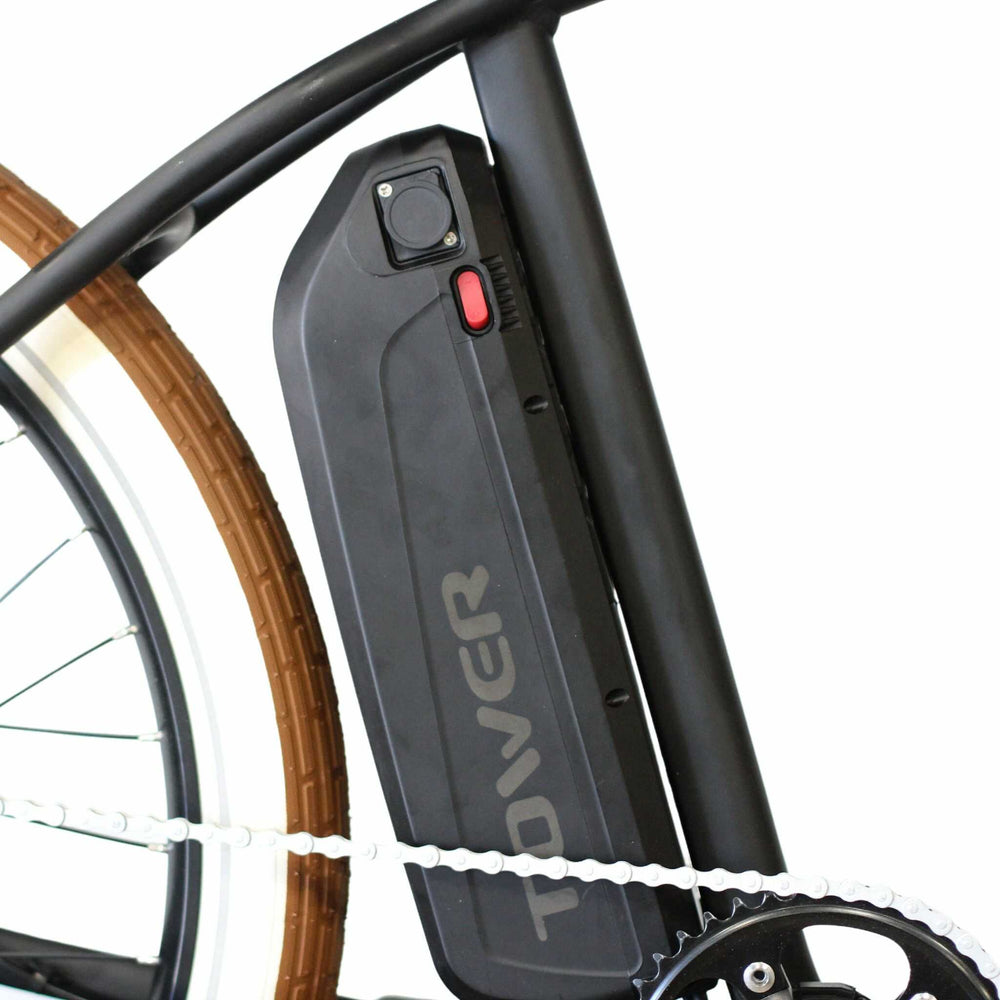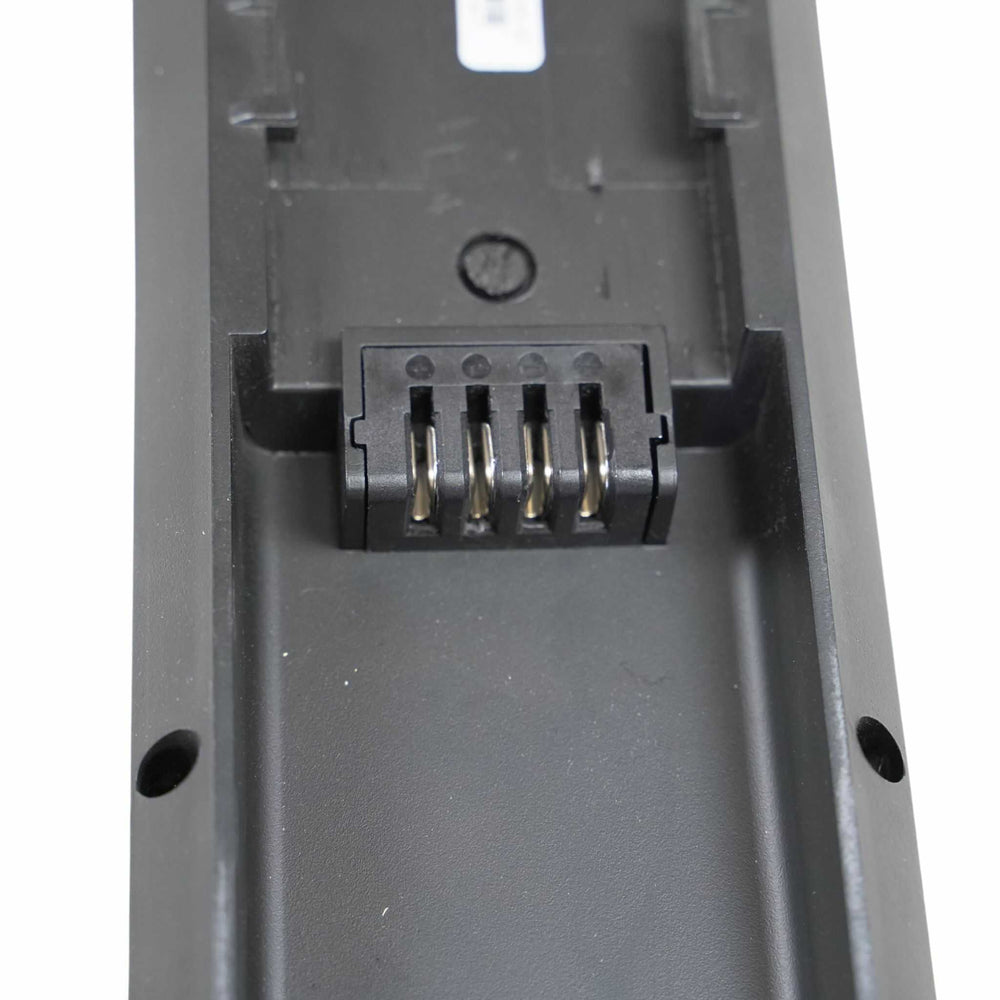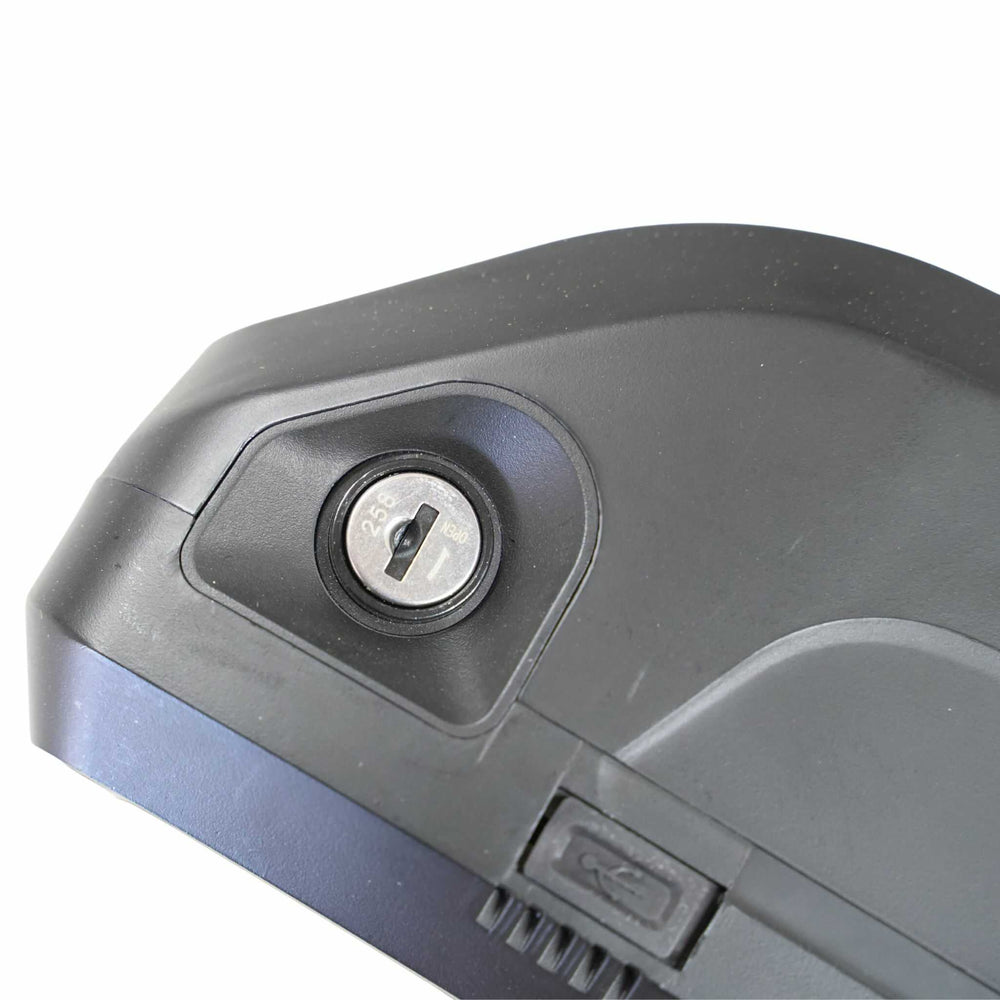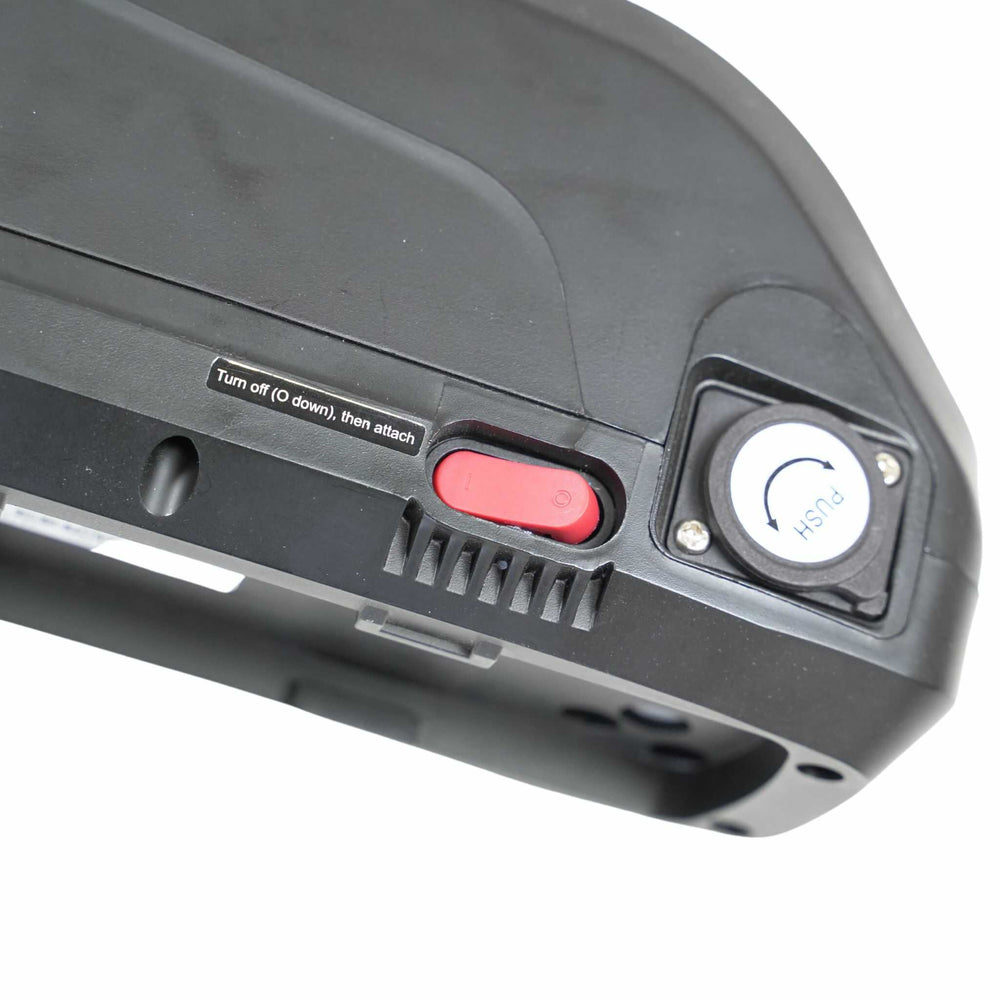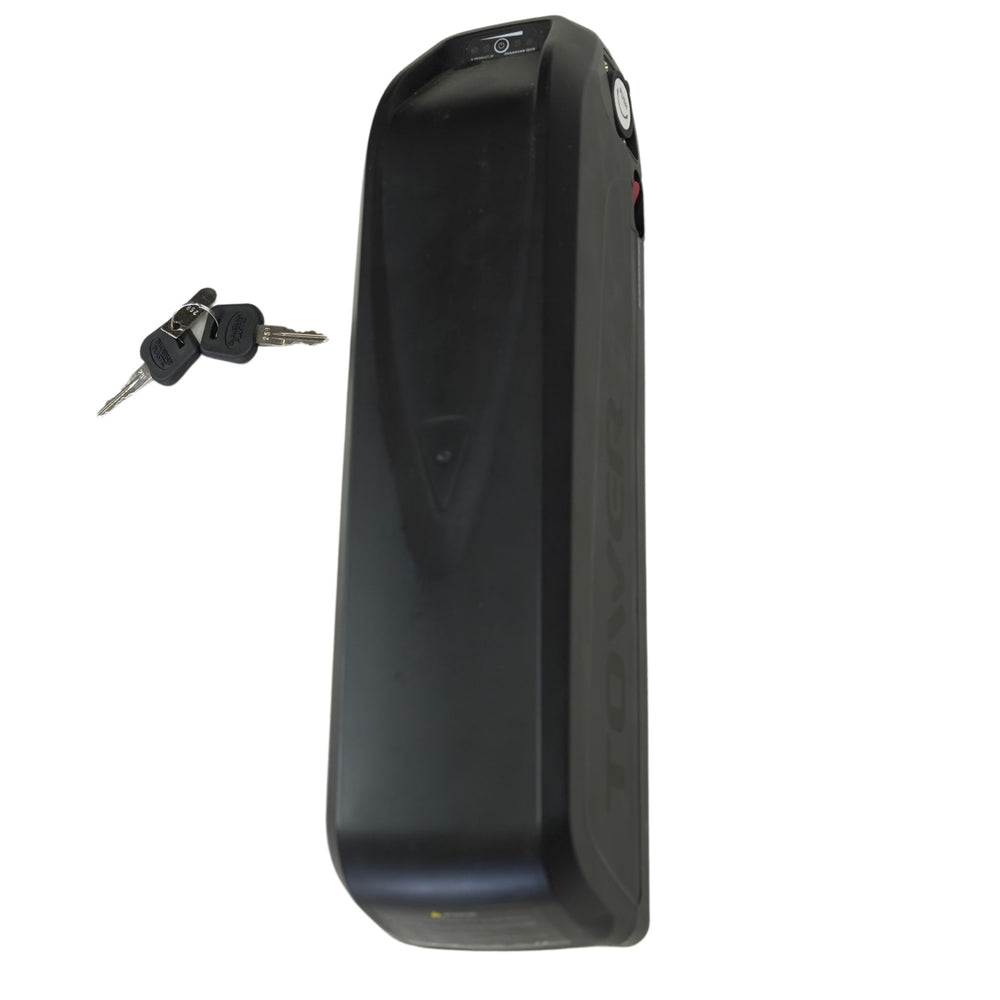 14Ah Battery for Tower eBikes | 48V Samsung Cells
DESCRIPTION
This high quality, genuine Samsung 48V / 14Ah battery will allow you to ride without having to worry about recharging for up to 40 miles. The battery can be locked and unlocked by a key (2 included). Same key that activates the battery activates the motor. The battery can be removed from its base easily without disconnecting any wires to facilitate charging or removal for security if your Tower E-Bike will be locked up in public.
Key Product Features:
- Highest Quality Samsung Battery Cells
- Molded Plastic Enclosure with USB Charger and LED Status Bar
- Theft Prevention System with Key Replacement Program
- No Memory Effect
- Extra Long Range and Lifespan

WHAT'S INCLUDED
TECHNICAL SPECS
Voltage: 48V
Current: 14Ah
Battery Capacity: 672 Wh
Range: 30-60 miles
Weight: 8 lbs
Dimensions: 14" x 4" x 4"
Standard Discharge Capacity: 2750mAh
Charging Voltage: 4.2V
Nominal Voltage: 3.65V
Charging Method: CC-CV (constant voltage with limited current)
Max Charge Current: 1375mA
Discharge Cutoff Voltage: 2.5V
Against defects in workmanship & materials
SUPERIOR CUSTOMER SERVICE
We stand behind our products
On orders over $100
Extended Product Information
Quality Features Explained
Samsung Battery Cells. As the eBike market grows exponentially, hundreds of new battery manufacturers have popped up. Some might work well, others might catch on fire during the first charge, it's hard to know. That is why we use a battery built by Samsung. Samsung continues to be the industry leader in innovation, safety and quality control. As a result, their batteries are a little more expensive, but we believe that safety and longevity are well worth the extra cost.

Molded Plastic Enclosure. The dozens of Samsung cells that power this battery are enclosed in a custom molded housing. This housing protects the battery from physical damage as well as water, dust, sand, and all other natural elements encountered during riding. The ABS plastic material provides great resistance to heat, water and impact. The matte black finish is low profile and fits in perfectly with the Beach Bum eBike, it is also discretely branded with the Tower logo.

Integrated USB Charger. Need to charge your phone on the go? That won't be a problem with the Tower Lithium-ion battery pack. In fact, if you weren't using your eBike, this battery pack could keep an iPhone charged for over 6 months! The integrated USB port is conveniently located at the top of the battery, specifically designed for use with rear lights. The charging output of the USB port it 5v1A (5 Volts, 1 Amp).

LED Status Bar. If you don't want to turn on your eBike to check the battery level on the LCD screen, there is a battery capacity indicator located on the rear of the battery housing. A simple press of a button will indicate the battery power level using four lights. All four lights will be green when the battery is full, then one light will turn red for every 25% battery discharge.

Covered Charging Port. Our electric bike battery features a 3-pin charging port, with a spring loaded cover.

Theft Prevention System. Each battery can be locked onto the eBike frame using keys that are uniquely made for the specific battery.Sorry, this means that you can't use your keys to take your neighbor's Tower Electric Bike for a joyride! Two keys are included with every battery, and can be replaced for free through our Key Replacement Program.

Tower Key Replacement Program. Keys are great...until you lose them! Don't worry, when you purchase a battery or eBike through Tower Electric Bikes, you are automatically enrolled in our Key Replacement Program. This means that if you lose or misplace your keys, just give us a call. We will ask you a few quick questions to verify your identity and purchase, and send you a one time replacement key via priority mail.

No Memory Effect. Many eBike batteries (especially nickel batteries) are notorious for their "memory effect". This means that the battery will quickly lose capacity over time if it is not fully discharged during every cycle. This can be very inconvenient, especially with eBikes where you're often traveling many miles from home.

Extra Long Range. This battery has a 672Wh capacity. That means that it can deliver 672 watt power for 1 hour. This is a 500W battery, so it can run at full power for a little over 80 minutes. Because the Tower Beach Bum electric bike has features like pedal assist, and a speed governor, your battery will rarely be running at a full 500 watt power. For example, a pedal assisted ride down the board walk will require closer to 75 watts of power. We've calculated and tested a 30-60 mile range for a fully charged battery.

Extra Long Lifespan. This battery has been tested to last for over 1000 cycles, with a conservative minimum of 500 cycles at full capacity. What does this mean? Let's start by defining a cycle. A cycle occurs every time the battery is connected to the charger. According to our battery care guidelines (see below), this battery should be charged after every use, so let's assume you are charging it 5 times per week for a work commute. 1000 cycles would be 200 weeks, or almost 4 years.
eBike Battery Care Guidelines
Do not drain your battery regularly. When battery power shows low, stop and charge your battery! You should complete a deep discharge (fully draining your battery) about once every 30 rides in order to ensure that it is correctly calibrated.
Charge your battery after each ride.
When you charge your battery, make sure unplug it as soon as it finished charging. Do not leave the battery on charge overnight!
Do not expose the battery to extreme temperature.
Make sure the battery is not exposed to fire or water.
Make sure the battery does not suffer impact damage.
Please make sure the battery is mounted properly on the base or it may suffer excessive vibration, bumps or shakes during riding.
Take special care to ensure the discharge port of the battery does not sustain any pressure or force so it will not come loose or break.
When not in use for long period of time, make sure charge the battery to half full once a month.

Video on eBike Battery Testing
Electric Bike Battery FAQs