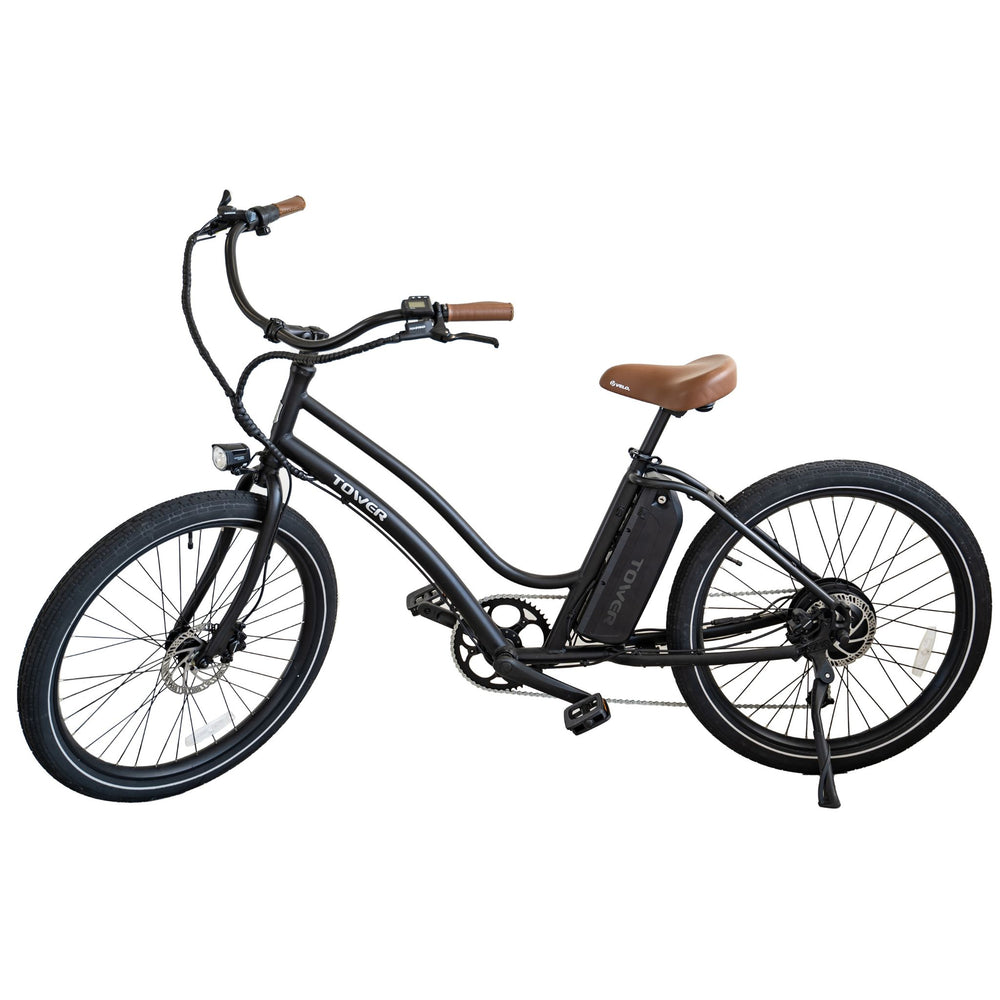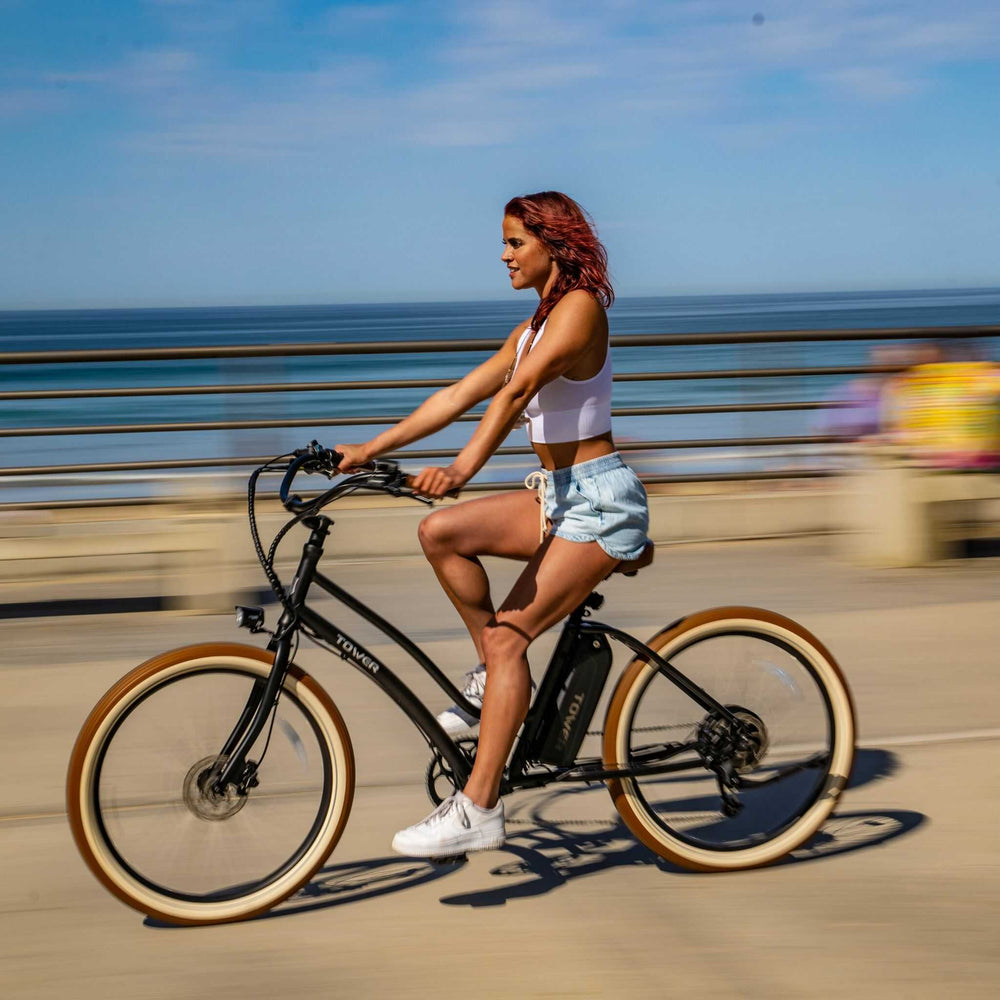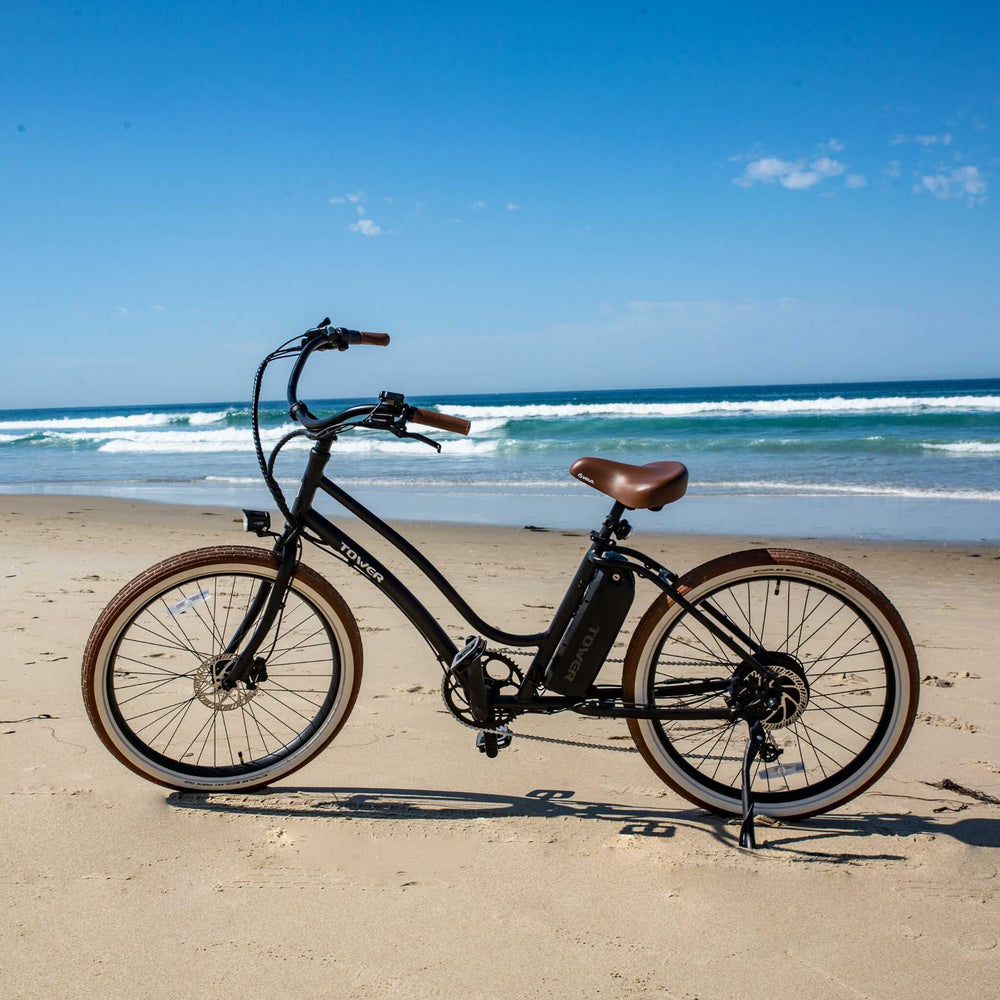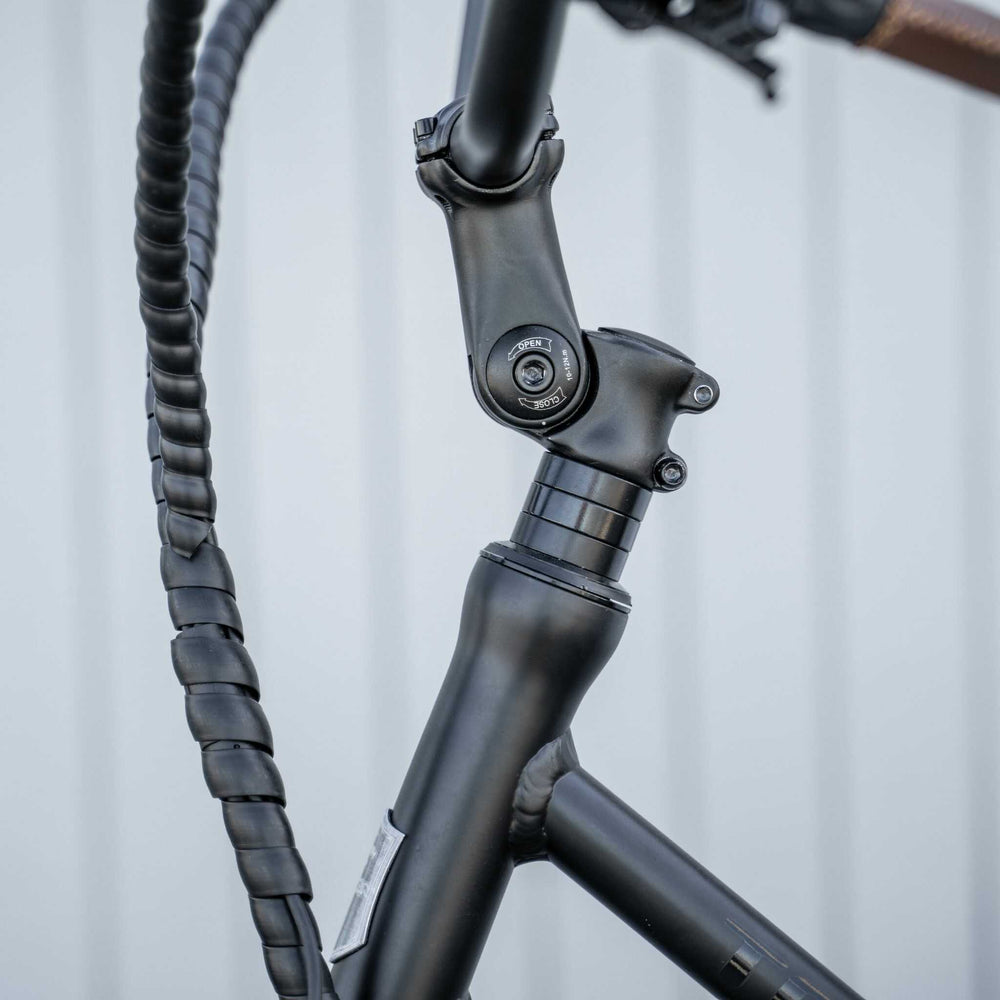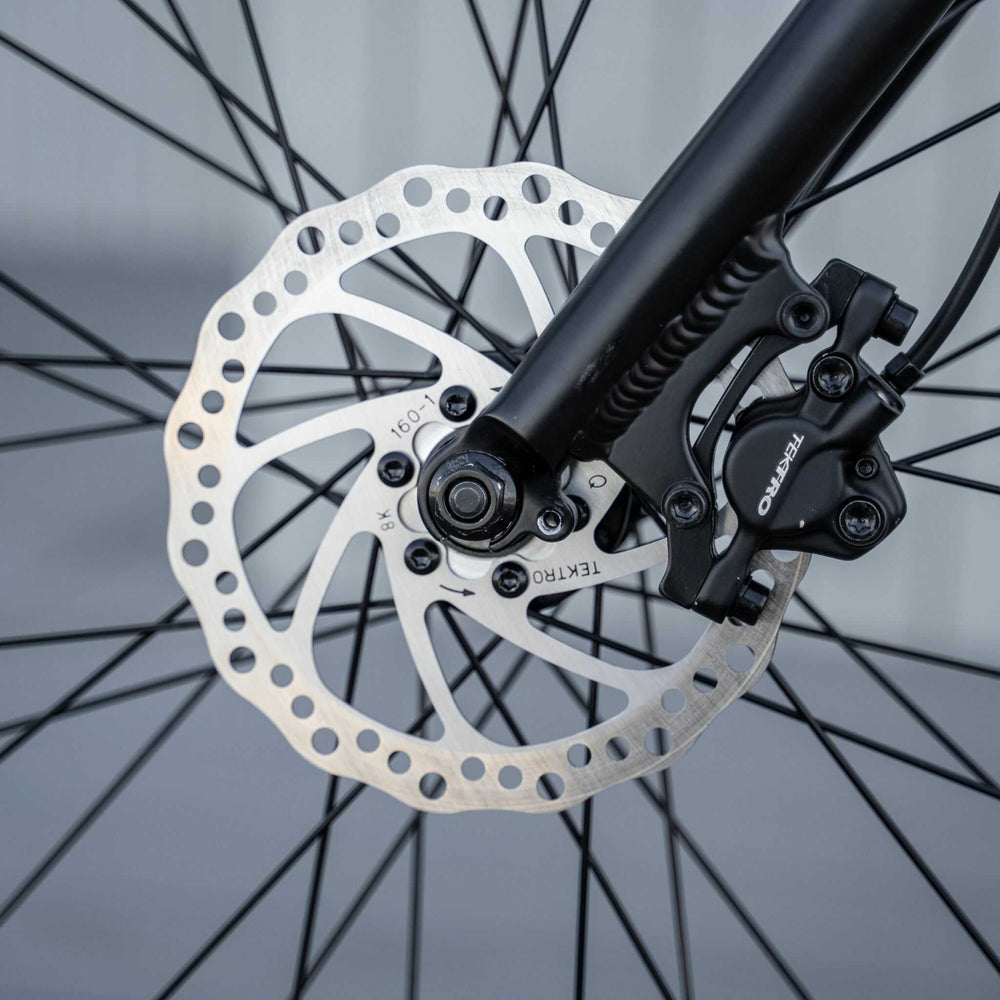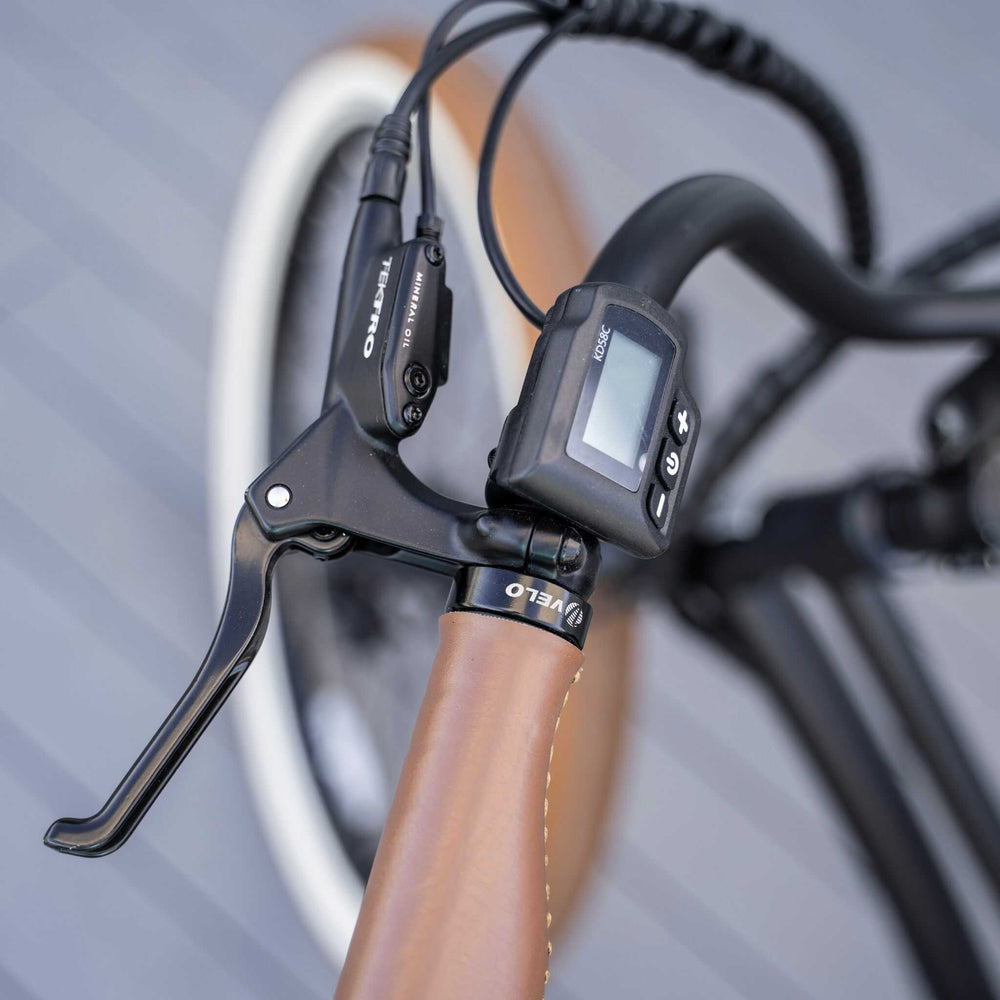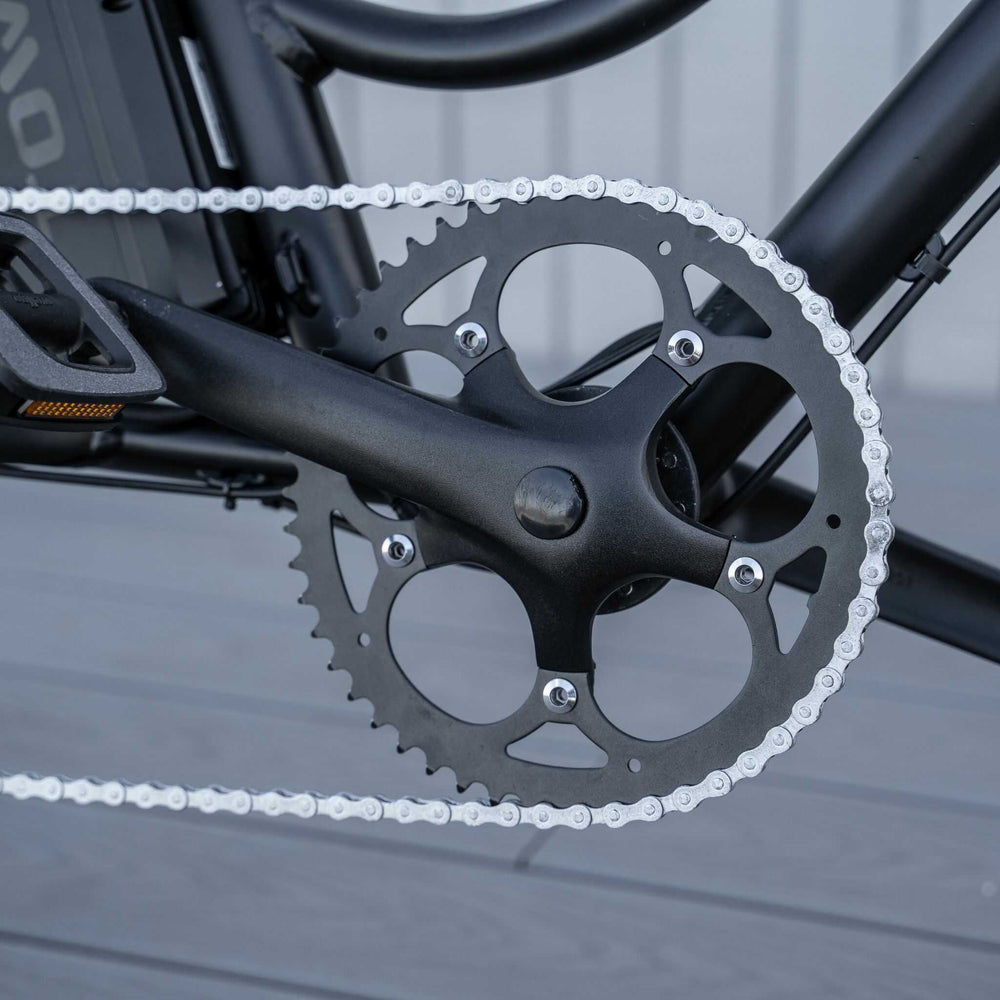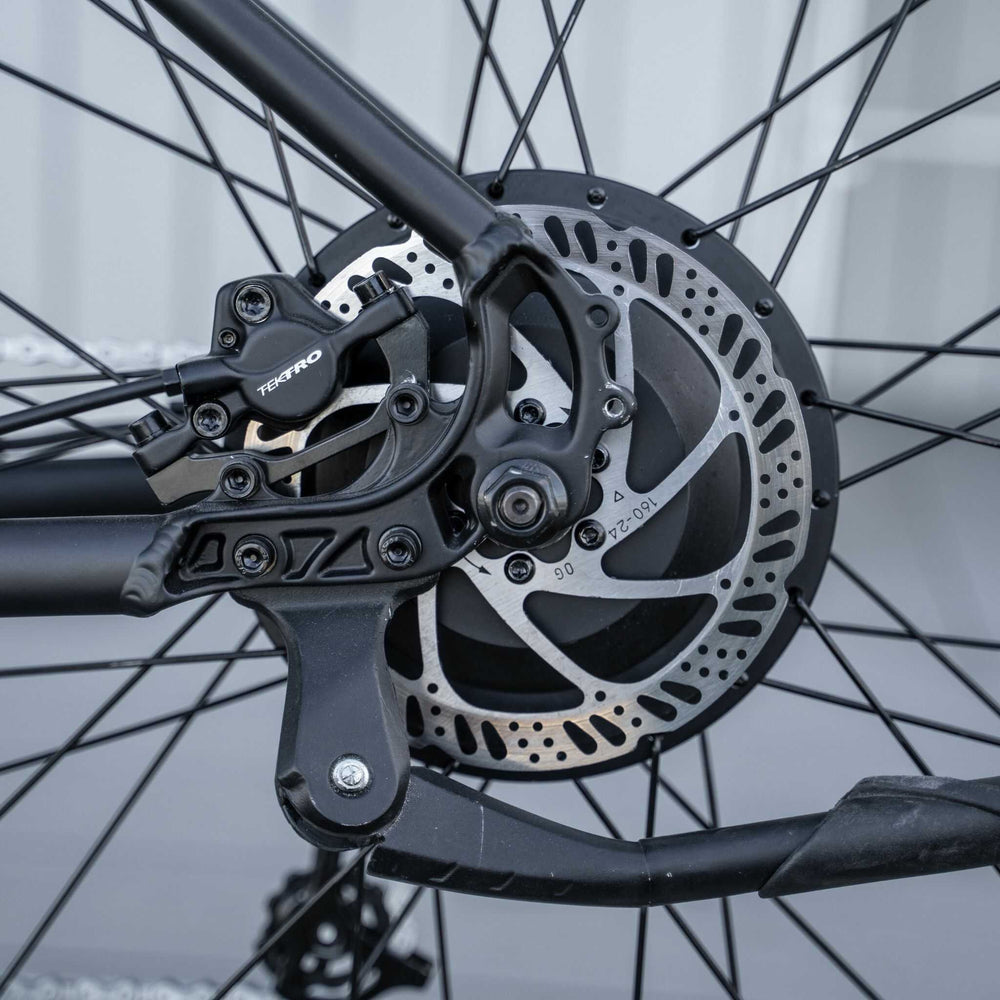 Womens Electric Bike - Beach Babe
DESCRIPTION
Fits riders 5'2" - 6'6".
Designed specifically for women and/or shorter riders, the Beach Babe is the women's electric bike follow-on to our award-winning Beach Bum (it was awarded the "Best Cruiser Electric Bikes of 2020" in the all-important value metric by Electric Bike Review).
While the frame aesthetic looks familiar, the frame geometry has been completely redesigned specifically for shorter riders. It's a slightly more compact frame than our men's eBike, yet still has the pedal forward design everyone loves. We also made over 20 upgrades to components to make this one of the best women's electric bikes on the market (at any price!). Learn more about the Beach Babe upgrades by reading the extended description below. Of course, as we only sell direct to consumer, it's the best value around as well.
Upgraded Components: Hydraulic brakes, cassette gears, a threadless headset, stainless spokes.
Powerful Hill Climbing: 65NM high-torque 48v/500w motor
Lightweight: Only 52 lbs, with rust resistant aluminum frame
30-60 Mile Range: Finest 48v 14Ah Samsung battery
Highly Flat Resistant: Schwalbe + Kevlar + tire slime

WHAT'S INCLUDED
36H stainless steel rims with 12 gauge stainless steel spokes
26" x 2.35" Schwalbe Fat Frank brown and whitewall tires with K-Guard
Slime filled tubes out of the factory with added tire liners
7 speed chrome plated 11-34T cassette gears
eBike specific Tektro hydraulic disc brakes
1 1/8" threadless headset
Adjustable handlebar stem
Samsung 48v/14A lithium-ion battery pack with integrated controller
Tower's 48v/500w brushless geared rear hub motor (65NM torque)
Front headlight, and rear light
LCD display system (with speedometer, odometer, battery level reading, etc.)
All cabling for pedal assist, half throttle, and lighting
TECHNICAL SPECS
Weight: 52 lbs
Wheels: 26" x 2.35" Schwalbe Fat Frank Tires Pre-filled With Slime
Battery: 48V / 14Ah Samsung Lithium-Ion
Range: 30-60 Miles
Motor: 500W Brushless Geared Rear Hub
Control System: Pedal Assist and Throttle
Rear Gear: Chrome Plated 7 Speed 11-34T Cassette
Chain Ring: 52T Forged Aluminum Alloy (topwheel)
Headset: 1 1/8" Threadless Headset
Brakes: Tektro HD-E350 Hydraulic Disc Brakes with 160mm Rotors
Derailleur: Skilful RD-M230
Saddle Height Range: 33" - 36"
LCD Display: Customized KD58C
Controller: 20A
Weight Capacity: 350 lbs
Top Speed: 20 mph

We know customer satisfaction
SUPERIOR CUSTOMER SERVICE
We stand behind our products
On orders over $100
BEACH CRUISERS
Electric Bike Perfection
Many e-bike brands make the mistake of adding a motor to traditional bikes designed for recreation and exercise, ignoring that e-bikes are transportation, more like a car. That's why we focus on electric beach cruisers, historically used for transportation in beach communities with a comfortable upright riding position, big seat, raked back handlebars, and balloon tires. Our e-bikes offer a truly comfortable transportation experience, that is life changing in many respects.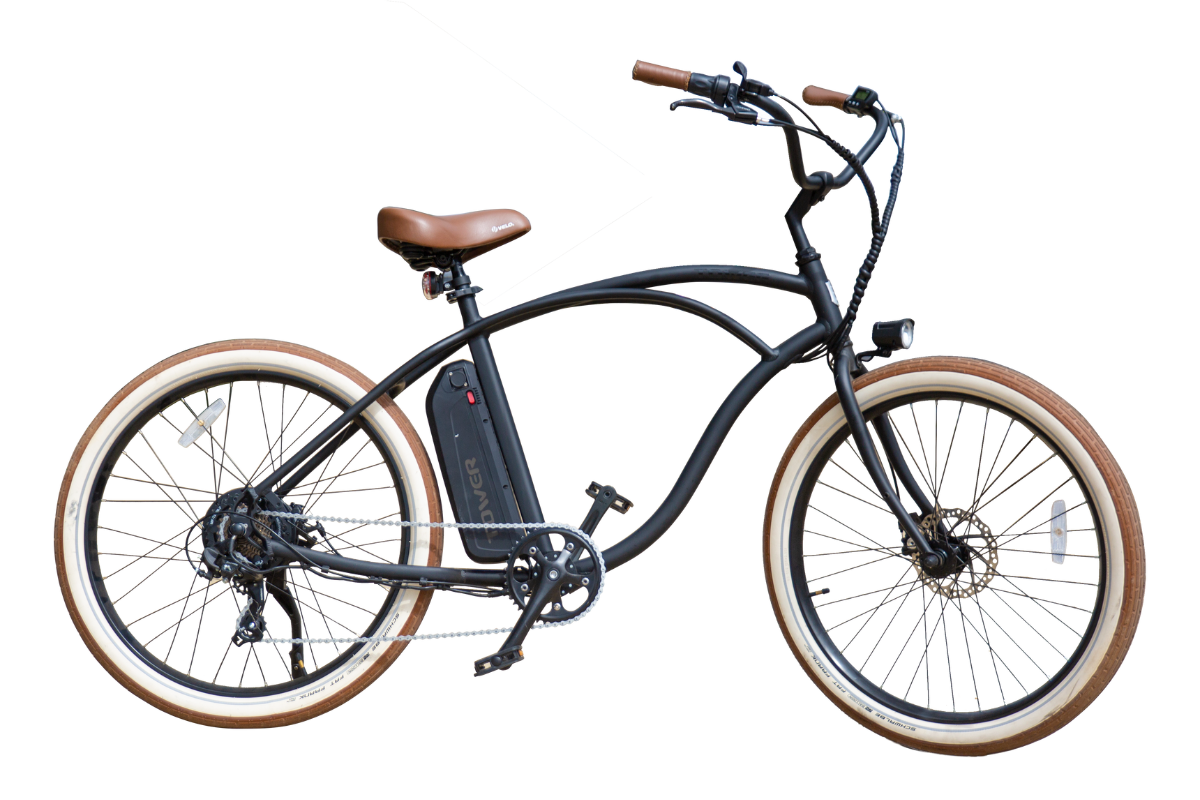 LONG-RANGE = TRUE FREEDOM
Battery quality and capacity is the most important component of an electric bike. It's also the most expensive element. We cut no corners.
HIGH-TORQUE MOTOR = HILL CLIMBING POWER
As eBikes are transportation, hill climbing ability is crucial. Tower's 500w/48v rear hub motor has 65NM torque, outpacing most "so-called" 750w motors, for exceptional hill climbing performance.
BUYING QUALITY = LESS MAINTENANCE
We use only premium hydraulic brakes, flat-resistant tires, and the finest components so you can avoid constant repairs, which plagues the industry.
PRESTIGIOUS AWARDS
Our original Beach Bum model was honored with the "Best Cruiser Electric Bikes of 2020" award in the significant value category by Electric Bike Review. Since then, we have made over 20 upgrades to the bike.
The Quality eBike
Premium everything is the difference
We don't aim to cut costs, but to improve quality by using premium components even if they come at a higher production cost. We believe in investing in quality to provide value to our customers. By selling directly to consumers, we offer lower prices for our high-end eBikes. As a result, some customers mistake us with the cheaper eBike brands, when in fact, we just offer $4000 eBikes at about half the price.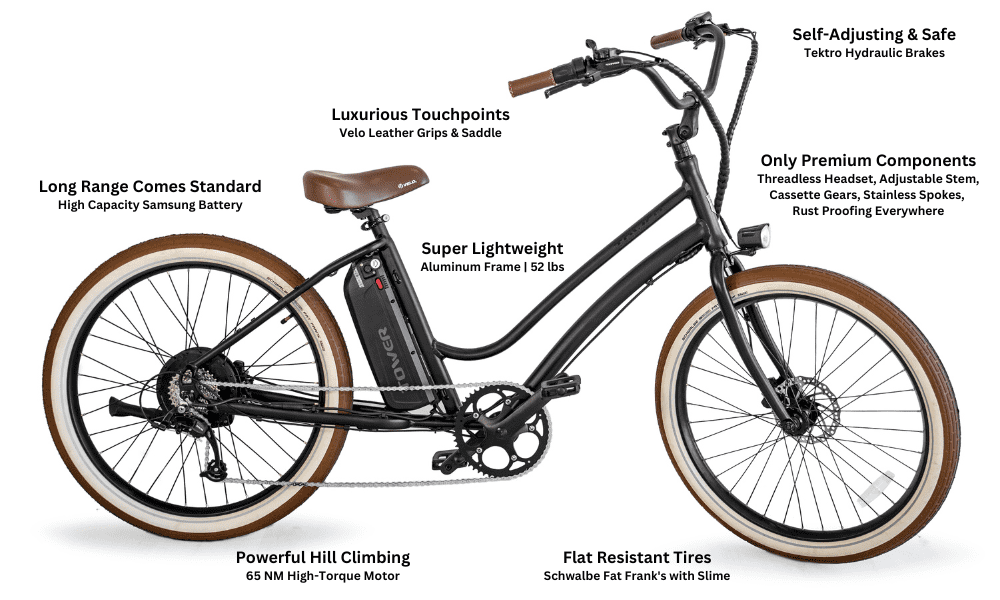 TOWER V2.0 e-Bike Upgrades
Upgraded to Hydraulic Brakes
We upgraded to hydraulic brakes to enjoy the convenience of self-adjusting brakes, which anyone that's had an electric bike for some time knows is pretty much a requirement.
In your local bike shop, upgrading from quality mechanical disc brakes to quality hydraulic brakes on an electric bicycle is typically well over a $200 upgrade. Our original Beach Bum used Tektro Aires MD-M300 mechanical disc brakes, which ware some of Tektro's best mechanical brakes. For the Beach Bum V2.0, we upgraded to Tektro HD-E350 hydraulic brakes. The "e" is for electric bicycle specific brakes.

The primary benefit of hydraulic brakes on an eBike is that they self-adjust. People tend to put a lot more miles on eBikes (you can easily do 20-40 miles on a single outing) and they go a lot faster, which requires more stopping force. Combined, this just means more wear and tear on your brakes and brake pads. With mechanical brakes, you can stop just as fast, but you'll find you have to constantly adjust your brakes. It becomes a hassle. Hydraulic brakes are self-adjusting every time you pull the brake lever, so that problem is solved. They're perfect for eBikes.
If you have an eBike that doesn't have hydraulic brakes, the brand you are dealing with is foolishly cutting cost corners. You're going to spend a lot of time adjusting your brakes. Just a heads up.
More reliable brakes also have a massive safety component, and you'll have peace of mind that you'll always have brakes
With Tower's upgrade to hydraulic disc brakes, you will find that your brakes adjust themselves every time you pull back the brake lever. The way this works is the brake caliper actually floats around your brake disc and the distance the pads pull back from the disc is adjusted every time they close and open. There's a one-way valve of hydraulic fluid that fills up as the brake pads wear down. Then once your brake pads are worn out (it varies with use, but a good estimate is 1500-2000 miles), then you swap out new ones and start the process all over again.
This constant adjustment of your brake pads means they'll work every time you get on your eBike unless you need to a major brake repair. In that event, you will likely need to go to a bike shop that can properly bleed the hydraulic brake lines and get things running maintenance free again. This ease of use is in stark contrast to mechanical disc brakes which riders have to adjust every 100 miles or so. With most eBike riders, the reality of this is you're constantly jumping on your eBike and finding out you have very little breaking power. That's dangerous.
Hydraulic disc brakes on an electric bicycle essentially reduce the effect of human error and laziness. They're also just massively more convenient. This is precisely why we felt the costly upgrade to hydraulic disc brakes from mechanical disc brakes is well worth it. We also updated the rotors to ones that are both slotted and drilled, which is a more efficient and lightweight rotor design.
An additional safety feature we improved is to have the front light come on at start up for better visibility all around, daytime and night time.
When you turn on the LCD to power up your eBike, your front light will now come on by default. It's good practice to have it on whenever you are riding your eBike so others can see you better. At night, our lights on by default approach at start-up saves you the step of manually turning the lights on. You still have the option to turn the lights off by pressing and holding the "+" button on your LCD for 2 seconds. Same to turn them back on again, it's a toggle.
Improved Gear Ratios & Derailleur
We geared up our eBikes to enable pedaling power even while at higher speeds.
We moved to a larger forged aluminum alloy crank and 52T ("52 tooth") sprocket, and one that is more rust resistant. Our prior chain ring was a 44T sprocket. We also changed the rear cog gearing to an 11T-34T range. The combined effect is that we significantly expanded the range from lowest to highest gear, while increasing the gear ratio of the top gear by a factor of 50%. We sacrificed a little on the low gear, but as our 500W motor is so powerful, there's not really a downside. We didn't actually require that low of a gear ratio. You can still tackle any hill with very little pedal effort in 1st gear on our Tower Beach Bum. The critical improvement here is that in the high gears you still will have pedal power to add into the mix if you want to, even at high speeds.
Our original gear ratios on the Beach Bum were 3.14 on the high side (44T in the chain ring over 14T in the rear cog in 7th gear) and 1.29 on the low side (44T in the chain ring over 34T in the rear cog in 1st gear). This was honestly a little overkill for climbing hills in the granny gear with the significant torque in our Beach Bum motor, and then the high-end didn't leave enough leverage to meaningfully add pedal power at higher speeds with the top pedal assist on.
With our new 52T sprocket on the chain ring, and with moving to an 11T-34T rear gear set, our new gear ratios are better all around. We have a gear ratio of 4.55 on the high side (52T in the chain ring over 11T in the rear cog in 7th gear) and 1.53 on the low side (52T in the chain ring over 34T in the rear cog in 1st gear).
Our new sprocket model is # TL-021 CD130-170 by brand Topwheel. Our prior crank and sprocket was Model #: A443-JA17 from an OEM brand.
We also upgraded the derailleur to improve chain tension and shifting performance.
We upgraded from a Shimano 7s Tourney derailleur to a higher quality derailleur by Skilful with model number RD-M230. While the Tourney derailleur boosts the Shimano brand, with that one you're basically just paying for a brand not a quality derailleur. The Shimano Tourney derailleur is widely considered a lower quality derailleur. By opting for a quality component first, and worrying about brand second, we were able to identify a great value in the Skilful RD-M230 derailleur.
In a nutshell, the benefits of a good derailleur are accurate shifting and good chain tension. A high quality derailleur has a very strong, durable spring, which is needed to provide adequate tension against the weight of a chain. Additionally, a high quality derailleur has rigid pivot points that eliminate flex in the derailleur as you shift between gears. This ensures accurate shifting.
Improved Flat Tire Resistance
We upgraded to pre-filling tires with tire slime – to further eliminate flat tires. 
Our original Beach Bum used premium Schwalbe Fat Frank tires and tire liners to very effectively reduce the frequency of flat tires. E-bikes are far more susceptible to flat tires than regular bikes, so you need to design accordingly. Most eBike companies don't, and the result is customers end up with a lot of flat tires. Unfortunately, it's quite a bit more challenging to swap out a flat tire on a rear tire with a hub motor. Quality tires make a huge difference. Adding tire liners adds more protection. While it's expensive and adds a slight amount of weight, we've found that adding tire slime at the factory installation point, in combination with quality tires and tire lines, makes the hassle of flat tires almost completely disappear.
Upgraded Adjustable Stem & Headset
We upgraded to an adjustable handlebar stem to accommodate a wider array of rider height.
Where before our handle bar position was relatively fixed (you could rotate the handlebars up or down, but that's it), now the handlebar stem can rotate up or down full 40 degrees (as well as forward and back) to better accommodate different height riders and riders with different length arm reach. Additionally, where before our handlebar stem was only secured and tightened by one bolt, there is now a 4 bolt configuration that secures and tightens the handlebars. The result is much less risk of handlebar slippage while riding, and we've virtually eliminated any risk of stripping out the handlebar.
We also upgraded to a 1 1/8" threadless headset for increased durability and ease of adjustment.
We upgraded to a 1 1/8" threadless headset to improve the durability, ease of adjustment, and rust resistance of our handlebar headset. Additionally, the more modern design of threadless headsets weigh less than the older technology of threaded headsets matched with a quill stem. Furthermore, we've matched our threadless headset with an adjustable neck handlebar stem so our customers can easily and quickly adjust their handlebars to their ideal riding position.
As a direct to consumer brand where our consumers are doing the final assembly on their bikes upon home delivery, the modern threadless headset design also offers the benefit of easier and less messy (no grease required) installation and maintenance. Older technology, with quill stems and threaded headsets create an opportunity for incorrect installation and maintenance. Improperly lubricated quill stems without enough grease (or grease in the right places) can rust and seize up over time.
Threadless headsets also offer the peace of mind afforded by a more solid, mechanical sound configuration than the older technology of a quill stem expander bolt and wedge configuration. Modern mechanical design becomes all the more important on a bicycle that goes upwards of 20 mph on a regular basis like electric bicycles do.
Upgraded Frame, Paint & Mount Points
We upgraded the frame strength & mount points to accommodate rack, seat, and fender add-ons.
We have beefed up the rear part of our frame to accommodate an optional rear rack and seat, as well as added mounting points to the frame for these racks and optional fenders on both the front and rear tires. By adding our optional rear rack and/or rear seat, Tower customers can now effectively add cargo bike functionality to our eBike. Our torque optimized 48V/500W motor is already plenty strong to accommodate heavier loads. By adding frame mount points, Tower customers can now add-on our optional fenders to better accommodate wet weather riding.
We also upgraded our matte painting process to improve scratch resistance.
We upgraded our painting process to ensure better scratch resistance. We added an additional layer of both the spray paint and paint baking process. Our process is now four layers, which massively improves the scratch resistance of our matte black paint finish.
Upgraded to a Sealed Cassette
We upgraded to a sealed cassette system to improve overall durability and rust resistance.
Older bikes and entry level newer bikes use an older technology for the rear gear cluster called a freewheel system. A freewheel systems is a set of gears plus a ratcheting body assembly (what clicks when you coast) in one piece that you thread like a bolt onto a threaded rear axle hub. All the ratcheting action and force from the chain is directed to this freewheel system, which is simply threaded onto the hub. It's old technology.

One of the problems with this type of freewheel system is that it focuses the load at the center of the axle which can result in a bent axle under high loads. While it works for low-end / disposable bikes, this isn't the most modern, long-term durability focused design. Over time, freewheels tend to wobble around the plane of the wheels which creates inaccurate shifting or unintentional shifts under load. Additionally, unsealed freewheel bearings can easily rust and get debris in them which can cause them to seize and stop spinning. For these reasons, most quality bikes built to be durable over the long haul these days opt for the more modern design of a cassette system.
A cassette system for the rear gear cluster has the ratcheting functionality built right on the axle of the rear wheel in the form of what's called a "freehub," a cylinder mechanism surrounding the axle (this is what clicks when you coast). Everything critical is right on the axle, and in the case of an eBike this means you have to build it into the hub motor, which is quite a bit more expensive. This is why these are somewhat rare on rear hub motor eBikes.
The bearings and ratcheting mechanism of the freehub body are sealed, which lends itself to better rust protection. Additionally, the external surface of the freehub body has long groves (commonly referred to as splines). To add a set of gears to this freehub, you just slide a specialty set of gears (called the cassette) onto the grooves of the freehub. This perfectly mates the two parts together over a span to create a freehub/cassette set of gears that spin true to the plane of the wheel for accurate shifting. Additionally, as this is what's used on pretty much all modern high-end bikes, you tend to get better rust proof options for the cassette of gears. Our cassettes at Tower are further made rust resistant with chrome plating and an electrophoresis process.
When you are designing the mechanics of a quality eBike with a motor that's bound to last 10,000 plus miles, you don't use old technology that's primarily used on older bikes or entry level bikes in the $100-$300 retail price range to save a few bucks. Unfortunately, it happens every day in the wild west of the cheaply made and poorly considered design of the electric bicycle world.
We improved the rust resistance across the board. 
There's no better environment to test the rust resistance of an electric bicycle than right outside our beachfront Tower Electric Bike offices. After testing our original Beach Bum in this harsh saltwater and sand environment for a year, we scrutinized every last component for its rust resistance. And then we improved everything regardless of the increased production costs.
We upgraded our coated steel spokes to coated stainless steel spokes at almost five times the production cost. Our rear spokes are now 12 gauge stainless steel and our front spokes are 13 gauge stainless steel. We upgraded from zinc plated steel spoke nipples to chrome plated copper spoke nipples. We chrome plated our new cassette for the rear gear cluster. We upgraded the pedal spindle by applying an electrophoresis deposition process. And all removable screws everywhere on the eBike were upgraded to stainless steel.
Upgraded the seat lever – to minimize seat slippage
We upgraded the seat lever to the AT-109+SQR-162 by Zoom to accommodate the more robust needs of a eBike. Compared to a regular bike, there is a lot more vibration to an eBike travelling regularly at upwards of 20 mph. Choices about your seat levers and handlebar stems needed to keep everything from shifting during use become all the more mission critical.
We upgraded our boxing to better ensure Tower eBikes arrive undamaged.
Knowing what we know from over a decade in the direct to consumer business, we significantly upgraded our eBike box solution to address current inadequacies of the bike industry. Bike factories are use to producing bikes to be sold into the traditional retail distribution channel so bike box design is optimized to accommodate the redistribution of wholesale order lots at the absolute minimum cost. When you move to eBikes, the products become a lot heavier. This creates some problems. More critically, when you move to a direct to consumer model where each box is individually delivered to a customer's front door by carriers like FedEx, more problems of box and eBike damage surface.
To ensure our customers receive their Tower electric bike in perfect condition, we improved our packaging solution across the board at significant additional production cost. The key to our improvements are:
Building a strong shell –with double wall, double corrugated, heavy duty cardboard
Preventing the transfer of shock - both from external hits to the box and from impacts of one part to another within the box
Filling the box with packing – to make our packaging as close to solid brick like structure as possible. This makes corners and sides more crush resistant so their structural protection holds up over the duration of the delivery process. It also keeps parts from slamming around inside against each other
We achieved all of these objectives above by attacking this problem from many sides. We added a fork plate that secures the front fork directly to the box in the same way the wheel is attached to the front fork. We reinforced the box corners with perfectly molded Styrofoam corner pieces. We used a much stronger box shell. We added six reinforced hand holds to make carrying our boxes easier. We widened our boxes by almost 30% to provide a healthy cushion on each side of our eBikes against side impacts. And lastly we completely stuffed every box with loose fill to eliminate voids, improve crush resistance, and act as a shock absorber from one part to another inside in the event of external shocks. This is an extraordinarily expensive packaging solution, but it's one you will appreciate when you eBike arrives undamaged. We highly recommend you save the box in case you need to ship your bike anywhere in the future.
Extended Product Information
Tower Beach Babe Versus Beach Bum 2 Video
"Be Happy Girl" Lifestyle Video of Tower Beach Babe
The Reviews Are In!
Best investment
My husband purchased me the men's bike back in April for my birthday. It was just a little big, so I bought the women's. I am so comfortable on the Beach Babe. It's great we each have one and now go for rides together!
Now make a bike rack for us! Peace! Doreen & Greg Bridges
A good bike choice
…a fine bike, though the saddle might be a bit high (at its lowest position) for short riders. [I am 5 foot 8.5 inches and it works great for me. For taller riders it would be perfect.]
Love my new Beach Babe!
My bike arrived in perfect condition and was easy to setup. It's winter here so I took it for a test run and everything worked well (but it was chilly...) I'm looking forward to lots of fun bike rides come spring!
Beach Babe / Bum
This is a very attractive bike. it was easy to assemble. The customer service was very prompt in response and easy to work with. Do the weather here in Ohio, we have not ridden very far however, a few test drives around the block were a HIT! Everyone loved it. We are hoping to get some good use out of them - purchased 2 Beach Babes and a Beach Bum as retirement gifts.