Rattan Challenger Plus Review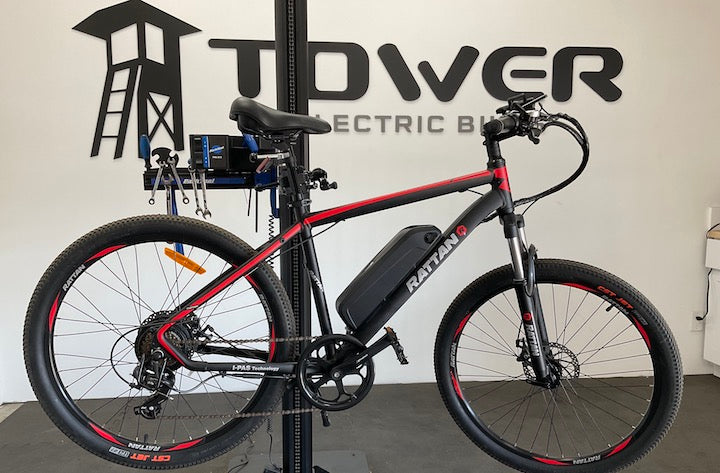 At first glance the Rattan Challenger Plus hardly looks like an electric bike. Without its battery slotted in the middle of the frame, the bike would pass as a regular bike to the naked eye. The Challenger is one of Rattan's lower graded ebikes. It scored a 30 on our Tower ebike score which is considered an ebike not recommended by our trained mechanics, and frankly one of the lower scores we've recorded.
DISCLAIMER - Rattan and Challenger are trademarks of Nova Silk Road Sarl, and use of that trademark in this review does not indicate that the reviewer is claiming any interest in the mark or any affiliation with or sponsorship or endorsement by Nova Silk Road Sarl.
Rattan Challenger Plus
We're going to review and rate the Rattan Challenger Electric Bike. It is an e-bike from a Chinese non-brand company that typically sells through Amazon or direct to consumer. The price of e-bikes from these type of Chinese non-branded companies tend to be low, and they also tend to have poor quality and offer little in the way of customer service. Since the Rattan Challenger is from a brand like this, it shares many of the same poor qualities they have, and bikes like these often get low ratings on our Tower e-Bike Scores.
The Rattan Challenger gets a score of 30 out of 100 for our Tower e-Bike 100-Point Scale, rating it as a non-recommended e-bike. We based the score on  the review of our professional mechanics, and we don't mean to sound like we're picking on the Rattan company or on their Challenger e-bike, but this particular bike is very low-end. Rattan produces some other ebike models which are better one the quality front, but the Rattan Challenger is an example of a very cheap, Walmart-type bike that has unreliable electronics and an undersized battery size pack, which are all features of a poor-quality electric bike.
Before we get into the review of the Rattan Challenger, I'm wanted to introduce myself first. My name is Stephan Aarstol. I'm the founder and CEO of the Tower e-Bike Repair Shop here in San Diego. We see hundreds of various brands and models of e-bikes monthly, so we get a close look at each e-bike. We also have our expert mechanics rate each bike that comes thru our shop on a very structured quality scoring system. 
Our team of mechanics are dedicated experts when it comes to electric bikes. We have expert staff in our repair shop. Our staff has over 30 years experience in the bike industry and 10 years in the electronic and e-bike industry. Therefore, we get an excellent view when it comes to the difference between high-quality and poor quality electric bikes as we repair dozens of them daily.
Low-priced bikes from Chinese brands bought from Amazon or some other shops usually don't last long. In the Tower e-Bike Repair Shop, customers who own this type of bike will come in and say that they only got that bike three weeks ago and suddenly stopped working.
To give you an insight about bike repair costs, getting replacement parts plus hours of labor and six weeks waiting time is going to cost  in the range of $400. Many of these customers see that and realize paying $600 to $700 to buy a cheap bike is not really worth it. But almost all new eBike customers fall prey to this exact scenario. Most customers new to e-bikes are more likely to purchase cheap bikes because their price points are hard to resist.
Tower Scores and Specialty Scores
I'll explain to you the Tower e-Bike 100 Point Scale that we'll be using to rate the Rattan Challenger Plus. The Tower Score is similar to the Wine Spectator Score. The Wine Spectator Score is a score given to wines by experts in the wine industry. These experts judge the wine's quality and put a single point score on it. For instance, if the wine receives a score of 92, then consumers know that it's a high-quality wine. Even if it sells for $20, they will still purchase it because of the high score. May highly rated wines sell for hundreds less than lesser wines, but most customers only judge quality by price. The Wine Spectator Score gives insight to customers who don't know much about wine, helping them purchase high-quality bottles to try. We're doing the same thing for the bikes. We rate each bike using our 7 attributes where the bike gets a 1 to 10 score on each. One being the lowest and ten being the highest. Then, we normalize all the score to get a 100-point scale.
7 Key Electric Bicycle Attributes
The attributes we look at are the following:
An electric bike's materials quality
An electric bike's mechanical quality
Low maintenance electric bikes
An electric bike's hill climbing ability
An electric bike's range
An electric bike's comfort
An electric bike's universality
The first three attributes: materials quality, mechanical quality, and low maintenance look into the design, quality, build, and potential future maintenance issues of the e-bike. For hill climbing ability, we look into the bike's ability to go up steep hills with ease. Since most bikes are made for transportation, e-bikes should be able to be relied upon to ride uphill. The Rattan Challenger scored low in this attribute, which we will discuss later.
The next attribute is the range. What we consider here is the quality of the battery. We check if the bike has an oversized motor or an undersized battery pack because the quality and capacity of a battery is the number one factor of what makes e-bikes expensive. If the company uses cheap batteries on the bike, you won't be able to ride it far. At first, cheap ebikes may take you a fair distance, but then very quickly the battery performance and holding capacity deteriorates to a point where it's pretty useless, and often requires replacement.
The sixth attribute is comfort. Electric bicycles are often used for commutes. Hence, they will be used for a good chunk of time on each outing as you cover much farther distances than on a standard bicycle. Thus, comfort is an essential factor to consider when it comes to electric bikes.
The last attribute is universality where we look into the bikes versatility. Nowadays, many e-bikes are bought sight-unseen online. We factor in universality to our Tower eBike Score because some people don't get the chance to fit the bike first before purchasing it. Most e-bikes are aimed at the general market, so it should fit many different rider sizes. What we're looking for in the bike's universality is the adjustability of the handlebars and seat, the step over bar height, and sizing considerations like that. As a practical example, all other things equal, step-thru eBikes tend to score slightly higher on our Tower eBike Score as they are more accessible and accommodate a wider range of riders. Our Tower Beach Babe step-thru cruiser eBike, for example, scores 4 points higher than our almost identically equipped step-over, the Tower Beach Bum 2. 
These are all the attributes that we will rate from 1 to 10.
We're going to give you a single point score out of these attributes which we call the Tower Score. We give a single score to help you get a quick insight of the quality between different e-bikes. We also have another score which we call the Specialty Score. The Specialty Score omits the last two attributes: comfort and universality. The reason why we give a separate score is because there are bikes built for specific fit and functions. Some bikes, especially those from high-end brands come in different bike models and bike frames. For instance, mountain and road bikes are designed for performance, where comfort and universality are not the main priority. Therefore, we can up with a separate score that is more suitable to compare more specialty type eBikes.
The Rattan Challenger gets a Tower e-Bike Score of 30, a non-recommended bike rating. It also gets a low Specialty Score of 26, which also falls into the non-recommended bike rating. These are super low ratings. 
Now, let's get into each of the seven bike attributes.
E-Bike Materials Quality: 3/10
The first attribute is materials quality where the Rattan Challenger gets a poor score of 3 out of 10. It is lightweight at only 46 pounds and equipped with an aluminum frame, which is better than the typical Walmart bike which is made of cheap steel, but aside from that frame upgrade the rest is pretty much on par with what you'd find in a cheap department store bike. 
The Rattan Challenger also has steel spokes, low-end tires, and low to mid-range CST tires. Additionally it has cheap seat panels, grips, and other components. Hence, a low score of three.
E-Bike Mechanical Quality: 3/10
The next attribute is mechanical quality of the e-bike where the Rattan Challenger also gets a score of three. The company seems to cut costs with this bike on pretty much every front as it also has mechanical disc brakes. E-bikes are used for going to farther distances. So, having mechanical brakes means that you're going to adjust the brakes more often, which can get annoying after a while. If you forgot to adjust your brakes, then it's like having no brakes at all. This is very dangerous. However, if your bike has hydraulic brakes, you don't need to adjust them every after few uses. Instead, they self-adjust over time.
Using mechanical brakes instead of hydraulic ones has been a practice of many lower end ebike companies since hydraulic brakes are are more expensive on the production front. In fact, you can produce an entire low-end bicycle in China typically for less than the cost of a good set of hydraulic brakes like Tektro ones. In the eBike world, many brands cut costs and make the e-bikes more affordable by using mechanical brakes. If you are seeking an e-bike that will last longer and does not need constant adjustments, then opt for bikes with hydraulic brakes. Typically that's a solid litmus test if you are getting a quality eBike or not - if it comes with hydraulic brakes standard. 
In addition, the Rattan Challenger has a fork suspension, so we gave them a bit higher score for that, but it's a pretty low-end suspension system so that is a bit of a mixed blessing as things will go wrong there pretty quickly. It also has a cheap derailleur, a freewheel which is inferior to a cassette type gearing system. So for the Rattan Challenger, we give it a 3 out of 10.
Low Maintenance E-Bike: 0/10
For the next attribute, low maintenance, the Rattan Challenger gets a zero. The lowest score on the maintenance front is often what you're going to get when you buy a Chinese non-brand e-bike from Amazon. They don't have customer service or any kind of warranty. Maintenance will be a problem. The Rattan Challenger has cheap parts, and it will most likely get flats quickly too because it lacks puncture-proof features. You're paying for a cheap tire that gets flats easy.
In addition, if there is a replacement tire, it can be very difficult to change the tires, especially the rear ones. To change the tires, you have to remove the electronic parts first as it doesn't have a detachable electronic plus for the rear battery. Hence, you cannot remove the rear tire without cutting the electronics because it's connected to the bike, which is a crazy design. It's like the bike was not built even with the forethought to be able to change a rear tire!
We see cheap bikes like these all the time in the Tower e-Bike Repair Shop here in San Diego. It really has poor quality components. Also, the Rattan Challenger is not rust-proof and since the Rattan Challenger has steel spokes, it will rust quickly. 
It also has a cheap chain with gearing, pedals, and a derailleur which are also horrible quality. Everything on this bike is going to deteriorate quickly. Hence, a zero score on its maintenance. Getting a bike like this means you'll be visiting a repair shop frequently.
E-Bike Hill Climbing Ability: 4/10
The fourth attribute is hill climbing ability. It scored a 4 out of 10, where they got most of the score thanks to its installed gears. It's a good thing that it has gears as it has a weak 350-watt motor and a 10.5-amp battery pack with low-quality cells.
Riding the Rattan Challenger won't make you ride far since the quality of its battery cells is low-end and it will deteriorate quickly over time. However, since it has gears available, you can peddle your way with a little assistance up most hills with this bike despite the weak motor. But that's less like an eBike and more like a regular geared bike experience. The motor isn't going to help you much with climbing, but the gears will be a big help. So, overall, it gets a 4 out of 10 score.
E-Bike Range: 3/10
The fifth attribute is range. The Rattan Challenger features a 350-watt rear hub motor with a 36-volt system, which is the type of voltage most bikes five or ten years ago had. In looking for e-bikes, we highly recommend looking for bikes with 48- or 52-volt system to get adequate power. Since, it has a low volt system, this actually helps it a bit on on the range front if you were to compare it to the same 350-watt motor on a more powerful 48V system. The flip side of the less powerful motor is that it also draws less power so you can go further. Nonetheless, the Rattan Challenger gets a 3 out of 10 for range. It doesn't offer much range and its battery cells are cheap quality. Additionally, it's battery cell capacity will most likely deteriorate quickly over time, especially if you use it daily.
E-Bike Comfort: 3/10
The next attribute we look at is comfort where it scored a 3 out of 10. The score it gets is primarily because of its suspension located at the front of the bike since it has a mountain bike type frame. This kind of bike is not designed to be used for long rides. Typically mountain bike type bikes are designed for engagement and performance, not comfort. In other words, this isn't going to be the most comfortable bike for city commuting unless you're riding it as a mountain bike specifically for that type of activity. Its seat design means that you're going to be hunched over when using it, which is not ideal for longer eBike rides.
E-Bike Universality: 5/10
The last attribute that we will rate is the universality. The Rattan Challenger gets a 5 out of 10 here. The reason it gets a decent score is that the seat post is fairly low for a mountain bike so this will fit even shorter riders. Although the bike isn't a step-through, its design looks more like a women's bike because of its slightly recessed top bar. The seat position may be low, but its advantage is that it can accommodate different kinds of people. Unfortunately there's not much adjustability on the handlebars, so fitting yourself on this bike to reach the handlebars can be difficult.
Tower Score: 30/100
Now that we're finished rating each of the seven attributes, we normalize all those scores and we get a total of 30 out of 100 for the Rattan Challenger. This is one of the lower scores you will encounter on our Tower ebike Scoring system. 
Specialty Score: 26/100
For the Specialty Score, it gets a 26 out of 100. Removing the last two attributes, comfort and universality, it received an even lower score as it scored moderately on the universality attribute, where it was way below average on pretty much all the other attributes. 
Weight of the E-Bike: 46 pounds
The Rattan Challenger is lightweight at 46 pounds. So it has that going for it! It has a thin aluminum frame, a smaller sized battery pack, and smallish motor. The batteries and the motor are the two heaviest components on an electric bike. Since Rattan cut costs on those two parts, the bike ended up with a relatively light weight.
Forty-six pounds is not bad weight. This bike looks like it weighs at least 66 pounds, and I could say that the company did a good job on this bike's weight – as long as it doesn't fall apart or break. Nonetheless, we don't factor the weight in the Tower e-Bike Score. We still give you the inside scoop, so that you'll be informed on the bike's weight as it is something to consider.
E-Bike Aesthetics
If you'll ask me how the Rattan Challenger looks like, it's like a low-end mountain bike you would find at a box box store with a battery secured on its front bar. It doesn't look bad to the uniformed, but it's not flashy either. It just kinda looks cheap. It looks like the mountain bikes that you often see at the department stores, which is common from Chinese non-brand ebike companies. It may look nice at first –until it deteriorates. We don't factor the bike aesthetics on the Tower e-Bike Score, rather, we give our impression on its looks to inform you and get an idea of its appearance.
Low Proprietary E-Bike Risk: 4/10
We also have one last attribute that we rate one out of ten called the low proprietary risk where the Rattan Challenger Plus gets a 4 out of 10. We also don't factor it into the Tower e-Bike Score. We add this attribute to give you a grasp of the bike's proprietary properties.
For instance, low proprietary risk considers if the company will still be running after five or ten years. Also, we consider how easy it is to get your hands on the bike components. It's basically an assessment of if it comes with standard (readily available) parts or very proprietary parts. If the bike company is out of business or just out of stock, then it will be difficult to find off-the-shelf parts to fix this bike.
Most bike companies, especially Chinese non-brands selling thru Amazon often go out of business quick. They often start a new brand, and once their bikes sell-out or get low ratings, they will start a new "brand" with the same bike models under a new brand name.
We've seen many brands enter and leave the e-bike business, and there's dozens and dozens of brands that have gone out of business in the past decade or two. It's highly likely that 95% of the active brands today won't be around ten years from now. Hence, we give you a low proprietary risk rating to inform you on the availability and serviceability of the bike in terms of reparability and access to off-the-shelf components that will work in a pinch. We also consider the customer service of the bike company here.
We also look into the parts of the bike, if they're standard or proprietary. For instance, if the tire is a standard size, you can easily buy a replacement from any bike shop. However, if the tire size and the electronics are proprietary, then it will be difficult to find parts that will fit your bike. Most of the Rattan Challenger's parts are non-standard including the motor, so you won't be able to replace that either. Overall, it's risky to get this bike.
Rattan Challenger Plus Conclusion
That concludes our review for the Rattan Challenger Plus. It received a score of 30 out of 100 for our Tower e-Bike Score of 100-Point Scale, which is one of the lowest scores we have recorded so far. It is definitely not a recommended e-bike.
Hopefully, this review has helped you gain more information about the Rattan Challenger. Check out our site for more Tower e-Bikes Scores. We have a growing list of other e-bikes that we review as they come though our e-Bike Repair Shop here in San Diego.
DISCLAIMER - Rattan and Challenger are trademarks of Nova Silk Road Sarl, and use of that trademark in this review does not indicate that the reviewer is claiming any interest in the mark or any affiliation with or sponsorship or endorsement by Nova Silk Road Sarl.