Rattan eBike LM-750 Review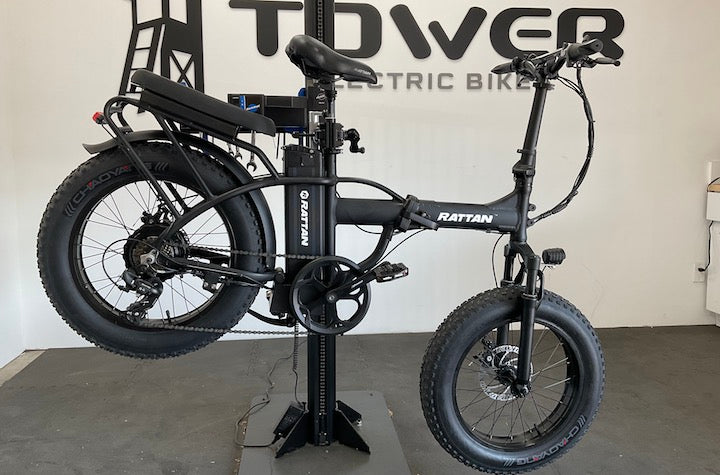 The Rattan LM-750 is a classic folding styled electric bike. Rattan considers its LM-750 model its universal passenger folding bike designed for any rider. The LM comes equipped with 20 inch x 4 inch fat tires and a 750w rear hub motor. The bike lacks hydraulic brakes and rust resistant components, as Rattan seems to have focused more emphasis on the motor and torque of the bike rather than the bikes frame and gearing parts. The Rattan LM-750 was given a Tower ebike score of 43 which gives it a mediocre bike rating according to our expert ebike mechanics.
DISCLAIMER - Rattan and Challenger are trademarks of Nova Silk Road Sarl, and use of that trademark in this review does not indicate that the reviewer is claiming any interest in the mark or any affiliation with or sponsorship or endorsement by Nova Silk Road Sarl.
Rattan LM-750
We're going to review and rate the Rattan LM-750. It is a fat-tire off-road folding bike in a moped style from what we call a Chinese non-brand eBike company that sells primarily on Amazon in the U.S. It's considered a fairly low-end brand. Rattan moved some of their high-quality electric bikes to another brand called Yamee a few years ago. I think they slowly burned their Rattan brand over the years and felt a solution was to separate out their models into two brands, one for low-end electric bikes sold cheap and a second for mid-range quality electric bikes. 
The Rattan LM-750 received a 43 out of 100 on our Tower e-Bike Score of 100-Point Scale, rating it as a mediocre bike. It scored quite a bit lower, a 34 out of 100, on our Specialty Score, rating it as a non-recommended bike, which I will discuss later on.
Before we get into each of the scores, I want to introduce myself first. My name is Stephan Aarstol. I'm the founder and CEO of the Tower e-Bike Repair Shop here in San Diego. At Tower, we see hundreds of bike brands and models every month so we get a good in-depth look at all the different bike brands that we repair in our shop. Hence, we have an excellent grasp between each bike brand's quality.
Our mechanics have 30 years experience in the bike industry, and we know the mechanical elements that make a high-quality bike. Our team also has 10+ years in the e-bike electronics industry and we have seen all different kinds of e-bikes. Hence, our team has been operating at an expert level in the bike and electric bike industry for many years.
For each of our bike reviews, we put together a 100-point scale that we call the Tower e-Bike Score. To get the total e-bike score, we rate each bike based on seven key attributes. We score them 1 to 10, one is the lowest score, and ten is the highest. Then we sum up those scores and normalize it to get a single point score on a 100-point scale. That's the Tower E-Bike Score we assign each electric bike. 
The seven key attributes we grade are the following:
Electric bicycle materials quality
Electric bicycle mechanical quality
Low Maintenance electric bicycle
Electric bicycle hill climbing ability
Electric bicycle range
Electric bicycle comfort
Electric bicycle universality
The first three attributes: materials quality, mechanical quality, and low maintenance focus on the physical characteristics of the bike, and on the amount of maintenance you need to keep the bike in good condition. The fourth attribute, which is hill climbing ability, looks into the torque of the bike and its ability to climb steep hills. This is important as most e-bikes are primarily used for transportation.
The fifth attribute is range. Most of the time, bike companies exaggerate the specs on their bikes. Range is the one they tend to exaggerate the most, so we get into the actual eBike specs and configuration for increasing range. There are trade-offs when it comes to range and because quality, high-capacity batteries are by far the most expensive component on an eBike, it's expensive to offer great range. We tell you the reality, not the hype you're getting from the brand's marketing fluff. 
The sixth attribute is comfort, where we look into the bike's level of comfort as you are likely to be riding an ebike farther distances than a standard bike. Lastly, the seventh attribute is universality. This rating looks into the bike's versatility and customization. For instance, if it can fit different types of sizes, heights, and weights of users. The reason why we included this key attribute is because most electric bikes are used by more than one person. Bikes used for transportation are not typically offered in 5 different sizes, and thus it is important they are made to cater to different kinds of people. Hence, it's best if the bike offers adjustability to fit different size ranges.
The Tower Score and Specialty Score
That's the seven attributes that we will rate from one to ten. Then, we normalize that to get our total 100-Point of Scale Tower e-Bike Score. This is similar to the widely known Wine Spectator Score. If you are fond of wine, then you might be familiar with it. It's often seen in grocery stores, where some of the wines are scored from 1 to 100. Wines with a score in the 90s tend to be excellent wines. Each wine is scored by wine experts to give the consumers, especially those unfamiliar with wine, a quick insight of the wine's overall quality. They don't need to try and test each bottle, but rather, they can choose a good-quality wine based on its single point score.
If you find a 93-point wine that's selling for $15, then you'll be confident that it's good value and a great wine. And if there's a 75-point wine selling for $200, you might want to skip it.  In similarity to the bike industry, quality and prices are all over the map and don't even line up with any sense of regularity. The price range of eBikes is hefty at $500 to $15,000. However, it's difficult to test and try bikes at every price range. What makes it more overwhelming is that bike companies often market their products like it's a one-of-a-kind bike, where in the end, it's just an ordinary one. So, we thought that we could the same helpful scoring systems as they do in the wine industry, but for eBike shoppers by coming up with a Tower e-Bike Score 100-Point Scale to help consumers get a good grasp between poor and excellent-quality bikes.
We also have a secondary 100-point score that we call the Specialty Score. We omit the last two attributes: comfort and universality. The reason we omit them is because there is a category in the bike industry where comfort and universality are not the main priority. Mountain bikes and road bikes are great examples as comfort are not imperative to their design because they are built for performance. Additionally, there is a specific fit for these kinds of bikes. They are sized for only one user, and oftentimes one bike model comes in 4-5 different frame sizes.
That's it for the introduction to the Tower eBike Score. 
Rattan LM-750 Review
Electric Bicycle Materials Quality: 2/10
For our first attribute, the Rattan LM-750 scores a 2 out of 10. Not great. It has an aluminum frame but the rest of its components are cheap quality such as the seat, pedals, grips, and tires. It does have has stainless steel spokes, which is a nice upgrade over a standard steel eBike frame which tend to rust out quickly. But not much else is very nice on the materials front so it gets a low score of two. You can expect this low score on Chinese non-brands on Amazon. 
Mechanical Qualities: 3/10
The next attribute is mechanical quality where it also scores a low 3 out of 10. One of the reasons it scored so low is because it comes with mechanical disc brakes, which is a problem as people tend to ride electric bikes longer distances. Mechanical brakes do not self-adjust, so you need to adjust them constantly to make sure they work efficiently. Literally you'll be adjusting your brakes every 3-4 rides. We recommend looking for bikes with hydraulic brakes. Although they're more expensive, they self-adjust with every pull of the lever, lessening the maintenance.
The Rattan LM-750 saves cost by putting mechanical brakes but it does have front suspension, which is a nice upgrade. It has a cheap derailleur which can be a problem once you add some torque on the bike. There is also a freewheel on its back and cheap gears. Hence, an overall score of three for mechanical quality.
Low Maintenance: 1/10
The next attribute is the low maintenance rating. The Rattan LM-750 electric bicycle scores a 1 out of 10. Low maintenance is an important attribute that we look into at the Tower e-Bike Repair Shop here in San Diego as we see many ebikes that break down easily. This is because they use cheap components. It's one thing to use the cheapest components available when you are selling a $150 bicycle at Walmart, but it's another thing when you sell an e-bike for $1000, $1500, or even $2000 and use those super cheap bicycle parts that usually are only seen on really cheap bicycles. Another all too common issue is there is no puncture protection on the tires, resulting in lots and lots of flat tires, and the occasional double flat tire service job. we see this all the time in our eBike shop on eBikes that skimp on tires and flat protection. 
The quality of the tire is important because electric bikes like this are difficult to maintain. The design of a rear tire assembly on an eBike is also awkward. It's difficult to change the rear tire because you first need to disconnect the motor – which can be a very tedious task. Some people will try to save money by repairing the bike themselves, and will end up giving up because of the bike's design. As a result, they'll end up with a flat-tire bike that they can't use anymore. We often see this kind of problem in our repair shop.
We also mentioned earlier that the Rattan LM-750 has mechanical brakes. This means you will need to adjust the brakes often, which will add to your maintenance costs. The chain and derailleur are also low-end. All the parts will rust and will need more repairs and fixing. It's not cheap to repair bikes in the shop. Most bike shops charge $85 per hour for labor. And in the Tower e-Bike Repair Shop, we charge $110 per hour for electronics work on ebikes and $85 on mechanical labor. Other shops charge $125 per hour for electrical maintenance. Repair costs add up quickly.
We recommend investing in high-quality ebikes for these reasons. It's penny wise and pound foolish to save a little upfront when it means you'll end up spending a great deal more over time. Low-end bikes like this will cost more on maintenance. Sure, you can buy it at an affordable price, but in the long run, the low price is not gong to be worth it. Overall, there will be quite a bit of maintenance and issues on this bike, and it won't last long. Therefore, it gets a low score of 1 out of 10.
Hill Climbing Ability: 9/10
The fourth attribute we'll look into is hill climbing ability. Rattan LM-750 scored high for this attribute. It gets a 9 out of 10. Some bike companies will market their bikes, claiming that they have a 750-watt motor and 48 volt system, with the inference that you have a powerful bike that can climb any hill. This isn't the case. Without gearing, or the proper gearing, or a torque-centric motor, that eBike might not be able to climb hills well. Add to that the wattage claims of manufacturers have not real standards, so one company might call a motor a 500-watt and another brand might claim the same motor is a 750-watt. Standards aren't widely agreed to, nor adhered to when quoting motor wattage. 
That being said, while some eBike brands don't live up to its claim on power, the Rattan LM-750 does. The hill climbing ability of this bike is excellent. It has gears and a great motor quality that helps any user ride uphill easily. Hence, a 9 out of 10.
Range: 2/10
The next attribute is the electric bike range, and for this one, the Rattan LM-750 scored a low 2 out of 10. It's because they paired this powerful motor with an undersized battery pack. Additionally, they use low-quality Chinese battery cells, which affects range even more than it affects power, and more importantly both start to degrade pretty quickly with time. 
The website of this brand claims that the Rattan LM-750 has a range of 80 miles, but it's just untrue. The claims are often exaggerated, and you can compare the difference once you actually use the bike. In addition, as I mentioned above the Chinese battery cells which will deteriorate over time so whatever range you experience out of the box will be quite a bit different than what you experience 3-6 months down the road. Batteries are the most expensive part in e-bikes. And since Chinese non-brands tend to cut costs wherever possible in manufacturing their bikes (even in nonsensical areas), they use cheap battery cells which don't perform well.
Comfort: 7/10
The sixth attribute is comfort where the Rattan LM-750 scored a 7 out of 10. Like I've mentioned earlier, the Rattan LM-750 is like a trail rider type of bike. As such, you ride in a comfortable upright position. You don't get much forward and backward adjustability on the handlebars but you can adjust the seat up and down for a customized fit for different height riders. It also has a lot of suspension, with some cushion tires and shock absorbing shocks upfront. Overall, Rattan LM-750 received a good score of seven on comfort.
Universality: 6/10
The last attribute for our Tower e-Bike Score is the universality, where the Rattan LM-750 gets a 6 out of 10. Universality factors into the bike's versatility. It should be able to fit different people and the adjustability of its seat or handlebars. It should be approachable. 
The Rattan LM-750 is a small folding bike. Kids or women will fit on this bike, and can adjust the seat for custom fit, so that's a huge boon for shorter riders However, it may look awkward for taller people because of its size. Taller people might look like a bear riding a mini bike. Thanks to its adjustability, though, overall it scored a pretty high six out of ten for universality.
Tower e-Bike Score: 43/100
Normalizing all the attributes above, the Rattan LM-750 gets a score of 42 out of 100, a not-recommended e-bike rating. It scored low for the materials quality, mechanical quality, and maintenance. It has great attributes for hill climbing ability, comfort, and universality. However, it has cheap Chinese battery cells and an undersized battery capacity for its motor size, which will not reach the claimed range of the bike. But the Rattan company may offer some battery upgrades to improve its range. Understand though a decent battery can cost $600-$1000 so this isn't a small upgrade. It's why lower-end eBikes skimp on the batteries.
Specialty Score: 34/100
For the Specialty Score, the Rattan LM-750 gets a 34 out of 100. It also falls into the not-recommended e-bike rating on specialty score. If you remove the comfort and universality, where it scored pretty well, it will get an even lower score for its more general quality ratings.
e-Bike Weight: 65 pounds
One thing that we don't factor into the Tower e-Bike Score is the weight. However, we include the weight here is our review for your reference. Once the bike comes in through our eBike repair shop we throw it up on a scale. We make a habit of doing this because many ebike brands either don't put the actual weight of the bikes on their website at all, or they put a lower exaggerated weight. As a service, we give you the actual weight. 
The weight of the Rattan LM-750 is 65 pounds. It's a heavy weight for an e-bike, especially for a folding bike. Typically, folding bikes are made to be stored compactly in a car, or a small storage at home. With an ebike at 65 pounds, it may be difficult for one person to stow or lift it for storage. The heavy weight is due to the cheaper parts they put on its design. Lightweight parts in the bicycle world tend to come at significant extra cost. 
Bike Aesthetics
Another thing that we don't include in our Tower e-Bike Score is the looks of the bike. We know that each person has their own taste for a bike's looks and design. However, we want to give your opinion on this bike as we see hundreds of bikes on our electric bike repair shop. The Rattan LM-750 looks good. It looks like a mini bike – like an old school Honda Trailrider, but with bad tires. It's not that horrible, but it does not look like a bicycle.
If you're going to use this on a sidewalk, it can be noisy because of the knobby tires. Some people might mistake it for a motorcycle and give you a dirty look, especially if you run it on boardwalks or sidewalks. Personally, I prefer bikes that look more like bikes than motorcycles, largely because I don't like getting dirty looks. And this one looks more like the latter.
Low Proprietary Risk: 4/10
This is another factor that we don't include in the Tower e-Bike Score. We call it the low proprietary risk score, which looks into the bike's likelihood of obsolescence. It gives the consumer an assessment of the company and its services. We look into whether the eBike uses off-the-shelf parts or proprietary parts for the bike. We look at the brand's customer service. And we look at the brands durability. 
Chinese non-brands frequently go out of business. From our assessment, the Rattan LM-750 is a fairly risky bike, so we score it a low 4 out of 10. Additionally, Chinese non-brands often abandon one brand and simply switch to a new brand if the old one gets burned. Once their bikes receive low reviews of, for instance, we see a 1.9 star rating for "Rattan eBike Store" on TrustPilot at the time of this writing, they will burn the brand and rebrand everything to a new one. This brand, Rattan, actually seems to have done this. They moved their higher-end quality bikes into another brand called Yamee. Obviously, companies that change brands are risky – the parts of the bike will be harder to find. For Rattan LM-750, they have some standard parts such as the tires. The tires are 4x20 fat tires, which may have used to be hard to find before the eBike explosion, but are readily available from bike shops today.
The Rattan LM-750 has a good deal of non-standard electronic and bike parts. It also has a proprietary motor, which you cannot replace easily. Hence, a 4 out of 10.
The reason we quote the proprietary risk score is that most bike companies will go out of business. Some of them will last five to ten years, some less. But like any fast moving industry, it's almost a certainty that ninety to ninety-five percent of these brands you see today will be out of business in more than 5 or 10 years, including the biggest brands that many people think will be fine. They won't. We've seen this happened before at other competitive markets with high growth. As such, we tend to favor products that use off the shelf parts for easier availability. Bikes with standard off-the-shelf parts are easier to repair. It's the best to opt for bikes that have standard parts for easier components replacement and repair. And when (not if) the brand you are buying an eBike from today goes out of business, you won't completely be up a creek with a paddle. 
Conclusion
That's all for the review of the Rattan LM-750. It gets a Tower e-Bike Score of 43, which puts it in the mediocre bike rating. Hopefully, you have gained some insight and useful information about this e-bike.
Check out our site for more Tower E-Bike Scores on a growing list of other electric bike reviews that come through the Tower e-Bike Repair Shop.
---
Electric Bike Reviews You Can Trust
Electrified Reviews
*****
DISCLAIMER - Rattan and Challenger are trademarks of Nova Silk Road Sarl, and use of that trademark in this review does not indicate that the reviewer is claiming any interest in the mark or any affiliation with or sponsorship or endorsement by Nova Silk Road Sarl.