Aventon Level Step Thru Review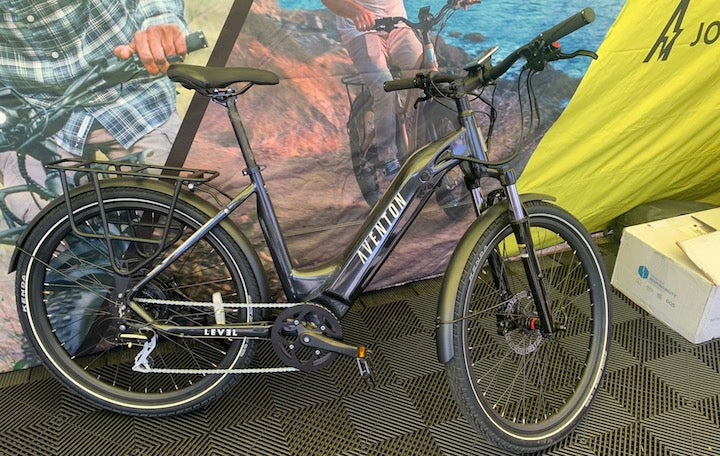 Follow along as we review the Aventon Level Step Thru and score the ebike on our Tower ebike scoring system. The Aventon Level Step Through has a more open central frame than the original Aventon Level making it a more universal fit ebike for all ages and sizes. This electric bike scored a 54 on our Tower eBike score giving it a mediocre ebike rating. Read our full review and analysis below.
DISCLAIMER - Aventon and Level are trademarks of Aventon Bikes, and use of that trademark in this review does not indicate that the reviewer is claiming any interest in the mark or any affiliation with or sponsorship or endorsement by Aventon Bikes.
---
Aventon Level Step Through eBike Review
Today we are reviewing and rating the Aventon Level Step Through Commuter eBike from Aventon Bikes. Aventon is a fairly well known brand in the e-bike industry. They have different models available and they caught onto the e-bike trend by manufacturing various types of electric bike models. The Level models are their commuter-style or city-style bike lineup, which is a big niche in the bike industry. The Level is designed for flat roads and commuting on paved roads. We review the step-thru model here, but we also review the more traditional, standard Aventon Level eBike (step-over) model on another page. Many bike companies transition into commuter-centered bikes because most bikes are mainly used for transportation, especially for commuting to and from work.
It scored a 54 out of 100 on our Tower eBike Score of 100-Point Scale, rating it as a mediocre bike.
But before we get into the scores, I want to introduce myself first. My name is Stephan Aarstol. I am the CEO and founder of the Tower eBike Repair Shop here in San Diego. We see hundreds of different bikes come in through our repair shop. Fortunately, we have the opportunity to get hands-on experience with each bike, so our experienced eBike mechanics use a very structured spreadsheet-based rating system to score eBikes which assesses over 400 data points across over 40 major quality attributes.  We use this to publish our Tower eBike Score on each ebike. We also lend our professional knowledge and years of service in the bike industry to develop each e-bike review and score.
Many consumers, especially e-bike beginners (which are a different crowd than hardcore bicycle enthusiasts), usually can't tell the difference between a poor and high quality e-bike. That is why we created a database of reviews and ratings of different electric bikes. Our reviews can help consumers to have a quick insight into each bike to gain information for their next bike purchase, and more importantly to compare a couple brands and models they are considering. With our 100-point scale, shoppers can get a grasp of the difference in quality from one ebike to the next.
Our Tower eBike 100-point scale is composed of seven key attributes, which we will rate from one to ten. One is the lowest score and ten is the highest. Then, we normalize all those scores to get a 100-point scale. So, we first give a review for each of the bike's attributes, which are the following:
Materials quality
Mechanical quality
Low maintenance
Hill climbing ability
Range
Comfort
Universality
All these attributes will be normalized to get the Tower eBike Score. Our system of rating is similar to the Wine Spectator Score. To put it simply, there is a plethora of wines in the market, similar to bikes. As a result, it can be overwhelming which one to buy. A single point scoring system you can trust really helps. There isn't a way for others to test the plethora of the ebikes on the market by test driving them first. Since we're fortunate here at Tower to get a chance to test 100s of bikes each month in our busy eBike repair shop, we have taken the opportunity to review and rate each one of them for you, giving you complete information about the electric bike.
In addition, we have a secondary score. It's also on a 100-point scale. It's called the Specialty Score. It omits the comfort and universality attributes as it isolates the materials quality, mechanical quality, maintenance, and electric properties of the e-bike. The reason why we have the Specialty Score is that we think it's unfair to rate some eBikes based on comfort and universality. This is because there are ebikes made for specific size people or specific functions or performance over comfort, and universality is not the main priority. It works better for some eBike your are considering, so use it if you don't care about comfort or universal fit and adjustability. 
Now, let's get back into the Tower eBike Score on this eBike.
E-Bike Materials Quality: 2/10
The first attribute is materials quality of an eBike, which is often overlooked. It's one thing we always want to look into first. This attribute looks into the exterior touch points of the bike where we examine the quality and longevity of its components. We also check if it comes with additional accessories and if they come in excellent quality. The Aventon Level Step Through, which on the surface is a good looking eBike, scored a low 2 out of 10 on materials quality.
One thing we didn't really like about this bike is its tires – they're Kenda tires, which are cheap quality. Kenda tires is a brand known for its low-quality tires in the bike industry. We would have liked it better if the Aventon Level Step Through came with more highly flat-resistant tires, which is essential for a commuter style bike. You don't want to get flat tires while on the road. And getting flat tires is just a more likely reality if you have Kenda tires. Hence, it's a feature that we wish Aventon improved.
The bike comes with a few extra accessories such as a back rear fender, a front fender, and a bike rack. However, these accessories are also relatively low quality. Most eBike brands will offer accessories to boost their bike model's price and overall value perception, but oftentimes these "bundles" are mostly smoke and mirrors. Why put low-end accessories on a relatively expensive base eBike product. As a result, you may just end up swapping those extra add-ons out for better-quality ones down the road. For instance, the bike rack on this Aventon bike comes with a rack that can only carry up to 15-20 pounds of weight. You cannot put valuables heavier than that because of its lack of support, which is a downside for most commuters.
A few components that are of mentionable low quality in this bike include the grips and the thumb throttle.
What we like is the bike's spokes – they are rust-resistant and made of stainless steel. Also, the display screen is large which we really like. 
Electric Bike Mechanical Quality: 6/10
The next attribute is mechanical quality, which is another overlooked factor on many electric bikes. Most people only look superficially into the bike's brand stated range, power, and speed that they forget to check the underlying components of an bicycle. E-bikes are still used as ordinary bikes. Getting too caught up with the electric components will give you a bike that is useless when used as an ordinary bike. You want to make sure all the components work well, whether they are electric parts or not.
For the Aventon Level Step Through, it comes with hydraulic brakes, which is an excellent type of brake. However, they're not branded, so we're a little unsure of the brake quality. Additionally, it also comes equipped with front suspension, making it a bike that allows smooth rides.
The Aventon Level has more low-quality components than we like to see like the derailleur and the gearing. When switching between gears, we noticed that the crank arm is also made of poor quality. Overall, there are some good and bad components in this bike when it comes to mechanical quality. It did  score of 6 out of 10 for mechanical quality, so all things considered, it's better than the average eBike on this front.
Low Maintenance: 5/10
The next attribute we looked at is low maintenance. As an eBike Repair Shop, our team is very familiar with this factor. We are familiar with the problems of different ebike brands that come in through our shop. We see many Aventon brand bikes, and the Level is one of their most popular models. The Aventon Level Step Through scored a 5 out of 10 for low maintenance. Its average score is mostly because of its tires, which are Kenda tires – popular in the bike industry for its low quality, yet cheap production cost wise tires. They are not all that flat-resistant. We would've liked it if this e-bike came with branded tires trusted in the e-bike industry for lower maintenance concerns. Electric bikes are heavy and used to going much longer distances than traditional bikes, so low-quality tires present more of an issue.
Let's look into the brakes. They're hydraulic, which is a good thing. Hydraulic brakes are more preferred as they are self-adjusting. You don't want to spend more time with the brake pads and brake caliper adjustment to deal with squeaky brakes and be constantly adjusting them. The Aventon Level Step Through did an excellent job for its choice of brakes as far as going with hydraulic, although they aren't branded. From what we can tell it has decent quality, which should minimize your time in the repair shop.
One thing of note here on the Aventon Level is that "spec wise" they made good decisions, such as with their 14Ah battery capacity and their hydraulic brakes, but they went generic on both (clearly to save production costs). This is counterproductive. It probably saves them a few hundred dollars on manufacturing cost (as those are the 2 of biggest expenses on an eBike) but they're also critical functions and ultimately will not create a long term good experience for customers. 
Back to the low maintenance front, we also like that the Aventon Level Step Through has multiple gears. However, it can be an advantage or disadvantage in maintenance. It has eight gears, which are nice to have. However, it also adds to the bike's overall maintenance concerns especially if lower end components are used. For instance, you have to ensure that you stay on top of the chain stretch, and that shifting between gears the derailleur and everything is running smoothly. In other words, more gears means more necessary adjustments, which is equivalent to more maintenance.
The last thing we'd like to discuss for this bike's maintenance is its battery. It has an integrated interior battery that can be hard to service. Many e-bikes today have exterior batteries, making it easy to remove and replace them. Aventon hides most of the wiring, which is a great thing in terms of aesthetics, but when things go wrong it can be messy and more expensive to maintain. It's downside is that the batteries can be hard to access, so we'll ding them here in mainteance but we'll give them props on the aesthetics front. If there is something wrong with this bike's electrical components, the problem will be more difficult to identify. 
With all the above factored in, it scored a five out of ten for low maintenance.
Hill Climbing Ability: 7/10
The next attribute we look at is hill climbing ability, where the Aventon Level Step Through scored a 7 out of 10. That's a good score. As mentioned earlier, this bike has multiple gears. Therefore, you can easily switch to a lower gear, levering up the power of the motor making it easier to climb uphill. This is a nice feature as some ebikes come only with a single gear set-up. Pair this gearing with a the Aventon Level's powerful 500-watt hub motor and 48-volt system, and you've got yourself an e-bike that works efficiently uphill.
The 7 out of 10 score is commendable in our standards. We tested the e-bike here in San Diego and it performed well. So, if you commute to places that have hills, this bike can definitely go through those roads well.
Another thing, many (if not most!) ebike companies lie about is their motor wattage. For instance, they will say that their bikes have a 750-watt motor, but they really don't. You see there aren't really industry standards applied evenly so you kind of just have to take a brand's word for it. As evidence, our Tower electric beach cruisers with a 500-watt motor tuned for high torque can blow away most "so-called" 750-watt motors when it comes to hill climbing. 
Some brand claims might be true at first as the bike may have a 750 peak motor when fully charged, but that's not a sustained wattage, which is a more honest assessment of a motors wattage. When it's sustained, it will perform like a 500-watt motor day in and out. To their credit, Aventon claims this bike has a 500-watt motor, and they really do. So, it's a plus for honest specs description as they stated the real capacity of their motor. We also tested it and it performed at a 500-watt level with a 750-watt peak. They do mention the 750-watt peak on their website as well as they're familiar with other brands tendency to quote wattage in a mis-leading way. Good for Aventon here. 
Electric Bike Range: 3/10
The next attribute we looked at is eBike range. The Aventon Level Step Through has a 500 watt system, 14 amp hour battery and 48 volt system. On its website, the Aventon claims that this e-bike can get anywhere around 40 miles. However, we didn't find that to be true, even if you're riding it at a pedal assist level of only three or four. It will take you at around 25 to 30 miles, which isn't too far for a commuting bike.
We would've liked it if it came with a better range. The reason why the range is low is because of its batteries – they are low-quality, unbranded Chinese battery cells. We really prefer e-bikes to have batteries from trusted brands like LG, Samsung or Panasonic. Branded batteries are known high-quality, which is proven and tested and a known major brand stakes their brand reputation on it. On the other hand, unbranded Chinese batteries are who knows, and range from bad, to really bad, to dangerous. They will drain fast, don't have the same power as comparable size branded celss,won't run as smoothly as the branded ones, and will degrade over time to where performance you see initially falls off dramatically.
For range, we really wished that Aventon used higher quality batteries for this bike. Hence, it scored a 3 out of 10, which is pretty low and it's primarily because of its cheap battery cells. Again, good batteries on an eBike can represent 1/3rd of the value of an eBike or more so it's one area that companies will cut costs. Unfortunately, this is somewhat not clear to customers until they already have the eBike and experience range and power issues that get worse over time. 
Electric Bicycle Comfort: 8/10
The second to the last attribute is comfort. The Aventon Level Step Through scored an 8 out 10 here. The riding position of this bike is upright, and it has front suspension. Some people focus on the specs of an e-bike such as its range, power, aesthetic and speed, yet forget to check if the bike is comfortable. It's a big deal. Imagine getting a car that was totally uncomfortable to drive. 
Owning an e-bike will cost thousands of dollars. So, if you won't find your bike comfortable, then chances are, you won't be using it often or you won't be using for the as long of trips as you may want to. We found the rider positioning on this eBike to be nice and upright. Again, the fact that the bike has front suspension is super nice. Our mechanics tested and rode this bike, and they found it very comfortable to ride with its front suspension. You're really not going to feel anything on the road, which is super nice. Additionally, it has a nice pedal forward design, meaning that the crank arm is a little bit closer to the front tire than the actual bike seat. It has a five-inch measurement there, which gives more of a relaxed feel when you're riding the bike, which we really liked.
The only thing we didn't like was the seat. Many electric bikes come with poor quality seats, so you might want to switch it out for a better one. Other than the cheap seat, the Aventon Level Step Through did well on its other components in terms of comfort. It gets and 8 out of 10, and excellent score here. Swap the seat out and you're golden on that front.
Universality: 7/10
The last attribute for our Tower eBike Score is universality. Here, we looked at the bike's versatility. If it can fit any type of person with different heights, weights, and sizes. We look if it has a universal design or if it's built for only one size of a person. The Aventon Level Step Through comes in different frame sizes, so you can look more closely at the specialty score for this eBike to compare to others if you plan to get the size that better fits you. You can view their measurements online to see which frame size might be best for you. But for our universality, we looked at the S/M size, and we scored it a 7 out of 10, meaning it's pretty customizable as is (without even needing to go to the M/L frame size).
Even if you're a short rider, for instance, you can ride this bike easily since the seat post height is adjustable. If you're a taller rider, it's also easy to adjust the seat post high. The Aventon Level Step Through offers customization and its step-through feature helps with its versatility. It's effortless to get over the middle frame bar. Any rider at any age could get on easily and saddle on the bike. The only downside we noticed is that you can't adjust the handlebars – they can't be moved back and forth. However, they can be adjusted up and down. So, the adjustability of the handlebars is also something to consider. Overall, it got a score of 7 out of 10 for universality. Not bad.
Tower eBike Score: 54/100
Again, the Aventon Level Step Through scored a 54 out of 100 for our Tower eBike Score of 100-Point of Scale, rating it as a mediocre bike.
Specialty Score: 46/100
For the Specialty Score, Aventon Level Step Through received a 46 out of 100. So, omitting the last two attributes, it still has a mediocre rating, but on the lower end here. This drop off is because where the Aventon Level Step Through score highest is actually in comfort and universality, so not counting those ratings to focus in on core quality and components actually drops it's score quite dramatically.
eBike Weight: 60 pounds
Something that we like to include that we don't factor in the Tower eBike Score is the bike's weight. It's 60 pounds, which is on the heavier side. We like to see e-bikes with a range weight of 40 to 50 pounds, especially if they are commuter types. These tend to have to navigate stairs at your home or office more than regular eBikes, so weight is a concern for many riders. Many people will carry e-bikes upstairs or store them in their car or home storage. So, if you carry your bike often, then 60 pounds of weight is something to consider.
eBike Aesthetics
We also like to review the looks of the e-bike. The Aventon Level Step Through has a hidden battery, which is located inside the bike frame. We really like how it looks as it can be hard to tell that it's an electric bike. We also like its step through frame as it compliments the overall look of this bike. It looks great in our opinion, but as always this is up to the buyer's tastes and preferences more than ours.
The Aventon Level Step Through comes with rear and front fenders, and a rack. These extra accessories supplement its looks, making it look more like a city-style e-bike.
Low Proprietary Risk: 5/10
The last thing we want to touch on is arguably the most important factor in all e-bikes. We call it the low proprietary risk score, which we also rate from one to ten. We don't factor this in the Tower eBike Score.
Here, we looked at the proprietary parts of the bike because this will determine how easy or difficult it will be to find parts for this ebike for repairs, now and down the road. We also consider the customer service of the e-bike company -- if their contacts and services can be reached. The unfortunate truth is that 95% of e-bike companies alive today are going to be out of business in the next five to ten years. The electric bike landscape is a very saturated market and there's so many companies that enter it. Most of these companies only focus on making money short term in a transactional manner and then move onto the next gig, and some don't even have a viable business model. We say this not to talk smack, but because about 20% of the eBikes that come thru our eBike repair shop are from brands that folded (most of the time) or just stopped supporting a certain model and left their customers with out good options to get parts for repairing their eBikes.
We recommend looking for e-bikes from companies that are reliable. They should have reachable customer service and use mostly off-the-shelf parts that you can buy easily from other eBike or bike shops. Bikes with proprietary parts from companies that shut down will be hard to repair. The parts aren't even available as they're not standardized, and the customer service is no longer existent. As a result, no support is available for the bike model you have.
We see this situation often here in the Tower eBike Repair Shop. The customer comes in with a bike from a brand that's no longer in business and the parts are discontinued. This is a big problem as some bikes can't get fixed if most of its components are proprietary.
Fortunately, the Aventon Level Step Through scores a 5 out of 10 for low proprietary risk. It has some standardized parts, although they come in low quality, such as the Kenda tires. The size of the tires are also standard, which is nice to see. You don't need to directly contact Aventon to replace the tires as you can find it at any bike store.
In addition, the LCD screen is similar to other Aventon models and bikes, so it's standard as well. However, there are still some proprietary parts in this bike. The controller and cables are proprietary. So when it breaks, you need to go directly to Aventon for repair. Moreover, it also has an unbranded motor. The motor did well on the hill climbing test, but it's also something to consider. We prefer branded motors in e-bikes to ensure quality and reliability, but also continuity for the future. We like brands like Bosch or Bafang, which are common brands that are high-quality. Since the Aventon has an unbranded motor, there is a possibility that it will break and will be difficult to service. But even if it's a standardized motor, it could still have proprietary parts in it, which is also difficult to fix.
Conclusion
That ends our review for the Aventon Level Step Through eBike. Let us know what you think of this ebike in the comments section below. Also, check out our site for more Tower eBike Scores and view our growing list of e-bikes that we rate and review as they come through our Repair Shop here in San Diego.
---
Electric Bike Reviews You Can Trust
Electric Bike Report
*****