Aventon Level Review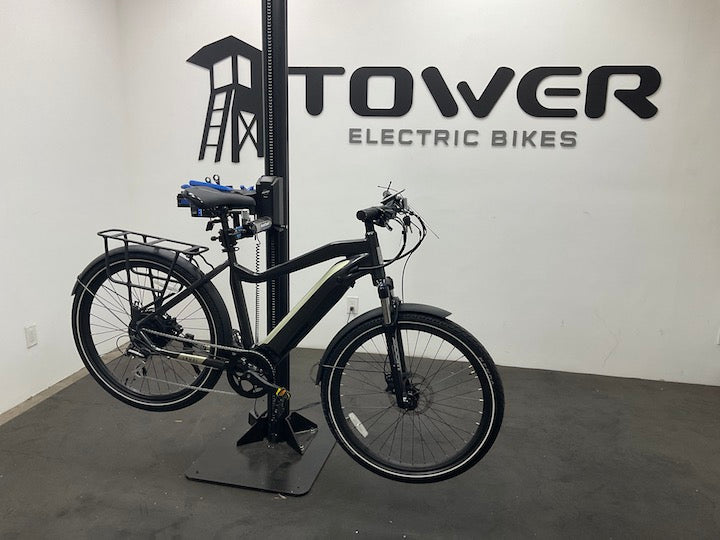 The Aventon Level is Aventon's most popular electric bike model to date. The Level is an affordable commuter ebike mid tier quality components. The Level scored a 53 on our Tower ebike score giving it a mediocre ebike rating. The Level scored well on comfort and hill climbing ability but scored low in materials quality and battery range. Read our full Aventon Level ebike review below to see how it performed.
DISCLAIMER - Aventon and Level are trademarks of Aventon Bikes, and use of that trademark in this review does not indicate that the reviewer is claiming any interest in the mark or any affiliation with or sponsorship or endorsement by Aventon Bikes.
---
Aventon Level E-Bike Review
Today, we're reviewing and rating the Aventon Level e-Bike from Aventon Bicycles. The Level is the commuter type electric bicycle from Aventon. It's a city style hybrid bike that you can use as a standard bike or as an e-bike to commute to and from work. Aventon Bicycles recently caught up with the trend of e-bikes. They produce many different e-bike models that cater to almost every rider's needs.
The Aventon Level scored a 53 on our Tower e-Bike 100-Point Scale, rating it as a mediocre e-bike. But before we get into the scores, I wanted to introduce myself first. My name is Stephan Aarstol. I am the CEO and founder of the Tower e-Bike Repair Shop here in San Diego. We see different kinds of bikes come through our shop every month. And for our reviews, we rate each bike that comes through our shop. We see different kinds of bikes daily, so we know the differences of quality in each bike. Additionally, we use our professional e-bike mechanics who have ten plus years of expertise in the bike industry to rate each e-bike. 
We use seven key attributes that make up our Tower e-Bike 100-Point of Scale. The different key attributes are the following:
Electric bike materials quality
Electric bike mechanical quality
Low maintenance of the electric bike
Electric bike hill climbing ability
Electric bike range
Electric bike comfort
Electric bike universality
We rate each attribute from one to ten. One being the lowest and ten being the highest. Afterward, we normalize all the scores to get a single point score on a 100-point scale, which we call the Tower e-Bike Score. The single score can help e-bike consumers to get a grasp of the qualities of different bikes to help them make an informed purchasing decision. It may be difficult for each consumer to differentiate different electric bikes and their qualities since some e-bike companies don't put the real numbers on their advertisements or descriptions for their bikes, especially when shopping online.
Shopping e-bikes online has the downside of not being able to personally check the quality of the e-bike's physical and electrical components. Also, testing out the ebikes is impossible, since you need to search for a nearby shop first to do that. We've already done the hard work for you. We have already seen the components of the bike, tested them, and rated them to help you decide if it's the right bike that will suit your needs.
Our Tower e-Bike Score is similar to the Wine Spectator Score, if you're familiar with it. Since there are so many bikes in the market, it can get overwhelming to choose which one is best for you. The single score can give you a quick insight into the electric bike's overall quality and help you with your e-bike purchase. We also have one more supplementary score called the Specialty Score. It's also a 100-point scale that rates the bike, but removing the last two attributes: comfort and universality.
We remove the last two attributes because there are certain bikes made for specific size people or a specific purpose. For instance, it would be unfair to rate a high-end electric mountain bike if it doesn't fit any type of rider as they are intentionally made in 5 different size to fit specific size riders. The Specialty Score primarily looks into the bike's electrical components, maintenance level and materials quality. It looks into the factor if the bike would still be performing well without comfort and universality in mind.
For the Specialty Score, the Aventon Level scored a 46 out of 100, rating it as a mediocre bike.
Now, let's look into each of the seven attributes that make up the Tower e-Bike Score on this eBike.
Materials Quality: 2/10
The first attribute that we look at on all e-bikes is materials quality. We believe that it's the most important initial factor to examine. First, we look at the bike's exterior, looking at each of the e-bike's components and its quality. We look into the seats, pedals, grips, and the brand of the tires. Some companies cut costs by using cheap components on the bike, particularly on the less visible parts of the bike. For example, if the e-bike company has low-end components in its interior, then it would probably have cheap electrical components as well. Therefore, it's essential to take a good look at the materials quality of each bike.
For the Aventon Level, it scored a low 2 out of 10. What we didn't like on this bike is that it comes with Kenda tires. Kenda is a low-end tire brand, especially when paired with electric bikes. We prefer e-bikes that come with tires from trusted brands as branded ones are more flat-resistant. Getting flat tires is a bigger problem than most consumers understand in the eBike world and fixing them is tedious, so you better choose tires with excellent quality.
Also, the last thing you would want to do is to spend thousands of dollars on an e-bike with an uncomfortable seat that you will most likely have to replace. The seat and the grips of the Aventon Level are cheap, and the grips may start to deteriorate quickly and will soon need a replacement.
The one thing we liked for the materials quality of this bike is that it comes with a decent LCD screen. It's placed on the middle of the handlebars and it's very informative. However, the thumb throttle is a bit low-quality, which most Aventon bikes come with. So, you also need a replacement for that as it might snap easily. We prefer a motorcycle-style throttle as they're more durable.
The Aventon Level's control system for the pedal assist system uses a device integrated into the LCD screen on the side. So, you are not actually clicking on the button on the screen, but rather, it's interacting with the LCD screen. It's also low-quality and may deteriorate over time. We would have liked to see the PAS system integrated more tightly into the LCD screen where you can switch the pedal assist through the screen without a remote.
Overall, these components give the Aventon Level a two out of ten score for materials quality.
Mechanical Quality: 6/10
The next attribute is the mechanical quality. In this attribute, we look at more than just the electric components of the bike. Most consumers look into the electrical specs and forget that the e-bike can still be used as a standard non-electric bike. If you strip out all the electric components, the e-bike is still a standard bike that comes equipped with all the traditional bike components. One of the nicer things about an eBike is that you're never really stranded as if the battery dies or if there's a problem on the bike motor, you can still switch to good old pedal power, provided that your bike functions well as a standalone bicycle. It's best if you can switch gears efficiently with your e-bike and things like that.
For the Aventon Level, it scored a 6 out of 10 for mechanical quality. It's a relatively good score, and it's mostly because of its hydraulic brakes. We prefer hydraulic brakes and love to see them on e-bikes. Riding electric bikes means going at faster speeds, which means the brakes get a lot more wear and tear. If your bike has hydraulic brakes, they will self-adjust, which saves you time from constantly having to adjust mechanical disc brakes. 
Another great mechanical aspect of the Aventon Level eBike is that it has front suspension, allowing for a comfortable ride. Although it's a commuter bike, it's nice to see that it has a suspension even though it's only meant to be used on roads. Having suspension on your bike is not only desirable, it's a safety concern when traveling at higher speeds, especially if you go over a pothole or a rock or road bumps. We like the suspension, however, we did not like the cheap derailleur, chain and the crank arm. This e-bike is a mix of good and poor quality mechanical bike components. But since there are some parts that we really like, we gave it a fairly good score of six out of ten.
Low Maintenance: 5/10
The third attribute that we'll rate is low maintenance. From our Repair Shop here in San Diego, we see Aventon bikes come every now and then, especially the Level model. It seems to be one of their more popular electric bike models. The most common problem with an Aventon Level bike is that it gets flat tires easily because the stock tires lack flat-resistance. They do have minimal flat-resistance, but it's minimal. The tires are cheap even though they come with hydraulic brakes. Again, this is an example of a situation where the brand made the right call on one area of eBike quality, but then skimped on quality in another area. Kinda weird. 
In our eBike repair shop, many bike owners come in for mechanical brake tuning. You won't be visiting repair shops often for brake issues if your bike comes with hydraulic brakes. With this in mind, the Aventon Level has non-branded or generic hydraulic brakes. They are the typical Chinese unbranded components from their own factories. Even though the Aventon Level comes with hydraulic brakes, we are still unsure of its quality because we don't know the brand of brakes is trustworthy, and when you see non-branded brakes on electric bikes you always assume the worse in our experience. 
There is some rust-proofing on its components which we liked. Since many of the other components are generic cheap Chinese brands, they can deteriorate and break fast compared to other e-bikes in the market that have branded high-quality components. Something to consider. 
Another feature of the Aventon Level e-Bike is that it comes with an eight-speed system. Hence, it has gears where you can switch through. However, more gear options may also mean more maintenance, especially when paired with a cheap derailleur. You may experience issues in switching gears with this e-bike as you might need to take it into an eBike repair shop for maintenance more often for adjustments.
With all of the Aventon Level's features, it's important to consider the maintenance factor. On the low maintenance attribute front, the Aventon Level gets a 5 out of 10.
Hill Climbing Ability: 7/10
For our fourth attribute, hill climbing ability, the Aventon Level scored a 7 out of 10. We tested the e-bike on a steep hill here in La Jolla, California, and it did well. It has a 500-watt hub motor paired with a 48-volt system. It's great that it comes with a 500-watt motor, which is powerful enough for a standard e-bike if the motor is tuned for high-torque. Most companies will advertise their products, saying that their bike comes with a 750-watt motor without mentioning that it's sustained. But for Aventon, they did well on the spec of their e-bike as it really lives up to its claim. They could have copied the other companies and say that they have a 750-watt motor hub, but instead they were more honest with its numbers, which adds more to the brand's authenticity. They do distinguish on their site that it's 750-watt peak, which is a unique twist to the 750-watt claim of many other brands. 
This e-bike did very well on climbing uphill. You can easily switch into a low gear using the eight-speed gear system. Paired up with their powerful 500-watt motor, and it can climb up most hills effortlessly. Hence, it got a good score of seven for hill climbing ability.
Range: 3/10
The next attribute that we looked at is range. With a 500-watt motor and a 48-volt system battery, it claims that it can get up to a 45 range. However, we didn't find that to be true. If you're using the throttle only and you're getting close to 25-30 miles of range, that's one thing. But when you're adding pedal power, you're not exerting as much drain on the battery as when you go throttle only, then 25-30 miles range isn't so great. We found the range to be closer to the 25-30 mile range WITH also pedaling – which isn't an ideal range, especially for a commuter bike. And it's not close to the quoted 45 mile e-Bike range. 
The reason why the batteries aren't going to last is because of its cells. We prefer battery cells from reliable brands such as Samsung, LG, or Panasonic cells. If the battery on your e-bike has no brand, then it's almost surely that it's a cheap Chinese battery cell. Cheap generic cells won't really last. They don't perform nearly as well as reliable brand cells to begin with so you will get less power and less range out of the gate, but then as they degrade over time the difference will really start to ring true. Opting for branded battery cells is a better bet as they can live up to the range claims, but of course they are the most expensive part of an eBike so companies sometimes cut corners here. Hence, a score of three out of ten for range.
Comfort: 8/10
The next attribute that we looked at is comfort. Comfort is an important factor in an electric bike. Shoppers often overlook this attribute as most people are only concerned about the e-bike's speed, range, and power. However, if you spend a few thousand on an ebike, for instance, and you didn't find it comfortable, then you won't ride it often. And eBikes are ridden more and longer than regular bikes, so comfort is 10x more important when it comes to electric bikes. 
Fortunately, the Aventon Level is comfortable to ride. Therefore, it scored an 8 out of 10. The riding position is upright. Although it is a commuting bike, it has suspension at the front. So if you go off-road, or if you bump onto a rock or hole, it provides cushioning. Additionally, it has easy-to-reach handlebars. The pedal forward design means the crank arms are positioned well forward in retrospect to the seat. The pedal crank arm is not directly underneath the seat, making the bike more comfortable. It offers a relaxed ride which is ideal for a commuter bike.
The only downside we saw here is the seat. It's not the worst seat we have ever seen but it's made of cheap quality. It's another component that you might also want to upgrade in this bike.
Universality: 6/10
Our last attribute is universality. In this attribute, we look at the bike's ability to fit any rider's size, weight, and height. This bike has a pretty universally appealing design, so we scored it a 6 out of 10.
The seat post is highly adjustable. If you're a smaller or taller rider, you can easily adjust the seat so it can fit you comfortably. One thing we didn't like is that the handlebars aren't adjustable. You cannot move them back and forth, so they're stuck in the same distance from every type of rider. So, if you can't reach the handlebars, there is no way to move it closer to you. Hence, some riders will be arching their back a little while riding it.
Another thing we looked at is the stand over height. For this bike, it has a stand over height of 26 inches, which means you have to have at least a 26 inseam to ride this bike comfortably. It may limit the type of people that can ride this bike. Fortunately, if that's your only issue, that is why they also offer another model called the Aventon Level Step-Through. 
Tower e-Bike Score: 53/100 | Specialty Score: 46/100
That ends our rating for the Tower Score. Again, the Aventon Level gets a score of 53 out of 100, rating it as a mediocre bike. For the Specialty Score, omitting the comfort and universality, the Aventon Level gets 46 out of 100. It still has a rating of a mediocre bike in the specialty department. Looking only at the mechanical and electrical qualities of the bike, the Aventon Level still scored a mediocre rating.
Weight: 60 pounds
We also like to give you the true weight of the bike, but we don't factor the weight into the Tower eBike Score. The Aventon Level weighs 60 pounds, which is on the heavy side, but not horrible. Their Aventon Aventure weighs like 73 lbs! Still, an eBike that weight sixty pounds may be something you need to consider, especially if you are carrying the bike to place it on a rack or in a vehicle. Consider if you can pick up the bike comfortable at 60 pounds. We prefer bikes that weigh 40 to 50 pounds. 
eBike Aesthetics
We also like to touch on the look of the bike. We really like how the Aventon Level looks. However, we aren't fond of its fenders and rear integrated rack which seem a bit low quality. They can add a cool look to the e-bike overall, but the rear rack isn't suitable for carrying things over 20 pounds. We suggest replacing the rack for a sturdier one.
Considering that it's a commuter bike, it looks like a regular bike equipped with a battery and a frame. At first glance, you won't know that it's an electric bike, which is nice.
Low Proprietary Risk: 3/10
The last thing we like to touch on, and arguably the most important factor, is the low proprietary risk. We look at the bike's potential service issues and components – if it comes mostly with proprietary or standardized parts. Additionally, we consider the company's customer service. 
We look at all this because 95% of the e-bike brands operating today will most likely go out of business soon. Probably 20% of the eBikes that come into our shop are from brands that no longer exist, and this is a fairly new industry so this will only get worse. 
Electric bikes, or bikes in general, are a saturated market. There are many e-bike companies out there targeting the same market. Most of them are spending excessive money on customer acquisition costs and ads, and other things, and oftentimes that's not really a way to build a sustainable business over the long run unless you have a differentiated business model underlying things. With some brands, pair that with the fact that they use mostly proprietary parts and have unreachable customer service, and odds are you may be unfortunate and end up with an unsupported bike.
Proprietary risk is something most consumers don't consider in buying an electric bike, but we feel they really should take a hard look there. We recommend checking on the bike company first before making a purchase. Check if they have standardized parts and a reachable customer service. Additionally, consider taking a look at the bike components, if they come in standardized parts that you can buy in most bike shops, or if they have parts that you can only buy from the company. Many eBike brands intentionally create bikes with proprietary parts to sort of lock you into buying only from them. That's a bad sign. 
For the low proprietary risk, the Aventon Level gets a low score of 3 out of 10. The only thing we liked on this bike for this attribute is that it has a standard LCD screen. Other than that, most of the other components are proprietary, including the battery and the controller built into the frame. The battery is only replaceable with the same brand, so you can't upgrade it into other brands. You can only use Aventon batteries for replacement.
If Aventon discontinued making or supporting this model in the future, you may not be able to get replacement parts anymore. The batteries and controller will be very hard to find. At the Tower eBike Repair Shop we see this kind of situation often. Customers will come in with a bike and tell us that the ebike brand is no longer in business. If the motor is proprietary then a lot of times we cannot fix it. The consumer may be left with an ebike with no motor because the company isn't supporting the model anymore.
The last thing we noticed with the proprietary parts is that its motor is unbranded. It's not a Bosch or a BaFang, or one of the other handful of known, trusted brands, in the industry. Instead, the Aventon Level comes with an unbranded motor which is difficult to fix or replace. If the motor gets broken, you won't be able to replace it with branded ones like Bosch. The replacement parts need to come directly from Aventon. That might not be a problem today, but in the future it's likely it will be considering the nature of the industry. 
Conclusion
That's it for our Tower e-Bike Score for the Aventon Level commuter e-bike. Hopefully, this article has helped you get more information about this e-bike. You can check our website to view more Tower eBike Scores for every bike that comes through our Repair Shop here in San Diego.
---
Electric Bike Reviews You Can Trust
Electric Bike Report
*****
Electric Bike Review
*****
Electrek.co
*****
DISCLAIMER - Aventon and Level are trademarks of Aventon Bikes, and use of that trademark in this review does not indicate that the reviewer is claiming any interest in the mark or any affiliation with or sponsorship or endorsement by Aventon Bikes.