Sondors Fold X eBike Review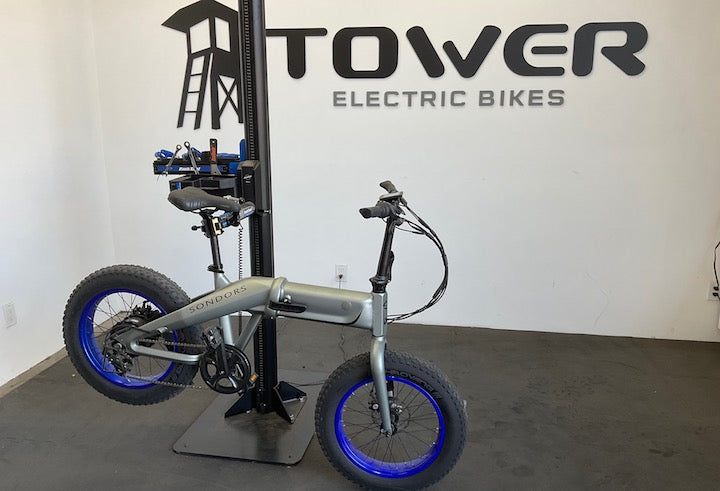 Electric bike shopping can be overwhelming. Our professional ebike mechanics here at the Tower eBike Repair Shop aim to alleviate that stress, and make choosing your next ebike a breeze with complimentary electric bike reviews on the top ebikes on the market. With all bikes reviewed on the same guiding principles, our tower ebike score comes stacked with extensive content detailing everything from purchase experience, to maintenance years down the road so you're able to choose the best bike for you.
DISCLAIMER - Sondors and Fold X are trademarks of Sondors Inc, and use of that trademark in this review does not indicate that the reviewer is claiming any interest in the mark or any affiliation with or sponsorship or endorsement by Sondors Inc.
Sondors Fold X eBike Review
Join our eBike experts as they dive into the Sondors Fold X electric bike. Through a detailed scoring system our mechanics review every aspect of the Sondors eBike. Watch our review video or read the full review below detailed with specific commentary videos and content diving deeper into the Sondors Fold X.
Unboxing and Assembling your Sondors Fold X
As a direct to consumer electric bike company, once you order online from Sondors, they will ship you your bike in a box that will require assembly. Some brands do a better or worse job of handling this purchase and delivery process. How quickly can you expect your bike? What does the package on a Sondors bike generally look like? These questions are all detailed in our unboxing and assembly guide. Our ebike experts run through the electric bike purchase, unboxing, and assembly process for a Sondors Fold X.
Sondors Purchase Process
Here's what to expect when placing an order online from Sondors, specifically their Fold X Model.
Sondors Fold X Unboxing
Follow along with our electric bike expert as we unbox a new Sondors Fold X bike.
Sondors Fold X Assembly
Enjoy our complimentary Sondors assembly walkthrough video with some tips form our electric bike mechanic.
Operation, Troubleshooting and Maintenance of your Sondors Fold X
There are a lot of common issues that customers may have with electric bikes. Our team of electric bicycle experts has put together this resource to help you self diagnose some of the more common issues you may encounter with your Sondors Fold X.
How to Turn On a Sondors eBike
First things first - how do you turn on your Sondors ebike? Without containing a proper LCD, the display panel can be tricky to navigate and understand at first glance. Here we show how to turn on the Sondors display screen.
How to Adjust Bike Brakes on the Sondors Fold X
Adjusting the disc brakes on your Sondors Fold X will become a regular occurrence. eBikes require more frequent brake adjustments due to their increased speeds and mileage capacities. For a more in depth view on how to tune your mechanical brakes see our guide here.
How to Fix a Flat Bike Tire on the Sondors Fold X
Electric bikes are heavier than regular bikes and the general rider will put many more miles on them, so one of the biggest pains in the neck you may face are flat tires. Our ebike experts show you how to fix a front or rear flat on your Sondors, and more importantly give you advice on what you can do to minimize flats going forward.
How to Raise the Handle Bars on the Sondors Fold X
Watch as we walkthrough how to adjust the Sondors Fold X handlebars. We run through the options a rider has to adjust the positioning to best fit your riding style and comfort level.
Bike Tune Up on a Sondors
Because you tend to put a lot more miles on an ebike when compared to a regular bike, tune ups become all the more important. eBike owners can expect to tune up their electric bike at least once a month. Most people have never even had their regular bike tuned up before, so our experts run through the common tune ups so you can self tune your bike at home. With Sondors selling a direct to consumer ebike mostly assembled in Asia, it's a good idea to take your eBike into a shop for a tune up right after initial assembly. Our electric bike experts run you through the how, why, and what to expect during a tune up.
Sondors Bike Maintenance
There are a few things you will want to be proactive about maintaining on your Sondors bike. A little Maintenance can really help you avoid some annoying issues.
Error Codes on a Sondors Fold X
There are some common error codes you might encounter with your Sondors. Nothing can ruin a bike ride quite like seeing an error code. It can be tough to decipher what may be wrong with your bike, so our our eBike experts are here to help run through the Sondors electric bike error codes.
Sondors Fold X Review
Overall, for the Tower Ebikes score, we give the Sondors Fold X a final score of 51 (with a Specialty Score of 48, if comfort and universality are not factored in. This will be discussed later). This rating is in the mid-tier and considered a good electric bike. In this review, we will delve into the details as to why it merits this rating.
Materials Quality (5/10)
The first factor we considered is materials quality. We scored the Sondors Fold X five points in this regard. Upon inspection, the bike has a lot of mid to low grade components on it. While it does have an aluminum body and stainless spokes, it however has a freewheel generic Shimano derailleur (which is best used at a Walmart kids' bike) and low-grade shifting system. It also has cheap cranks, hose, gear shifter, pedals, and other parts are only about the same level. As for the tires, it has Chaoyang 20x4.0" tires, which is not a reputable tire brand and is prone to getting flats.
Mechanical Quality (2/10)
The next thing we look at is the mechanical quality of the bike. The Sondors Fold X scored a mere two points. This is largely due to the low to mid-level materials we mentioned in the materials quality which greatly composes and affects the mechanical system quality of the bike. The low-quality shifter is not reliable to have accurate gear shifting on the bike. Basically, the quality of components that were used will not be able to produce an ideal mechanical system for an ebike.
To add to this, the Fold X still uses a mechanical brake system. This type of brakes requires constant mechanical tuning and adjustment, which the rider will need to do every two or three times you take it out for a ride.
Maintenance (1/10)
The next thing we rate is how low maintenance the bike is. A lot of people don't understand that when they go buy an ebike, they might get one because it has a good deal on it or it looks shiny cool, but many don't consider the factors and problems that come along with owning and using it. The frequency of doing maintenance to ensure its optimal riding condition is a big factor of convenience (or inconvenience) in owning an ebike.
For this aspect, we gave the Sondors Fold X a score of one out of ten. The bike has several maintenance issues, and it definitely is not a low maintenance ebike. As we have previously mentioned, their use of mechanical disk brakes requires constant tuning and adjustment for it to function optimally. Most ebikes already employ the hydraulic brake system, like the our electric cruiser bike, which are generally maintenance-free.
Another matter is its rear tire. Sondors design makes taking out and replacing the rear wheel much more difficult compared to a standard vertical drop out. Beacuse of this,you're likely going to be taking it to a mechanic every time you get a flat or need to replace it. It also doesn't help that the tires they use are not prefilled with slime and therefore have little to no flat protection. So, needles to say, you will be dealing with flats quite a lot, and the added hassle of their rear design will be a big inconvenience.
Additionally, the low-quality components like the Prowheel, or even Prowheel knockoff crank set, will likely round out and slip out and recline, the inexpensive folding pedals will easily deteriorate, the steel Shimano freewheel is going to rust, the chain and gear shift components will relatively need to be replaced faster. All these things are going to require a lot of maintenance and you're going to constantly tinker with this bike.
Hill Climbing Ability (7/10)
The next factor we considered is the hill climbing ability. For this rating, the Fold X scores a very decent seven out of 10. There are a number of factors that go into that and one of them is it's hub motor driven with a 14 amp hour which has enough power to get you over a steep climb. It also got a [inaudible 00:07:30] gear so if you get stuck in a position where the bike's not pushing uphill, you can shift it into a low gear and you can climb.
A lot of ebike companies talk about their top speed, but you get top speed at the expense of torque. And so, ultimately, many end up with a bike that works good with flat lands but have difficulty as soon you encounter uphill terrain. The key here to the hill climbing ability to have a nice powerful motor with a good solid battery. The Fold X gets it right and that's why it deserves a good rating here.
Range (9/10)
The next category is range. This is how far you can go on this bike. This is another shortsighted thing that a lot of ebike companies do; they may give you a huge motor but if they give you a small battery, you're going to be able to go 10-15 miles and that's going to be a problem. On a regular bike, you usually only go short distances. But on an ebike, you tend to go on 20-30 mile rides. And if you don't have enough battery to get there, it's just going to be a real nightmare. The battery is an expensive component and that many companies tend to cheap out on.
This is where the Fold X does pretty good as well. We give it a nine on range. They matched a 500 watt rear hub motor with a 48 volt system. They haven't overpowered the battery with the motor. It's a very good system which is deserving of a high rating.
Comfort (6/10)
On comfort, we give this bike a solid six. It has a Selle Royale Seat, which is a nice and very comfortable seat. However, ebikes tend to go very fast and even though the Sondors Fold X has a nice gel seat on it, it's not likely to give you much shock resistance due to vibrations when you hit a bump at high speeds. Sondors do not offer any suspension to give you a more comfortable shock resistance. It however does have big cushion tires, to mitigate a little bit and have some shock absorption.
As for adjustability and comfort, the bike is relatively upright. The pedal position is slightly forward. The seat does have a wide range as it goes up and down. The adjustable beanpole stem that they have also goes up and down quite a bit. However, it does not go forward and back, so if you are a small person with short arms, might be tough to reach. But for most people, it'll be fine. This is the relatively easy ebike to adjust and get the comfortable position.
Universality (6/10)
The last rating is what we call the universal. This is how will this bike work for many different shapes and sizes of people, ages of people. On this aspect, we also give it a six.
The step-over height is 29 which is similar to that of a regular bike. It's not going to be great for shorter people that have trouble stepping over a standard bike, because it's really not that much lower than a standard bike. The bars do not go back and forth, but they do go up and down and seat height range is roughly a decent nine inches.
Low Propriety Risk (5/10)
This last aspect is not factored in the overall rating system, but we deemed it also important to educate you about it. We call this rating the low proprietary risk. This is basically about the risk of owning this bike and the stability of the company to provide you with after sales support for its model and its repair and components. For instance, what would happen if company goes out of business and they discontinue the particular bike model? What are you going to be left with? Are you going to be able to repair this bike? Are you going to be able to get parts for this bike? This is a real concern in this industry because many ebike companies in recent years have gone out of business. There are customers who come to our shop to have their bike repaired but their brand either cannot accommodate them, can't be contacted, or have proprietary parts, which leaves the customer out of an ebike for months and months.
As for the Sondors Fold X, we rate it a five out of 10 in this regard. The Sondors company is diversified (bikes, motorcycles, cars) and they seem to be financially stable. Additionally, the parts they use like their tires shifters, brakes, and brake pads, are standard and are relatively easy to source.
However, as for their battery, they have a very specific integrated battery pack. If it needs to be replaced, it's going to be much harder to find because it is proprietary just to Sondors. If they go out of business, you may not be able to find a battery for your ebike. Also, it also has a very specific LCD screen.
Final Thoughts and Specialty Score
Totaling the seven ratings, we arrive at 51 on our tower ebike score. This places the Fold X in the "mediocre bike" column. From our wealth of experience in dealing with all ranges of ebikes, we can confidently say that this is a decent and respectable score.
As for the "Specialty Score", we omit the two factors of comfort and universality because there are a lot of bikes that are made for very specific purposes. There are some ebikes that come in with vastly different size frames and it can be a bit subjective given the variance of a riders height and weight. The Fold X gets a specialty score of 48, cementing it as a middle of the line electric bike.
A big selling factor of this bike is its foldability, which makes it easier to stow and manage. However, with such a small frame, it is relatively heavy at 61 pounds mainly due to the extra weight from the fat tires, the large battery pack, and overbuilt frame section. On aesthetics though, it looks generic as a lot of bikes on the market looks similar. But all things considered, it's a good option if you are looking for a foldable ebike.
---
Electric Bike Reviews You Can Trust
Electric Bike Review
*****
DISCLAIMER - Sondors and Fold X are trademarks of Sondors Inc, and use of that trademark in this review does not indicate that the reviewer is claiming any interest in the mark or any affiliation with or sponsorship or endorsement by Sondors Inc.