Rad City 4 E-Bike Review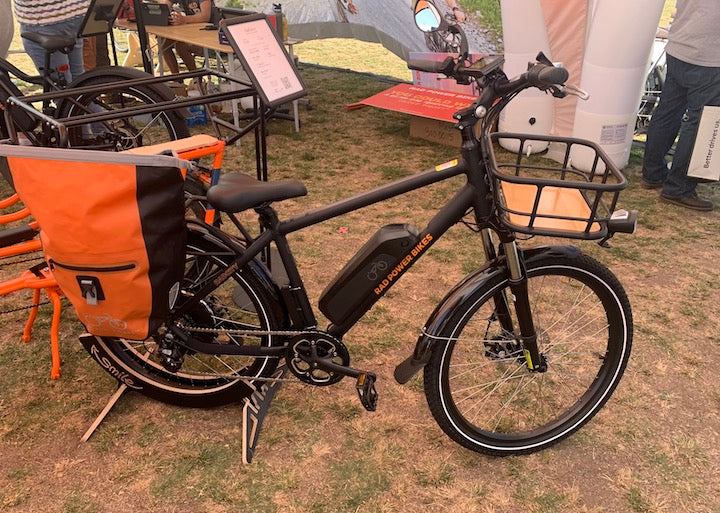 The Rad City 4 is Rad Power Bikes fourth installment of their city electric bike model. The Rad City bikes have become an increasingly popular model as they focus on universality and high torque and battery output. The Rad City 4 scored a 57 on our Tower ebike score giving it a very good ebike rating. Read our full review and see how the Rad City 4 scored below.
DISCLAIMER - Rad Power Bikes and Rad City 4 are trademarks of Rad Power Bikes, and use of that trademark in this review does not indicate that the reviewer is claiming any interest in the mark or any affiliation with or sponsorship or endorsement by Rad Power Bikes.
Radcity 4
Today, we are going to be reviewing and rating the RadCity 4 from Rad Power Bikes. Rad Power Bikes is a massive name within the electric bike industry. If you've been shopping for an electric bike, you've probably seen some of their models. They spend a lot on ads and customer acquisition.
And, in particular, the RadCity 4 here is exactly what it sounds like. It's a city commuter-style e-Bike. Rad made this for a commuter in mind; someone who is commuting to and from work and lives in an area where there's good pavement and riding terrain. The RadCity 4 scored a 57 on our 100-point scale; which rates it as a very good e-Bike.
Before we get into the score, I just wanted to introduce myself. My name is Stephan Aarstol. I am the CEO of Tower e-Bike Repair Shop here in San Diego. We see hundreds of new e-bikes come into our shop and we repair hundreds of new bikes a week.
Here, we're just cultivating good knowledge on all sorts of different types of electric bikes, and then reviewing and rating them. By doing so, we're offering those who may be in the market for an electric bike a library of information for them to accurately compare different types of e-Bikes and see which attributes some e-bikes are better at than others. That's what we're trying to accomplish with our Tower e-Bike 100-point Scale.
Whenever we get a bike, one of our repair mechanics will rate each bike on seven key attributes. Then, we give a one to 10 rating on each of those attributes. One being the lowest score it could get and 10 being the highest. Then we normalize that to get one central single-point score to help the end consumer or electric bike shopper. This helps them by being able to get a better sense of what bike they are looking for and what's going to match their needs the best.
These are the seven key attributes that we rate each bike on:
Materials Quality
Mechanical Quality
Low Maintenance
Hill-climbing Ability
Range
Comfort
Universality
With all of these electric bike companies, it's almost impossible to test ride one of their bikes before you make a thousand-dollar purchase. Having a nice review database where you can compare different e-bikes with a single score is highly convenient.
Now, let's get into the RadCity 4.
Rad City 4 Materials Quality - 4/10
The first attribute that we compare and rate most e-bikes on is materials quality. The reason we start with materials quality is that if a company cheaps out on materials quality, it's usually a good telltale sign that they're going to cheap out on other areas that you can't see on the bike; that being the electrical components and the battery and whatnot.
We look in and make sure that they still have good materials on the outer side. In materials quality, we gave the RadCity 4 a four out of 10. That's in large part due to the Kenda tires on this bike. Kenda is quite a common name in the bike industry. They aren't the greatest tire brand. They are relatively cheap. Rad Power Bikes probably did this to maintain a price level that's on the cheaper side. We're not huge fans of Kenda tires.
There are some things we do like and some things we don't like on the bike. The RadCity 4 though, does have a nice seat. It has nice stainless steel spokes. It does have low-quality pedals. It does have nice grips. It does have a nice little display on it. But again, some parts are a bit cheap.
It scored a four out of 10 on materials quality.
Rad City 4 Mechanical Quality - 3/10
The next attribute we looked at is mechanical quality. This category is looking at how sound of a bike this is. Even if you're buying an electric bike, when it comes down to it, it is still a bicycle. You want to make sure that it has good bicycle components. Ask yourself; what sprocket is it using or will the gears easily turn? Can it be changed to a lower gear setting? Does the derailleur work efficiently? Those are the things we're looking at here.
In mechanical quality, it scored a three out of 10 due in large part to it having mechanical brakes. We think it is very silly for electric bikes to have mechanical brakes considering how fast you'll most likely be going on an electric bike. Not to mention the exertion you're going to be putting on stopping power when going at high speeds. Having mechanical brakes is not the move for electric bikes.
You're going to wear through those brake pads and will be constantly changing the brake caliper to make sure that your brakes aren't squeaking and that they're aligned properly. We think all electric bikes should have hydraulic brakes, which are self-adjusting brakes. But the RadCity 4 does come here with mechanical brakes. It's an area that Rad Power Bikes is cheaping out on here.
The nice thing that we did see on mechanical quality though is it does have a nice front suspension. Even though it is geared towards more of a city cruiser bike, a commuter bike having front suspension is nice. If you do go over a bump or some rocks, you do have some cushion there. That's something we loved seeing. However, a lot of the other bicycle components here are relatively low-quality.
We gave it a three out of 10 on mechanical quality.
Rad City Low Maintenance - 4/10
The next attribute we looked at is the low maintenance score. On low maintenance, the RadCity 4 scored a four out of 10. It is a relatively maintenance-heavy bike. Since we do have our e-Bike repair shop here in San Diego, we do see RadCity bikes come in quite often. And again, that's in large part due to the mechanical brakes. We do tons of brake adjustments on these bikes, especially with the brake caliper.
We get customers complaining that one brake is too loose and the other one is the opposite. Constantly having to adjust those is something you may have to be ready to do if you are wanting to get a RadCity bike. Also, having flat tires on an e-Bike is troublesome. You're not going to want flat tires, especially if you get a flat on the rear and you have a hub-driven motor; which is the case here with the RadCity 4.
It can be a real pain to switch out that tube because you're going to have to unplug all of the electrical components. It is nice that it has that kind of tire liner in it. By putting a nice tire liner in there, it's covering up the fact that they are Kenda tires. RadCity did a good job securing this.
Then, there are some other things that we saw on the maintenance. It has mid-range components. It is going to have to be serviced every now and then. The actual frame of the bike is somewhat rust-resistant. If you live in a wet area or an area by the ocean, you're going to want to look for something that's highly rust-resistant or rust-proof. Over time, it is the frame of the bike that will slowly deteriorate and lose its finishing color.
The bike does have multiple gears, which is a pro and con for maintenance specifically. It is a con because when you have multiple gears, this just means that multiple things could go wrong. You're going to want to make sure the derailleur is working correctly. Also, see to it that the cable isn't getting stretched too much. But having multiple gears is also a pro because it helps you get into a lower gear and boost up hills.
That's on low maintenance, it scored a four out of 10.
Rad City 4 Hill-climbing Ability - 9/10
And then the next attribute we looked at here is hill-climbing ability.
For hill-climbing ability, the RadCity 4 scored a nine out of 10. We tested this e-Bike at a local San Diego steep hill and it performed well. Going back to the fact that it has multiple gears, it's remarkably easy to switch into that low grainy gear. Boosting uphills is a breeze. You don't need to fully rely on the pedal assist and the throttle.
Rad Power Bikes labels the RadCity 4 as one that has a 750-watt motor. We didn't find that to be the case. It is a trend in the e-Bike industry now to say that your bike has a 750-watt motor, but what they actually mean is that that is its peak wattage. This means that you may be able to get the 750-watts, but 95% of the time when you're using the bike, whether it be the throttle of the pedal assist, the motor is going to be exerting a maximum close to around 500-watts on average.
It didn't hit 750 too often. It's a marketing tactic. If they're lying about the wattage, there's probably a couple of other things they may be teetering with and could possibly be hiding from consumers. A little shady there. But in terms of how it actually performed up the hill, it surpassed our expectations. It was supremely quick, super easy to take to get up the hill. It's got a nice 48-volt system.
It scored a nine out of 10 on hill-climbing ability.
Rad City 4 Battery Range - 7/10
Then the next attribute we looked at is range. Again, the battery has 14-amp hour storage and a 48-volt battery. And it also has Samsung cells, which is important here. The fact that this battery has brand name cells in the Rad Cities, it's super nice.
We recommend always buying an electric bike that has brand-named battery cells. That's because you're just buying from a reputable source. A lot of bike companies, if they don't say what cells are in their battery, it's more often than not that they're using cheaper, low-end cells that aren't going to supply you with the range that you want.
Rad Power Bikes says the RadCity gets 45 miles plus on a single charge. We found that to be true. On average, you're going to get at least 45 miles on one charge, depending on what you're using the bike for. This also takes into account if you're using just the throttle or the pedal assist.
On range, it performed well. It got a seven out of 10.
Rad City Comfortability Score - 6/10
The next attribute we looked at is comfort. What we're looking for here is the riding position. Does the bike have suspension? Is it going to be a comfortable ride and something that you're actually going to want to spend time on?
A lot of people buy electric bikes for the look and the feel of high performance. It's easy to overlook the fact that you may be spending a lot of time on this bike. Does it actually fit your size? Are the grips nice enough and are you going to have to replace a lot of those components soon?
We gave RadCity 4 a six out of 10. Ride positioning isn't quite upright. It's semi-upright. But it's still not too bad. There isn't too much strain on your back when using it. Especially as a commuter bike, you're going to be putting in a ton of time on this bike commuting to and from work or the grocery store, perhaps. You're going to want something comfortable and upright.
Again, it is nice that this bike comes with suspension. If you hit a rock or anything like that, you're not going to feel it too much. You're not going to feel it in your spine and you're going to get some cushion there. This is both nice and important to have.
The seat isn't the greatest in the world, but it's not a low-class component that you'll probably need to replace. It's good that it comes with a relatively quality seat.
On comfort, the RadCity 4 scored a six out of 10.
Rad City 4 Universality Score - 7/10
Now, the last attribute we're going to look at here is universality. How likely is this bike to fit any user? If you're tall or short, can you still get on this bike? On the universality score, we gave it a seven out of 10. It has nice measurements. There's a lot of adjustability within the bike, which we like. It's highly intuitive to maneuver the bars back and forth. If you are a little bit of a taller or shorter rider, you won't have too much of a problem. The handlebars go up and down with relative ease, as well.
Rad City 4 Overall Tower Score (57) and Specialty Score (54)
The RadCity 4 scored a 57, I'm giving it a very good e-bike score.
Let's touch back in here with the Specialty Score. Again, the Specialty Score omits the last two attributes, which is comfort and universality. And for the Specialty Score, the bike scored a 54, giving it a mediocre e-bike rating.
Also, let's touch on a couple other things that are not considered a part of either of those scores. One of them being the weight of this bike. It is 63 pounds. That is a relatively heavy bike. We're not sure where that weight is coming from. It does come with a nice rear integrated rack; that may be what's adding some pounds to it. However, 63 pounds is quite heavy for an electric bike. We want to see e-Bikes in the category of 45 to 60 pounds. If you want to put it on your car, on the back of a truck, or carry it somewhere, 63 pounds seems excessive. It's something to consider.
Another thing we'd like to touch on is just the looks of the bike. This bike is actually beautiful. It doesn't look like a motorcycle. It's going to be easy to ride on bike paths. We liked the look of the bike.
eBike's Low Proprietary Risk Score - 5/10
Now, the last thing we like to tackle is the low proprietary risk score. This is arguably the most important category. Ask yourself, are the parts on the bike standard, or are they proprietary? Is the company going to be around for long? Do they have good customer service? These are all important things that e-Bike customers don't immediately think of.
Unfortunately, we see it all the time here at our repair shop. If a customer comes in with an e-Bike whose parts are highly exclusive to the brand or company in which they bought it from, that bike is going to get a low score for this category.
If the company the customers bought it from goes out of business, unfortunately, there's not much that can be done about bike problems they might have in the future. The last thing we want customers to experience is having a bike whose parent brand is no longer in business. They can't find a manufacturer who will manufacture their controller or battery or proprietary parts. This means that consumers are stuck with a bike that no longer works.
Sure, it still works like a regular bike. However, customers pay thousands of dollars to get an electric bike and now they're out of luck. It's something to consider.
Also, another thing we like to touch on too is a score on customer service. Are they easily reachable? Are they nice about getting you new parts? Are their parts usually out of stock or are readily available? Things like that.
On low proprietary risk, we gave the RadCity 4 a five out of 10, which is a relatively good score.
It even has a standard tire size, which is nice. You don't need to go directly to Rad to get a replacement. As I said, Kenda tires are relatively popular in the industry even though they're not the greatest tires. It's usually easy to find those tires.
There are some non-standard parts on this bike. For instance, the controller and the motor aren't branded and they aren't universal. With that being said, they are highly proprietary. If you do need a new motor or a new controller, they are going to be tough to find.
There are some things though that are standard. The battery pack is relatively standard. Like we touched on, it's a Samsung battery pack. Having it slide onto that controller may be an issue. But again, it's not too proprietary there. The LCD screen on this is relatively standard. Finding a replacement shouldn't be too tough for that, as well. These are all things that we'd like to consider.
Conclusion
That's our review here on RadCity 4! Check out our site for tower scores on a growing list of other e-Bikes that we see come through our repair shop.
---
Electric Bike Reviews You Can Trust
Electric Bike Review
*****
Electrek
*****
Shop Rad City 4
DISCLAIMER - Rad Power Bikes and Rad City 4 are trademarks of Rad Power Bikes, and use of that trademark in this review does not indicate that the reviewer is claiming any interest in the mark or any affiliation with or sponsorship or endorsement by Rad Power Bikes.