Juiced CrossCurrent Step-Thru Review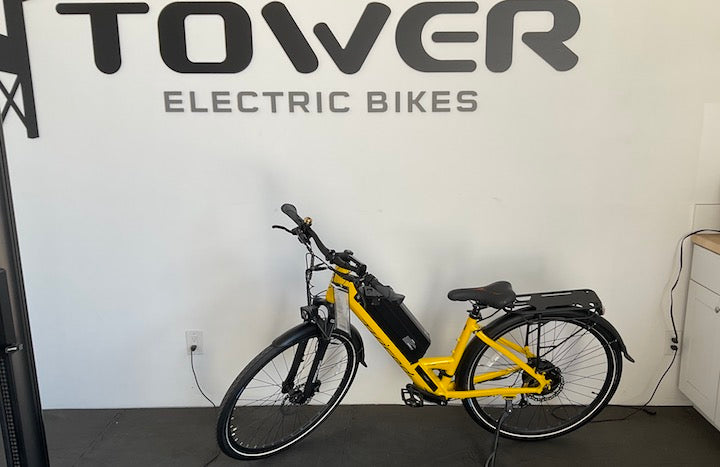 Juiced labels it's CrossCurrent model as a "commuter bike". With it's flat end handlebars and downright positioning the CrossCurrent definitely feels and rides like a stereotypical road bike. The CrossCurrent comes with a quality derailleur and multiple gears which enhance the bikes ride. As a company Juiced scored low on our low proprietary risk as Juiced customers have had experience with parts shortages and relatively poor customer service. Overall, the Juiced CrossCurrent scored a 73 on our tower ebike score giving it a very good eBike rating.
DISCLAIMER - Juiced and CrossCurrent are trademarks of Juiced Bikes, and use of that trademark in this review does not indicate that the reviewer is claiming any interest in the mark or any affiliation with or sponsorship or endorsement by Juiced Bikes.
Juiced CrossCurrent X Step Through
Today, we will be reviewing and rating the Juiced CrossCurrent X Step-Through e-bike. This e-bike is made by a direct-to-consumer company based in San Diego, California. Its design is comparable to that of a city bike. It receives a seventy-three on our 100-point Tower Score, indicating that it is an excellent e-bike model.
Based on our 100-point system, here is how we rank an e-bike's quality:
86 and above - eBike of Highest Distinction
71-85 - Outstanding e-Bike
56-70 - Very Good e-Bike
41-55 - Mediocre e-Bike
40 and below - e-Bike Not Recommended
Anything beyond a score of 86 is regarded as a highly recommended e-bike, while scores ranging from 71 to 85 are for an e-bike that has an above-average rate and can perform well. A score of 56 to 70 indicates an e-bike with ordinary performance, whereas a score of 41 to 55 indicates an acceptable, below-average e-bike. An e-bike with a rating of less than 40 is not recommended. Which makes 73 a very respectable score.
Before we get into the review on the Juiced CrossCurrent X Step-Through, I'm going to introduce myself. My name is Stephan Aarstol, I'm the founder and CEO of the Tower e-Bike Repair Shop here in San Diego. We see hundreds of different models and brands of electric bikes coming through our shop every month. We have experienced electronics specialists on staff, as well as people that have been working in the e-bike business for over thirty years. They have a firm grasp on what constitutes a high-quality e-bike and what does not.
As we all know, the electric bike industry is very competitive. Different brands are setting up different price points, but the quality remains the same. Aside from that, there's the direct-to-consumer and indirect distribution market which confuses many people. An example of this type is the smoke and mirrors companies that are producing e-bikes that look good on the outside but can not perform well on the inside. And then, there are those brands that produce good quality e-bikes but are only known to a limited minority.
What we've done is we have put together what we call the Tower e-Bike Score. It's a 100-point scale, wherein we rate each e-bike on seven key attributes, namely:
eBike Materials quality
eBike Mechanical quality
Low maintenance eBike
eBike Hill-climbing ability
eBike Range
eBike Comfort
Universality of eBike 
These key attributes are scored from one, which is the lowest, to ten, which is the highest. We, then, normalize the scores to get a 100-point scale.
We check an e-bike's Materials Quality because we believe that if the outer materials are high-end, the interior materials will most likely be the same quality as well. Mechanical Quality is checking how sound of a bike it is, such as its motor capabilities, the battery's capacity, and other factors. We rate its Low Maintenance level based on how much this bike needs to be worked on. The Hill-Climbing Ability is a critical attribute of an electric bike because they're primarily designed for transportation, and you want to make sure that they can perform well on high terrain. Range is something that deals with how far you can travel with a single charge of the battery.
The last two attributes are comfort and universality. How comfortable an e-bike is and if it fits any type of rider. We put these seven key attributes together, and then we normalize it to a 100-point scale in order to get what we call the Tower Score. This is a single-point score that consumers can rely on, and it makes it easier for them to decide which e-bike fits best for them.
We don't discuss a bike's pricing and instead focus on its quality. It makes no difference if the e-bike we are reviewing costs $15,000 or $500. The price point is up to the buyer to decide whether or not they can afford it. This is very similar to the wine spectator score. It becomes easier for people who don't have in-depth knowledge about wine to understand what is quality and what is not. That is what we do in the e-bike industry. Aside from the fact that we have seen a significant number and variety of e-bikes, we also have a good feel for them.
In addition to that, we have a second 100-point scale called the Specialty Score. This scoring system omits the last two attributes, which are comfort and universality. The reason we omit them for Specialty Scores is that there are certain types of electric bikes that are built for specific purposes. A road bike or mountain bike, as an example, is built mainly for competition and comfort is not a priority. Whereas, the overall Tower Score really factors the comfort and universality because it is mainly used for daily transportation.
It is also important to consider if this bike works best for everybody. Especially, when people are buying these direct-to-consumer brands through the internet without any idea if their size is fit for these bikes. Thus, we factor all of those attributes into the Tower Score.
It's time to move on to our Juiced Electric Bikes CrossCurrent X Step-Through review.
Materials Quality of Electric Bicycle 8/10
The first attribute is materials quality, we give this bike an eight out of ten, which is an excellent score. They have good quality Schwalbe tires with aluminum frames. The seat, the pedals, the grips, and all of the touchpoints are of high quality. It's not a carbon fiber frame but it's extremely well put together. Interestingly, Juiced is quite popular in the industry and is on the high-end tier when it comes to the quality of materials that they use on their e-bikes. Our guess is that their bikes are a tad more pricey. However, they do place a greater emphasis on the quality of an e-bike than many other companies. Overall, it has high-quality components.
Mechanical Quality of Bicycle 7/10
The second attribute is mechanical quality. They get a score of seven out of ten. It has decent hydraulic brakes, good quality suspension, and a mid-range derailleur on this e-bike. Overall, the mechanical quality is better than average, which is why we have come up with a score of 7.
Low Maintenance Electric Bike 6/10
Our third attribute is low maintenance. This attribute focuses on how frequently you will have this bike serviced. It got a score of six out of ten. They have flat-resistant tires and a hub, which means you don't have to get your tires changed often. Flat tires are the number one problem on electric bikes. You'll see a lot of brands out there that put cheap and low-quality tires, which do not last long.
Juiced utilized hydraulic brakes on this e-bike instead of the usual disc brakes. The benefit of installing hydraulic brakes, and the main reason why some companies spend more money on it, is because they're self-adjusting. Which means fewer maintenance issues for consumers.
In addition to that, it has a chain, a derailer, and a gearing system but Juiced made sure the e-bike has good rust-proofing. Overall, the Juiced CrossCurrent X Step-Through gets a score of six on the low maintenance for its mid-range components.
eBike Hill-climbing Ability 9/10
The next attribute that we look out for is its hill-climbing ability. It gets a nine out of 10, and this has been the highest score so far. It has a powerful 750-Watt Hub motor with a 48-volt system. It features a full set of gears to assist that strong motor perform even harder while climbing any slope. In tandem, you can gear down.
Range of eBike 7/10
The next attribute is range. This is a very important attribute to look at when you want to analyze the quality of an e-bike. There are a lot of e-bike brands that will promise you a powerful motor but pair them with an undersized battery. This is a problem because even if you have a powerful motor, it's not going to perform well without a good source of energy.
This model runs approximately ten to twenty miles. They put high capacity batteries and we all know that good quality batteries are extremely pricey but it does provide convenience which is attractive to consumers. Overall, they did a wonderful job. It's top-of-the-line. We gave it a rating of seven out of ten.
e-Bike Comfort 8/10
This e-bike gets a score of eight out of ten in terms of comfort, which is pretty good. It has a semi-upright sitting position. Because it's a city bike, people find it very interesting. They do feature French suspension, which provides greater cushioning, especially on rough terrain. It also has a nice pedal forward design. When it comes to the handlebars, there's not much room for adjustability and you might have to reach forward but it is not much of an issue for most people. Overall, the Juiced CrossCurrent X Step-Through got a rating of eight on the comfort scale.
Electric Bike Universality 6/10
The last of the seven key attributes that we're going to review is the universality of this bike. This attribute measures how likely this bike fits for anybody, regardless of height and weight. Juiced CrossCurrent X Step-Through tends to do a little better because many can easily get over the center bar. The height of the seat works for short people as well. Thus, it was given a six out of ten.
Tower e-Bike Score (73) and Specialty Score (74)
When you add the scores up and normalize it to get to a 100-point scale, it will give us a Tower Score of seventy-three, which means it's above average and can perform well as an e-bike.
On the Specialty Score, the Juiced CrossCurrent X Step-Through gets a score of seventy-four.
Electric Bike Weight
If we look at the weight of the Juiced CrossCurrent X Step-Through, it weighs 66 pounds which is quite heavy for an e-bike. The battery, plus the fact that it was placed out in front, adds a bit of extra weight to it and makes it look beefy and heavy. This will not be suitable for transporting in the back of a vehicle or up the stairs to your home.
Looks of This eBike
We do provide some opinions on the bike's appearance. You want a bike that not only performs well but also looks good. At first glance, it looks like a city bike. It doesn't have an integrated fake frame and the battery placement looks off. Most people, however, can easily tell that this is an e-bike. It appears to be a lot cheaper than it is, and it is something you might consider. But then again, whether the appearance matches your fashion sense or not is entirely up to the individual user.
Low Proprietary Risk 2/10
The last attribute that we look into but don't factor into the overall Tower e-Bikes Score is what we call the Low Proprietary Risk. On a scale of one to ten, with one as the lowest and ten as the highest, the Juiced CrossCurrent X Step-Through got a score of two, which is not ideal. What we look for here is how easy will it be to procure replacement parts to be able to fix this bike. If the brand goes out of business, or if they stop supporting the existing model, it can be detrimental to the consumer. This isn't something that electric bike buyers consider when purchasing a bike but this can become a major factor if your e-bike needs to be serviced. This e-bike received a score of two out of ten because a lot of its components are non-standard and you will have a difficult time finding these parts.
Brands, however, soon move on to new models. And occasionally, discontinue servicing those older models. The worst-case scenario is, these e-bike brands will go out of business. If you take a look at those who are currently in business and fast forward ten years, ninety to ninety-five percent of them will stop production at some point. Such is the nature of brands online and in retail because it is a highly competitive market, even the most well-funded companies or the most well-known brands can go out of business.
Conclusion
And that ends our review for the Juiced CrossCurrent X Step-Through. If you want to learn more, you can check out our site for a growing list of e-bikes that we get our hands-on, as they come through the Tower e-Bike Repair Shop.
---
Electric Bike Reviews You Can Trust
Electric Bike Review
*****
From Juiced Bikes Website
Shop Juiced CrossCurrent
*****
DISCLAIMER - Juiced and CrossCurrent are trademarks of Juiced Bikes, and use of that trademark in this review does not indicate that the reviewer is claiming any interest in the mark or any affiliation with or sponsorship or endorsement by Juiced Bikes.