Cyrusher XF800 Review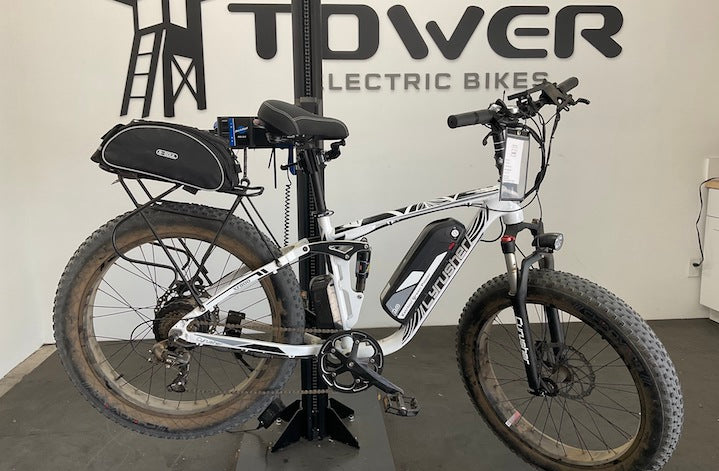 The XF800 is a full suspension electric bike from Cyrusher. The Cyrusher model is a mountain bike styled ebike with fat tires and a 750w motor. Although the Cyrusher XF800 comes with hydraulic brakes, the Cyrusher XF800 will require regular maintenance as the bike comes with lower quality components. With a branded Bafang motor and Samsung cells, the range on this bike is pretty good, but that 750W motor would go farther with a little higher capacity battery. Overall, the XF800 scored a 51 on our tower ebike score, ranking it as a mediocre ebike.
DISCLAIMER - Cyrusher eBikes and XF800 are trademarks of Cyrusher, and use of that trademark in this review does not indicate that the reviewer is claiming any interest in the mark or any affiliation with or sponsorship or endorsement by Cyrusher
Cyrusher Xf800
Today, we're going to review and rate the Cyrusher XF800 model. Cyrusher is a relatively new electric bike brand. You'll see a lot of ads for this brand and they have around four models and this particular one is right in the middle to high-end of their ebike models. It gets a score of 51 points on the Tower at 100-point e-Bikes scale, which unfortunately means that it's a mediocre bike.
Firstly, I'd like to introduce myself. My name is Stephan Aarstol, I'm the founder and owner of the Tower e-Bike Repair Shop. We see hundreds of different brands of bikes here, so we rate them on a scale that we call the 'Tower e-Bike 100-point Scale'. It's kind of like a wine spectator score for bikes; a single-point score that can give you an assessment of the quality and purpose of a specific bike or model.
We rate seven key attributes, one to ten on each, and normalize that to get to a hundred-point scale.
These seven key attributes are the following:
Materials Quality
Mechanical Quality
Low Maintenance
Hill-climbing Ability
Range
Comfort
Universality
All seven make up the Tower e-Bikes score. The last two, comfort and universality, make up what's called the Specialty Score. This is for a lot of the high-end bikes or certain types of bikes that are specifically sized for different people. It could be that they aren't made for comfort or it could be that this is a road bike or a mountain bike that is made to be aggressive. We differentiate those rankings out for the specialty score so that the score works better for some bikes.
The Cyrusher XF800 gets 51, which also rates it as a mediocre bike. However, let's get to the review!
eBike's Materials Quality - 3/10
First, we're going to talk about the materials' quality rating out of 10. The Cyrusher XF 800 gets a score of three on materials quality, which isn't great. It has a decent aluminum frame that makes it a fairly lightweight bike. It's got a nice seat and pedals but there are some issues here. You're looking at steel spokes that'll eventually rust. It doesn't have the greatest tires. Although decent, they're not incredible. Also, overall, it's just the look of it. The bike has a very wild look; aggressive and flashy.

Cyrusher Mechanical Quality - 6/10
As for mechanical quality, it gets a six overall. Which is just about the middle of the road. They're a little better than average, that's for sure. They do have hydraulic brakes on this bike, which is nice. It's got front and rear shocks and a suspension. However, the suspension isn't the best and their hydraulics are low-end.
It's something akin to department store bikes where they'll make it appear that the bike has these fancy shocks and all the pizzaz, but when they do low-end stuff like that, sometimes that can work against you or you tend to go for a lot more servicing for those. These are the type of bikes that are built to look great when displayed but not necessarily something a bike enthusiast would consider. However, they do have some shockability with it. Also, with the four-inch tires, you're going to get some suspension out of that too.
The bike also has a fairly low-end derailleur and just a lot of the parts aren't great in general.
But we gave this a decent score because of the suspension and because they do have hydraulic brakes. The biggest thing about hydraulic brakes on an electric bike is that you're not going to have to adjust the brakes constantly. If you have mechanical brakes, they can be kind of a nightmare. So we'll give them a score of six. This isn't a bad score on mechanical quality.
eBike's Low Maintenance - 2/10
The next rating is low maintenance. This is how much maintenance you are going to have to do on these bikes.
Pretty predictably, this bike came in at a two on maintenance. So you will have to do a bit of maintenance. I mean, the one thing they did right was the hydraulic brakes. But we think you're going to have some issues with flat tires on this bike. You'll find poor-quality electric bike components here. It also doesn't have a lot of rust-proofing and stuff done on this bike. Because this is a mountain bike, you're going to be using this in the elements and you've got steel spokes. Thus, while it looks good out of the box, it's not going to give you top-of-the-line performance.
You're going to see rust develop pretty quickly. You'll soon observe that a lot of these mid-range bikes will sell for a couple thousand dollars but they'll put low-end components on it; which doesn't make a lot of sense. I think they're trying to hit a price point here.
But that's what you're getting.
You do have multiple gears here. You've got the low-end derailleur and you've got to change the drive. This means that you are going to have some maintenance issues. This is why it doesn't get a great rating here.
eBike's Hill-climbing Ability - 9/10
This bike will climb and so they get top marks here. They get a nine out of ten on hill-climbing ability.
They did it right on the electrical and some of those electrical components are kind of expensive. There could be a decent size battery on this bike. You've got its 40S 48-volt system, but you've got a 13 amp power battery, which is going to be a little bit of an issue with the 750-watt motor.
When you talk in terms of range, we'll get into that at the next scoring. But as for hill-climbing ability, you've got very solid quality cells. You've got Samsung cells in here paired with a Fang sort of a branded buffeting, 750-watt motor. This means you're going to get some pretty good torque on this bike. I think the bike goes about 28mph or more. This bike is more focused on speed than anything else.
You're going to get speed and hill-climbing ability, but with the large motor and the good cells, you're going to get a pretty decent hill-climbing ability. And as it has the mountain bike look, that's probably what you're here for. Pretty good marks overall on hill-climbing ability for an eBike. We think that is a critical thing that a lot of e-Bikes overlook on the range.
eBike's Range - 9/10
We gave it a score of seven out of ten for the e-Bike's range here. They have a pretty good-sized motor here, the 750 watt motor with good cells. However, the battery capacity is lacking a little bit when you're going to have a 48-volt system. You'd probably want to put a little bigger battery on that, or you're going to have some range issues. Although it is decent, it's not great. Thus, we're giving it a seven.
And I think that's one of the things with these Cyrusher e-Bikes and their sort of X F series.
They have an excess 6 56 9800 X F 900, like on the 900. I think they give you a 17 amp hour battery to correct the range problem. This means that you're going to pay a pretty penny for that. That's kind of the bike they should have made, I think, but they make these other bikes to appeal to different price points. But I'm telling you, at the end of the day, you would want the top-of-the-line one here and the price is what it is.
eBike's Comfortability Score - 5/10
Now, we're getting into the ratings for comfort and universality. Those aren't the most comfortable anyway, because you're sort of engaged with it. They're not necessarily made for comfort. You're not gonna want to go out and go on a 30-mile cruise with this bike.
They do have pretty good suspension. Although, I wouldn't call it necessarily high-quality suspension, but it's there. The bumps and bruises aren't going to beat you up too much until those components start to break down. You get decently comfortable seating and the reach is all right on this bike. Thus, we give that overall a five on the comfort scale on this.
eBike's Universality Score - 4/10
The appeal of this bike will work for a lot of people. Essentially, that's what we're measuring here with the universality rating.
We give this electric bike a four out of 10. The seat post height is a little high. As a mountain bike, there's a top bar on that. So it's sort of a men's bike step-over height and it is pretty high on this. Meaning, it's only going to work for people of a certain height. Also, you can't control the speed on this bike. You don't have a lot of flexibility and I guess, sort of adjustability within the handlebars.
You've got a fixed stem here. The bike kind of either fits you well or not at all. Also, it seems like they don't have a lot of different sizing. You can't get this frame size in a small, medium, large, or extra-large like a lot of mountain bike companies will do when they don't have a lot of adjustabilities built into the frame. Thus, buying this out of the box, remotely, you're kind of taking a chance there.
You don't know if this is necessarily going to be the right sort of geometry for you. Overall, we give it about a four on universality. There's just not a lot of adjustability in this bike. It lacks in that department just a little bit.
eBike's Overall Tower Score (51) and Specialty Score (54)
So, overall we gave it a Tower Score of 51 and a Specialty Score of 54. The weight on this bike is about 70 pounds. That's a pretty heavy bike. It's a good 20 pounds heavier than some other bikes that would be considered sort of high-quality bikes with similar components.
However, a lot of times, it takes a little more expense to get the quality components or to get the weight down. They do add shocks to the front and rear. That adds some weight too. Some people don't mind having heavier bikes. But this is a little beefier. What it is, it's a 70-pound bike.
Overall, it looks like this. Some people will like it and others won't. It has a pretty aggressive and flashy look. It has the flat tire, sort of, mountain-bike look to it with front and rear shocks. It doesn't by any means, look like a high-end traditional mountain bike because of the fat tires, but it has sort of an aggressive look. They sort of put the electric bike battery just to sort of attack on to the front frame there, which you'll see in a lot of lower-end bikes.
You can tell almost immediately that this is an e-Bike and it doesn't have a well-concealed battery pack. You can judge for yourself on the look. We intentionally don't give a rating on the looks of bikes because it's very subjective.
Low Proprietary Risk Score - 4/10
One thing we do give a rating to, and this is sort of our last score on a score of one to ten, is a low proprietary risk rating. There's a lot of e-Bike companies and brands out there. And so a lot of them are going to go out of business. And when they do, we see this in our e-Bike repair shop. If a bike brand goes out of business or gets into financial troubles or whatever, they stop supporting their products.
Meaning, it'll be hard to get parts from them. You'll see a lot of this. With some bikes, people bring them to us but we can't fix their bikes. The bike brand they bought from just does not support that bike anymore. Sometimes, we got to put Frankenstein parts on that bike if we can even do it.
At the end of the day, it's really about if this bike will have off-the-shelf parts that can be replaced. Can you get this bike running again if this company goes away? Most of these e-Bike companies, quite frankly, are going to go away at some point.
Thus, on low proprietary risk, we give this a four out of ten. You have some considerable risk here. You do have standard tires on this. Meaning, you should be able to get the tires replaced. And the motor, the motor is a Fang. That's a pretty standard brand. Thus, even if Cyrusher goes out of business or something, you'll still be able to swap out the buffeting motor.
However, it's not a great score on the proprietary risks rating. We don't factor this proprietary risk score into our overall Tower e-Bike score, or even the specialty score. But we do want to make people aware of it because there are certain bikes that you're going to have some serious continuity issues with. And there are other bikes that you don't have to worry so much about because they're using a lot of off-the-shelf components.
This means that, even if that business goes out, somebody else will be able to support that. And, if you're bringing it into a place like the Tower e-Bike Repair Shop, you'll be able to get it fixed. We work on all different brands of bikes.
Conclusion
So, that's it. The Cyrusher XF800 gets a Towering Score of 51. Check out our site for Tower Sports and a growing list of other e-Bikes that we get our hands on as they come through the Tower e-Bike Repair Shop.
---
Electric Bike Reviews You Can Trust
Electrified Reviews
*****
From Cyrusher Website
Shop Cyrusher Xf800
*****
DISCLAIMER - Cyrusher eBikes and XF800 are trademarks of Cyrusher, and use of that trademark in this review does not indicate that the reviewer is claiming any interest in the mark or any affiliation with or sponsorship or endorsement by Cyrusher.