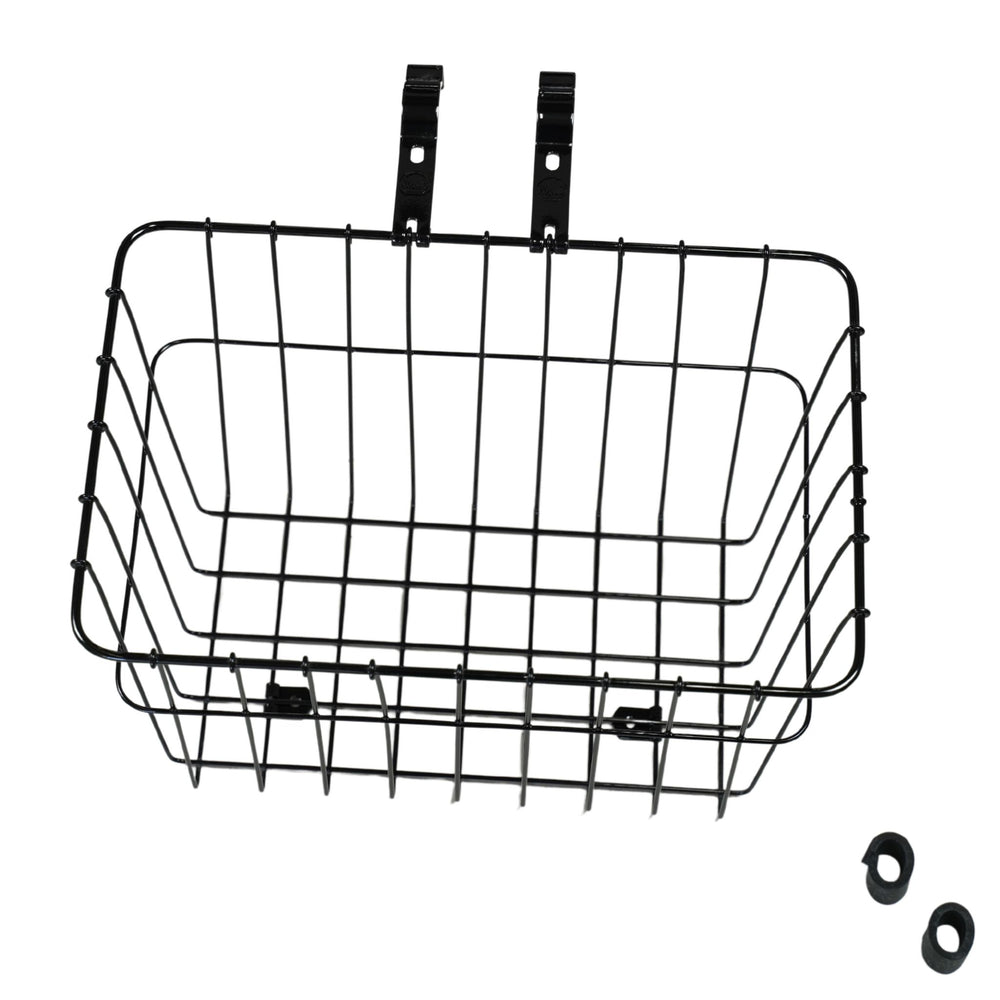 Wald Basket - Multi-Fit
DESCRIPTION
Introducing the Wald adaptable front basket, the ultimate accessory for your bike. Crafted in the U.S.A., this versatile basket offers a deep and spacious interior, perfect for carrying groceries. It features extended handlebar clamps and adjustable legs, accommodating various handlebar sizes and bike types. With a sleek design and available in black or white powder coat finish, it adds style to your ride. Weighing only 3 lbs, it's lightweight yet durable. Upgrade your biking experience with this versatile basket and enjoy convenience and style on every ride.
Against defects in workmanship & materials
SUPERIOR CUSTOMER SERVICE
We stand behind our products
On orders over $100
Extended Product Information
Wald Bike Basket Installation Video
More Details on the Wald Multi-Fit Bike Basket
Introducing our versatile and adaptable front basket - a must-have accessory for your bike! This exceptional basket is expertly crafted in the U.S.A., specifically in Maysville, KY, ensuring top-notch quality and craftsmanship.
Designed with convenience in mind, this basket boasts a deep and spacious interior, perfectly sized to accommodate a grocery sack. With dimensions measuring 14 1/2″ side to side x 9 1/2″ front to back and 9″ deep, it provides ample space for your belongings while maintaining a sleek profile. The basket elegantly tapers to 12 1/4″ x 7″, adding a touch of style to your bike.
Equipped with extended handlebar clamps, this basket effortlessly fits handlebars with 7/8″ and 1″ diameter, offering a secure and stable attachment. The two-piece adjustable legs provide further versatility, allowing you to extend them from approximately 14 inches to 22 inches. Mount them either to the front axle or fork eyelets, catering to bikes with quick-release front hubs. This adaptable feature ensures compatibility with a wide range of bicycles.
Despite its impressive capabilities, this basket remains lightweight, weighing only 3 lbs. Its lightweight construction ensures easy handling and doesn't add unnecessary bulk to your bike.
Embrace versatility and elevate your biking experience with our adaptable front basket. Its exceptional design and thoughtful features make it the perfect companion for your daily commute, grocery runs, or leisurely rides. Upgrade your bike today and enjoy the convenience and style this basket brings.